Download the MIPI Alliance white paper:


Validating the Use of Compression for Automotive Displays

A study verifying VDC-M's visually lossless compression properties demonstrates that MIPI DSI-2 offers a solution to the growing bandwidth challenges in next-generation vehicles

As automotive industry trends in connectivity, automation, sharing and electrification drive an increasing number of high-resolution in-vehicle displays, the use of visually lossless image compression becomes essential for display connectivity solutions to meet stringent data bandwidth, power, weight and electromagnetic compatibility requirements.
A new MIPI Alliance white paper, Validating the Use of Compression for Automotive Displays, explores the impact of these trends on in-vehicle displays and shares the results of a recent image compression study conducted by the MIPI Display Working Group. The study focused on the ability for the Video Electronics Standards Association Display Compression-M (VDC-M) codec, as adopted within the MIPI Display Serial Interface 2 (DSI-2℠) protocol, to provide visually lossless compression for automotive images.
Scope of the White Paper
The paper provides a detailed description of the test methodology, which used customized automotive-specific test images to evaluate the quality of the VDC-M compression algorithm using a focused test procedure inspired by the ISO/IEC 29170-2 test protocol. The study results concluded that all the test images, when compressed using the VDC-M codec, met the essential objective of being visually lossless.
The paper includes the following sections: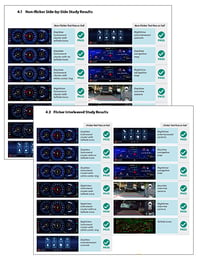 Introduction
1.1. Automotive Trends
1.2. Automotive Display Configurations and Requirements
Overview of Study
Study Phases
3.1. Phase 1—Generate Source Images
3.2. Phase 2—Generate Test Images
3.3. Phase 3—Run Limited Subjective Quality Trial
3.4. Phase 4—Analyze Results and Generate Report
Test Results
4.1. Non-Flicker Side-by-Side Study Results
4.2. Flicker Interleaved Study Results
Conclusion
Annex A.

Recommended Sources of Further Information
Read the White Paper
To download the white paper, please submit the form on this page. You'll receive a download link on the response page.
---
Learn More About MIPI Alliance
Visit the MIPI Alliance website to learn more about MIPI membership and to see MIPI Alliance's entire portfolio of specifications.