3 min read
MIPI CSI-2, A-PHY, MASS and Security Gain Media Attention

Sharmion Kerley, MIPI Director of Marketing and Membership : 15 June 2023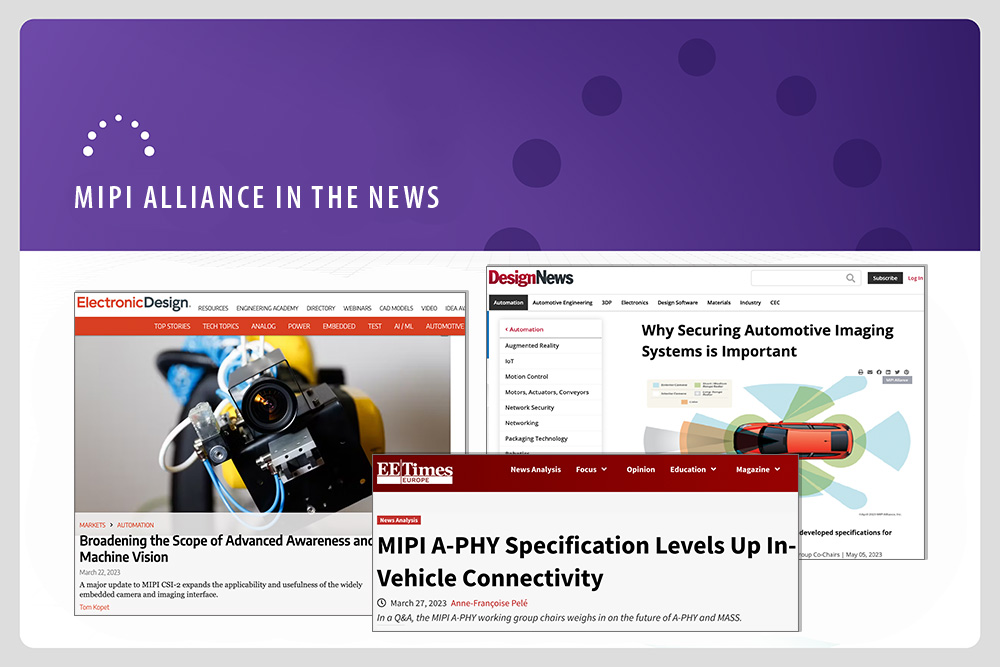 As MIPI Alliance marks its 20th anniversary this year, MIPI specifications continue to advance and be leveraged in new applications within mobile and mobile-influenced adjacent industries, such as automotive and IoT. And along with this momentum, there has been greater media interest and coverage of MIPI specifications, most noticeably in the following four areas:
Below are highlights of some of the most significant recent media coverage, featuring insights from MIPI Camera, A‑PHY and Security working group leaders.
MIPI CSI-2 Featured in Electronic Design
In 2022, MIPI released CSI-2 v4.0, a major update that broadened the applicability and usefulness of the camera and imaging interface. In the Electronic Design article, Broadening the Scope of Advanced Awareness and Machine Vision, Tom Kopet, chair of the MIPI Camera Working Group, explained the impact of the new features that promise to lower the cost barriers for next-generation systems: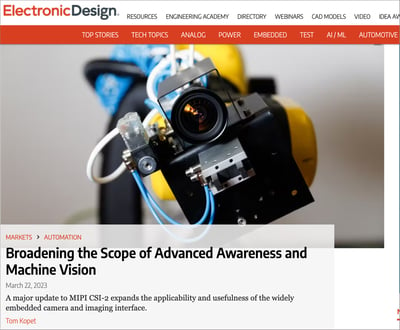 "This new version introduced the Always-On Sentinel Conduit (AOSC) feature for simplified, low-power environmental monitoring; multi-pixel compression (MPC); and RAW-28 color depth for superior image quality in high-performance, safety-critical applications.
"With this latest update in the ongoing innovation of the scalable interface, the new version vastly expanded developers' options and capabilities in building next-generation artificial intelligence and machine-vision systems for enhanced human-device interaction."
Read the Electronic Design article »
What's new for CSI-2
Since the publication of this article, the Camera Working Group has introduced several updated specifications and resources to replace MIPI-deprecated technical terms with more inclusive wording. The new documents include CSI‑2 v4.0.1, Camera Command Set (MIPI CCSSM) v1.1.1, A-PHY Protocol Adaptation Layer for CSI-2 (PALSM/CSI-2®) v1.0.1, and an updated conformance test suite for CCS.
In addition, the Software Working Group early this year introduced DisCo for ImagingSM v1.0, which enables system developers to easily discover and use cameras and other devices connected via the CSI-2 interface.
---
MIPI A-PHY and MASS Featured in EETimes Europe
With automotive technology advancing at lightning speed, new innovations are required for cameras, sensors, displays and computing resources in the vehicle. To address these applications, the MASS framework was created, providing an end-to-end, full-stack of connectivity solutions, with MIPI A-PHY as its cornerstone.
In MIPI A-PHY Specification Levels Up In-Vehicle Connectivity, a Q&A with EETimes Europe, Edo Cohen and Raj Kumar Nagpal, co-chairs of the MIPI A-PHY Working Group, and Ariel Lasry, the group's vice chair, discussed the future of A-PHY and MASS.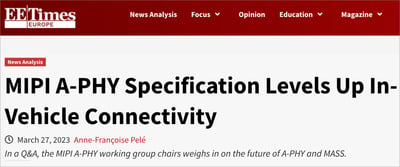 "The entire end-to-end MASS connectivity framework, of which A-PHY is the foundation, streamlines integration of cameras, sensors and displays, while also baking in functional safety and security. Instead of relying on proprietary SerDes solutions for long-reach links between peripheral components and electronic control units (ECUs) and crafting their own solutions for functional safety, automotive designers can realize supplier choice, economies of scale and dramatically reduced design complexity and cost, and they benefit from a growing ecosystem of providers and test vendors."
Read the EETimes Europe article »
What's next for A-PHY
MIPI A-PHY v2.0, which will double the downlink throughput up to 32Gbps (28.8Gbps net data rate) per single lane, is currently completing development and is expected to be available in late 2023.
---
MIPI Security Specification Featured in Design News
As the adoption of advanced driver-assistance systems (ADAS) and autonomous driving systems (ADS) grows, automotive system designers need to protect image sensor data from security risks. Because of this critical need, the Security Working Group put its focus on developing a framework that would provide end-to-end-protection of MIPI CSI-2 image data (and any associated command and control data) between image sensor components and their related electronic control units.
In a recent Design News article, Why Securing Automotive Imaging Systems is Important, Philip Hawkes and Rick Wietfeldt, MIPI Security Working Group co-chairs, covered security risks, requirements and design challenges, and provided an overview of the MIPI security framework currently completing development.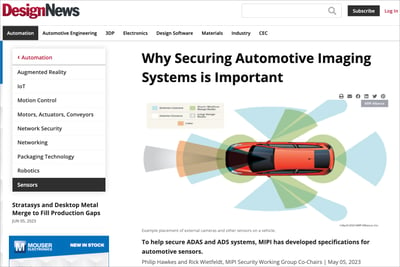 "It is essential for OEMs to not only make their camera-enabled ADAS systems functionally safe, but also to ensure they are protected against cybersecurity risks such as installation of illegitimate substandard automotive imaging sensor components, malicious manipulation of sensor data to cause an ADAS or ADS failure, and privacy violations from unauthorized access to location-revealing images, internal cabin images and image-related metadata."
Expected security release date
The suite of specifications that form the MIPI CSI-2 security framework is expected to be released in Q4 of this year.
Read the Design News article »
What's Next?
MIPI specifications continue to evolve to address emerging requirements in camera, automotive and security. To learn more about the working groups behind these specifications, visit the MIPI Camera Working Group, MIPI Security Working Group and MIPI A-PHY Working Group pages.
You can stay informed about the latest specification releases, new technical resources and upcoming MIPI education by signing up to receive MIPI blog notifications or subscribing to Automotive News and Security News updates.