Specification Development & Adoption
MIPI has delivered more than 50 specifications in mobile and mobile-influenced markets. Widespread adoption places MIPI specifications in every smartphone on the market, as well as in new systems across the span of mobile-influenced markets, including AR/VR, automotive, IoT, industrial, AI, medical and aerospace.
Working Groups
The organization currently has more than a dozen working group that discuss and propose technical solutions, and develop draft specifications and supporting documents. New working groups are created and older working groups may be terminated as market requirements for interface standards evolve over time. Participation is open to Founders, Promoters and Contributor member companies. While Adopter members do not participate in working groups, they do have access to the resulting specifications.
Roadmap
Based on input from MIPI working groups, the Technical Steering Group (TSG) updates the MIPI Specification Roadmap following each member Member Meeting to provide a high-level view of all specifications in the development and adoption process.
MIPI specifications serve six types of interface needs:
Physical layer: A family of high-speed physical layers to serve essential interconnection needs in a device
Multimedia: Protocols for camera and imaging, display and touch, and a complete interface for audio
Chip-to-chip/IPC: Protocol layers for chip-to-chip or interprocessor communications
Control and data: Interfaces to manage lower-speed components
Debug and trace: Tools for debugging embedded systems throughout the development lifecycle
Software integration: Tools that streamline software integration of components in mobile-connected products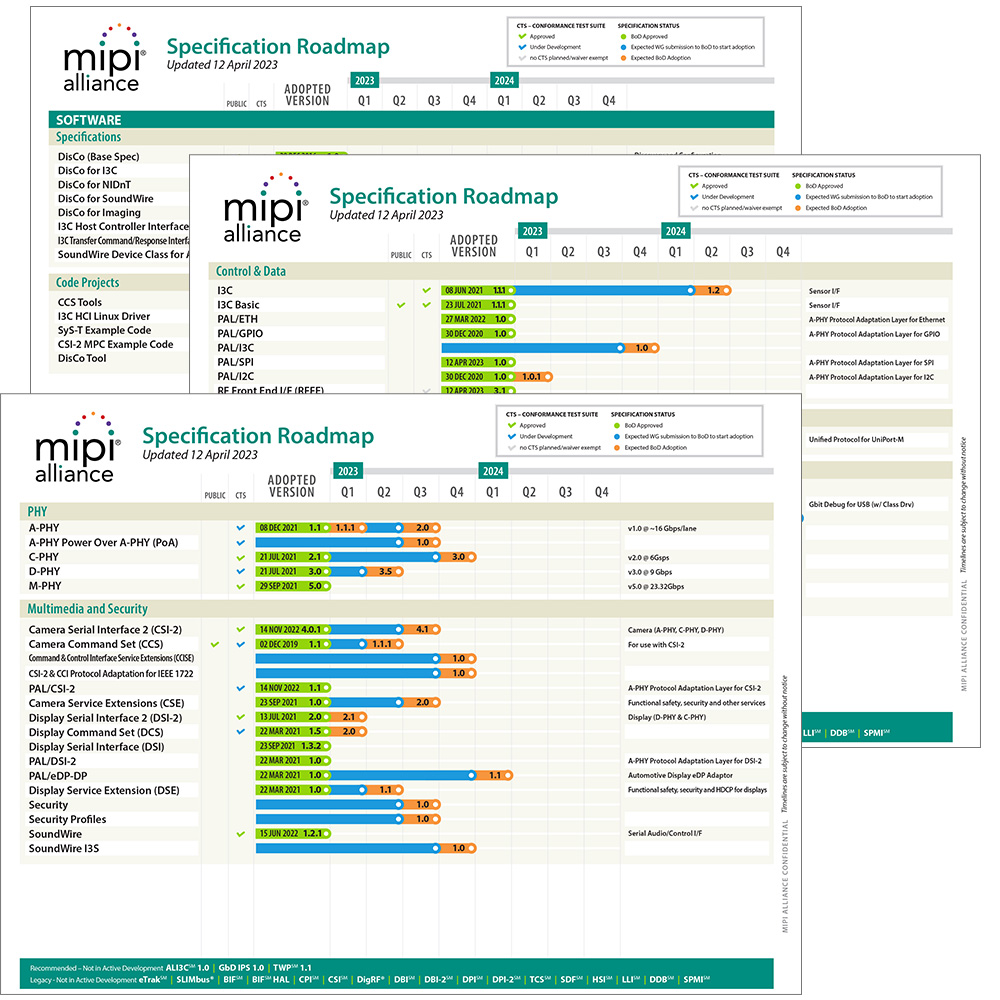 It starts with an SRP
When a working group identifies a need for a new specification or a revision to an existing specification, it scopes the details in a Specification Requirements Proposal (SRP) form and agrees by consensus or vote.
The SRP provides the Marketing Steering Group (MSG), TSG and board a mechanism for feedback on technical and marketing requirements, market analysis, applications/industry segments, strategy, roadmap schedules, specification dependencies, justification for the release or revision, and key features and functions of the specification proposed.
Following review and feedback from the TSG and MSG, the SRP is submitted to the board for approval. Once approved, the specification is added to the roadmap, and the working group begins technical development.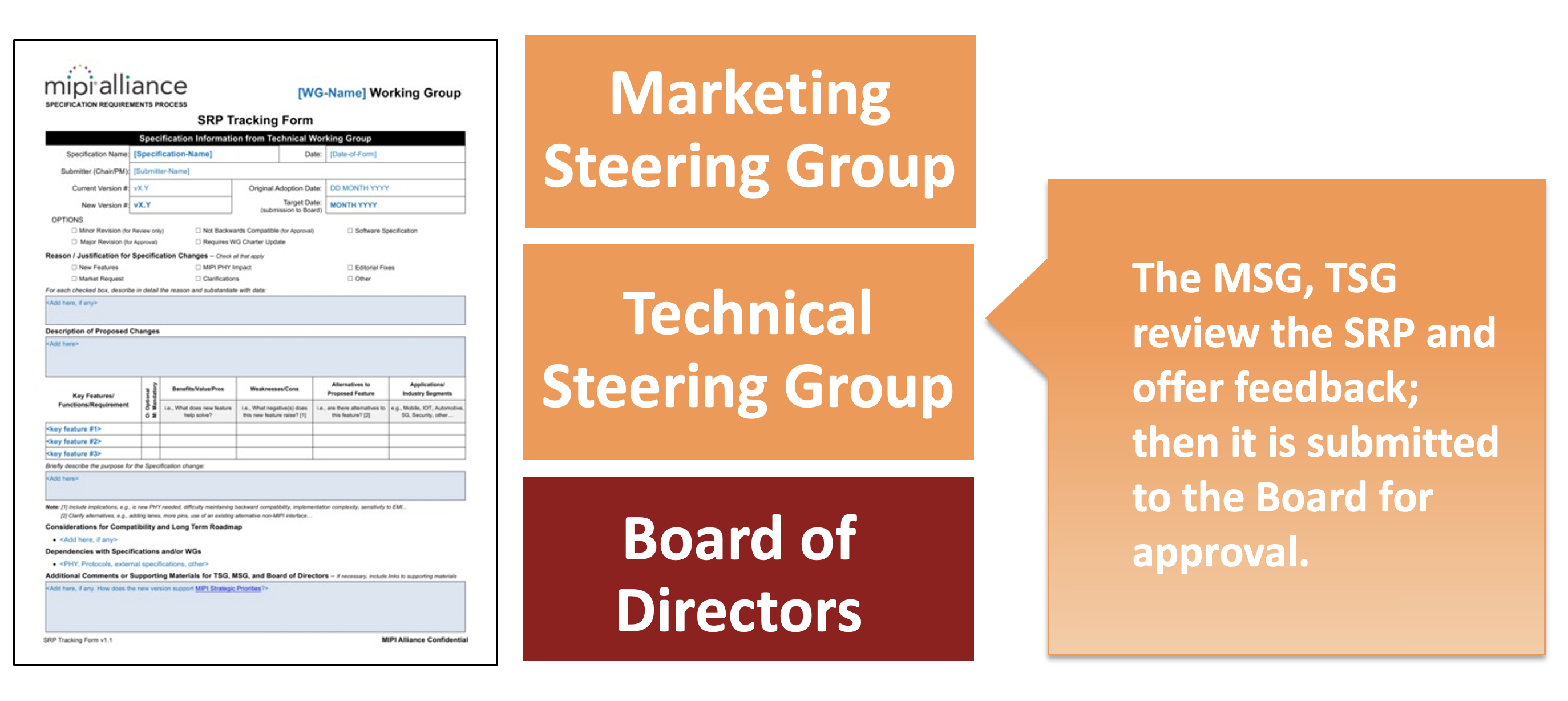 Adoption Process
Once a working group has completed development, the specification enters the adoption process, which may follow one of three paths, depending on any issues found during First Draft Review.
The typical adoption follows Path A (as outlined in the diagram) in which no issues are found during the First Draft Review. Only Contributor, Board and Promoter members have access to MIPI specifications in First Draft Review.
If no comments or changes are received during the First Draft Review, the specification proceeds to Voting Draft Review. At this stage, all members have access to the draft specification document.