Mobile in Mobile Devices
Applications for smartphones, tablets, laptops and hybrid devices
MIPI Alliance specifications are used to interface chipsets and peripherals in mobile-connected devices. In the mobile industry, these solutions are used in smartphones, tablets, laptops and hybrid devices. Since it was founded in 2003, the Alliance has developed more than 50 specifications to meet the needs of the ever-broadening mobile ecosystem.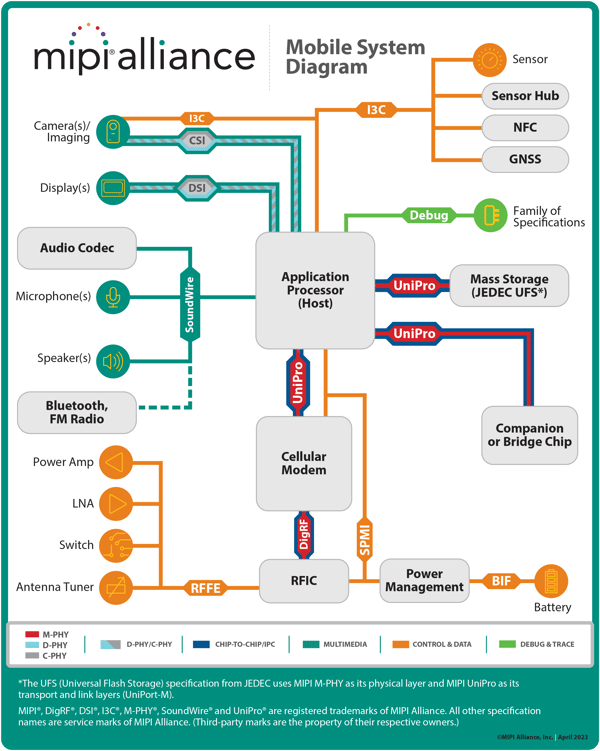 Smartphones
The smartphone industry served as the original target market for MIPI specifications. Today, all major chip vendors use MIPI Alliance specifications, and all smartphones on the market include at least one MIPI specification. MIPI specifications are used in hundreds of millions of smartphones.
MIPI Alliance specifications cover the full range of interface needs in a device. The specifications can be applied to integrate the modem, application processor, camera, display, audio, storage, antennas, tuner, power amplifier, filter, switch, battery, sensors, and other components.
Component vendors and device manufacturers use MIPI Alliance specifications because the technologies simplify designs, reduce design costs and shorten time-to-market for efficient, high-performing products. And fundamentally, each specification is optimized to ensure three performance characteristics needed in a mobile device: low power to preserve battery life, high bandwidth to enable feature-rich applications, and low electromagnetic interference (EMI) to optimize performance of radios and subsystems.


Tablets, laptops and hybrid devices
Devices that converge mobile and computing capabilities are also important areas for MIPI Alliance specifications. MIPI specifications helped establish and advance the tablet market and many organizations in the PC industry use MIPI specifications in mobile-connected laptops, tablet/laptop hybrids and other devices. Typical use cases for MIPI specifications in these devices include connecting and managing power consumption for high-definition displays and minimizing the number of wires deployed through hinges to connect cameras or displays.