3 min read
MIPI Lifetime Achievement Award and MIPI DevCon 2020 – A Conversation with Roy Chestnut

Sharmion Kerley, MIPI Director of Marketing and Membership : 17 August 2020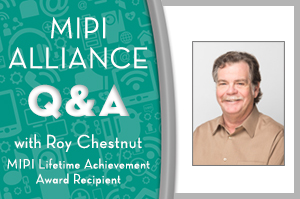 Q: You were recently presented with a MIPI Lifetime Achievement Award for the instrumental role you play as chair and vice chair for MIPI DevCon, among other MIPI contributions. Congratulations!
Thank you very much. It's an honor to be recognized.


Q: Tell us about how DevCon got started, how you got involved, and how it has evolved.
We've been holding an annual MIPI Developers Conference (DevCon) since 2016. Before that, we frequently held "demo days" in conjunction with MIPI member meetings. These events typically featured several presentations, along with tabletop demos conducted by member companies, and we'd invite local members, nonmembers and the media.
Then, in 2015, MIPI embarked on a strategic priority to provide more education and training not only to MIPI members but also to the developer ecosystem. They decided it was time to take those demo days to the next level and create a developers conference. A call went out to members looking for a conference chair, so I volunteered.
Our first developers conference was a two-day, multitrack event held in Mountain View, Calif., and had an attendance of over 200. Since then, we've held the conference in a different location each year—in Bangalore; Hsinchu City, Taiwan; Seoul; and Taipei.
For me personally, being involved in the conferences has been very gratifying. It's helped my networking opportunities grow within MIPI. Now people I don't know introduce themselves and ask questions, so it's been a great role.


Q: What does this year hold for MIPI DevCon?
This year has had its own set of challenges, as we all know. Because of the pandemic, we'll be holding a virtual developers conference on 22-23 September. It will be a two-day conference, four hours each day, with more than a dozen presentations and demonstrations, all by member companies and specification developers. The virtual event also gives us the opportunity to switch up our format, so we'll be interspersing the demos throughout the education program, and we hope to offer some "fireside chat" style presentations as well. I encourage all within the MIPI ecosystem to take advantage of the complimentary registration.

Q: What will be the major themes?
The conference will highlight applications in "mobile and beyond." We'll still be talking about MIPI specifications as they pertain to the mobile industry, but we'll also be looking at how they apply to other areas, particularly automotive, which will be the primary focus of the first day. In addition, there will be discussions on how MIPI specifications enable IoT, as well as on the new version of MIPI RFFE℠ (the MIPI RF Front-End Control Interface) and its impact on 5G implementations.


Q: How long have you been involved with MIPI, and how has the organization evolved over that time?
I attended my first MIPI meeting in 2008, and it was a very small member meeting. My company had come to demonstrate product capabilities. At that time, the MIPI Alliance was still very focused on the smartphone. Since that time, MIPI specifications have been implemented in an ever-broader array of markets—in automotive, camera and imaging applications, 5G and the IoT. Similarly, MIPI has seen its membership grow and broaden as well.


Q: Aside from MIPI DevCon, you've also been active in other MIPI working groups, in particular in automotive. What are you seeing in that market?
In automotive, there's the major push for safety: ADAS (advanced driver assistance systems), the connected cockpit or the cockpit as a cocoon, the connected car and self-driving cars. Each of these applications requires more and more cameras and image sensors, as well as displays, and the interconnect (or interface) of choice is MIPI CSI-2℠ for cameras and image sensors, and MIPI DSI-2℠ for displays.
The amount of data that is coming from all these image sensors is growing fast and needs to be accessed and processed quickly. So MIPI has completed development of MIPI A-PHY℠, which will provide a physical layer for data transfer spanning an entire vehicle. A-PHY will help the automotive industry accelerate the availability of ADAS and self-driving systems, as well as surround sensor applications, cameras, in-vehicle infotainment displays and cockpit cameras.

Q: Your company provides test equipment to the MIPI ecosystem. How does your direct involvement in MIPI help your company, and what is happening in the test space in general?
As a Contributor member, we are involved early on with the specifications. We understand where the specifications are going, in terms of the roadmap, and where customers would need to test those implementations. It gives us insight into how we should be designing our next generation of tools so that we can be ready to help the ecosystem move forward.
Like all of the ecosystems these days, the test space has a lot of consolidation, but we're still seeing new entrants moving into different areas where they can make a difference. Ten years ago, I don't think you would have seen many of the test manufacturers looking at automotive. Now automotive is exploding with electronics integration, and the same goes with the IoT and 5G. There's not only the cellular portion of 5G, but also the networking backbone and the mobile implementations to handle millimeter-wave and different types of traffic, and there are the techniques to handle the amount of traffic that will be coming. I look forward to what the next ten years has in store for MIPI and the markets and technologies it supports.

Roy Chestnut is vice chairman of the MIPI DevCon Steering Committee and is vice president, products; mobile and test appliances at Teledyne LeCroy.