2 min read
MIPI Working Groups On Track in Replacing Objectionable Terminology

Chris Grigg, Lead Technical Editor and Specification Document Manager : 3 August 2021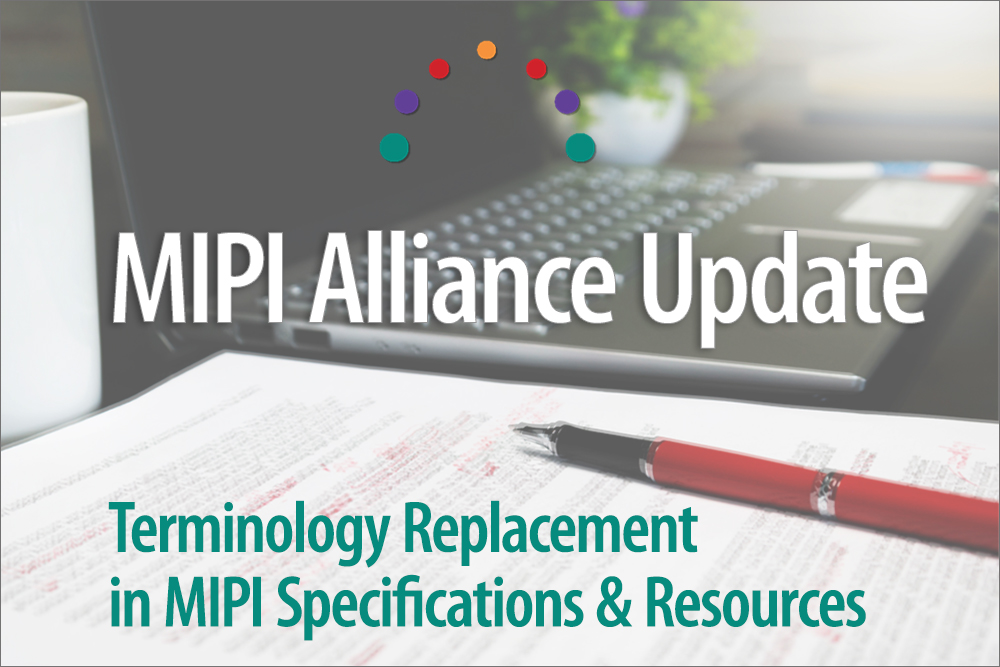 Based on a recommendation from the MIPI Technical Steering Group (TSG), the MIPI Alliance Board of Directors late last year directed all working groups to initiate the replacement of offensive terms in MIPI specifications and supporting documents, to be completed by the end of 2022. While the primary examples were "master" and "slave," the groups were also asked to identify any other problematic words, such as "blacklist" and "whitelist" for example, and work to replace them within the same two-year period.
The board action came after a four-month, member-driven process, led by the TSG, that included examining existing MIPI specifications to gauge the scope of any potential actions and soliciting input from working group participants and the entire MIPI membership.
MIPI Alliance is far from alone in tackling this issue. Over the past year, many other standards development organizations, including the IEEE Standards Association, and the Internet Engineering Steering Group (IESG) under the Internet Engineering Task Force (IETF), have undertaken similar efforts, driven by requests from their members and member companies. Other organizations, including GitHub and the Linux team, have also initiated these changes, and even private companies such as Microsoft, Twitter and several MIPI member companies are replacing historically objectionable terms. Some of these initiatives have attracted mainstream news coverage, such as feature stories in the New York Times.


Replacing terms with approved alternatives
From the outset of MIPI's effort, two things were very clear.
First, choosing replacements for these terms could be tricky. Many potential alternate words have considerations of their own, and a replacement that works well for one specification might not be suitable for another specification that addresses a different technical field.
To help facilitate these choices, the TSG and board provided several pre-approved replacements for each term, based on input and suggestions from the working groups. Although working groups can propose additional terms, the following replacements have been made available as options:
For master: active, central, controller, default, host, initiator, leader, main, manager, parent, primary, principal, requester, supervisor
For slave: auxiliary, child, client, completer, device, follower, peripheral, proxy, replica, responder, secondary, standby, subordinate, supporter, target, worker
For example, the I3C Working Group (which was among the first to propose such changes) chose to replace "master" with "controller," and "slave" with "target." The Display Working Group, on the other hand, selected "host" and "client."
Second, replacing the terms in a specification would not be a simple global-replace operation. Each time a term is replaced, the context must be considered. In copy, the grammar may also need to be changed; and in figures, the spacing may need to be adjusted. Often, symbol and variable names in figures and equations must be reconsidered. As a result, the technical editing and working group review process entails significant effort.
Fortunately, not all specifications will require updates. Upon review, it was determined that several specifications – MIPI M-PHY® and MIPI UniPro® for example – will not require revision because they have never used any objectionable terms.


Meeting the 2022 deadline
For the specifications that do require updates, editing has been underway within working groups since late 2020, with many groups working to address multiple documents. To date, draft and adopted specifications and supporting documents with updated terminology have already been produced by the A-PHY, Audio, C-PHY, Camera, Debug, Display, I3C and Software working groups.
Additional work to meet the 2022 year-end completion date is planned in the A-PHY, Audio, C-PHY, Camera, D-PHY, Debug, Display, I3C, RFFE, RIO and Software working groups.
"MIPI Alliance is helping to move the computing industry forward by updating its standards to use more precise and inclusive language in a way that promotes adoption without unnecessarily breaking compatibility or interoperability," said Intel Corporation's Matt Schnoor, lead of the I3C HCI Subgroup within MIPI's Software Working Group and a proponent of the initiative.
Looking ahead, MIPI Alliance will continue to follow the board's direction to work to maintain global cultural and historic sensitivity within the terminology used in its specifications.
Editor's note: If you have any questions about the initiative or terminology replacements, please contact Rob Anhofer, MIPI director of operations, for more information.