3 min read
New Ethernet Adaptation Layer Adds Control Option to MIPI A-PHY Automotive Networks

Sharmion Kerley, MIPI Director of Marketing and Membership : 18 May 2022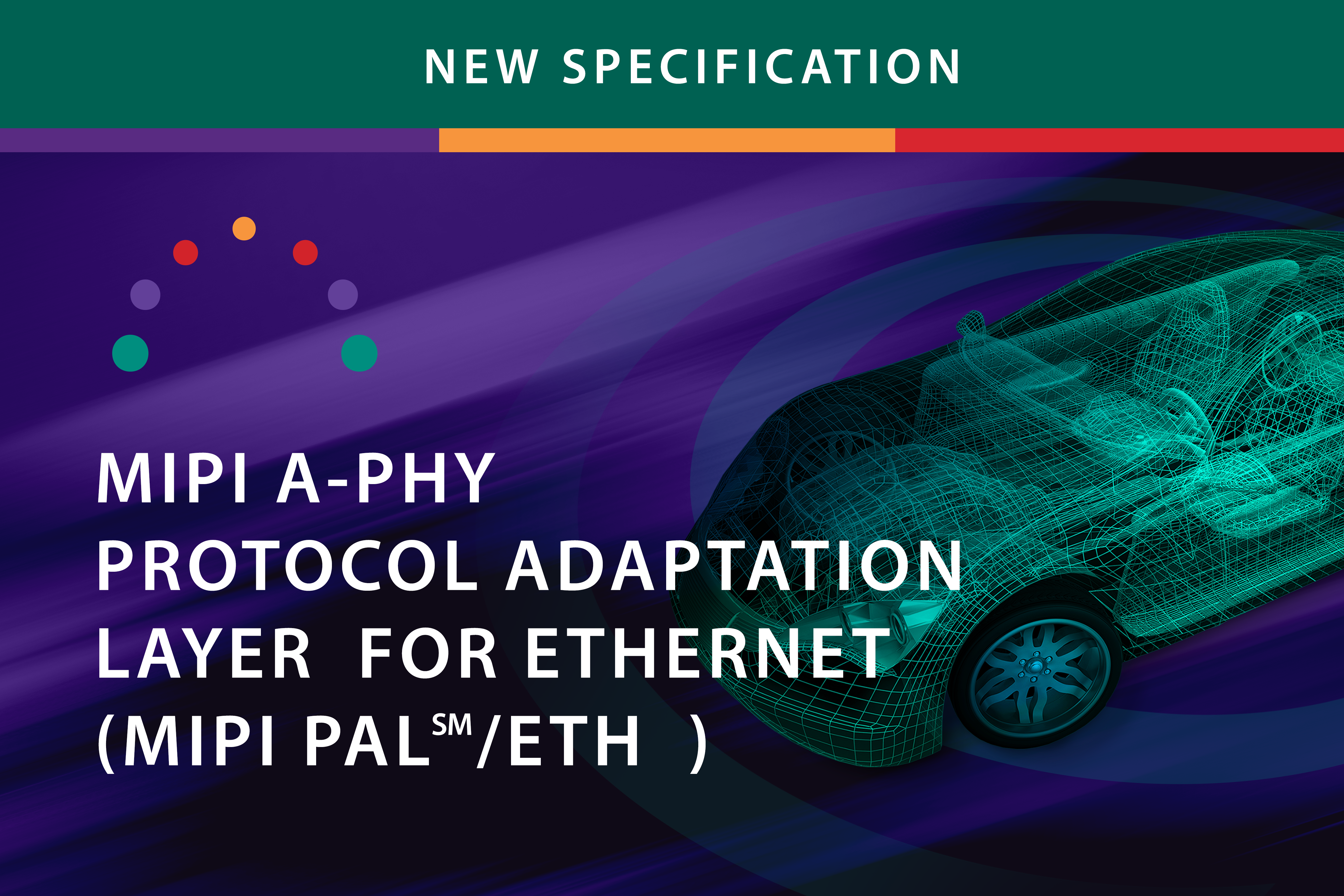 To satisfy the demand for both advanced safety features and better driver and passenger experiences, automakers are adding more displays, larger in size and with greater resolutions, to the digital cockpit. This trend has created a need for more in-vehicle wiring, which in turn adds cost, weight and complexity to new car designs.
This is one of the many challenges being addressed by the introduction of MIPI Automotive SerDes Solutions, or MASS for short, which offers a standardized framework for integrating cameras and displays with their associated electronic control units (ECUs) using the MIPI A-PHYSM asymmetric SerDes physical layer as its foundation.
The most recent addition to the MASS framework is MIPI PALSM/ETH v1.0, an A-PHY protocol adaptation layer (PAL) released in March 2022 that lets OEMs and Tier 1 suppliers use a single A-PHY cable for both high-speed image data and low-speed Ethernet control data between automotive display modules and their ECUs.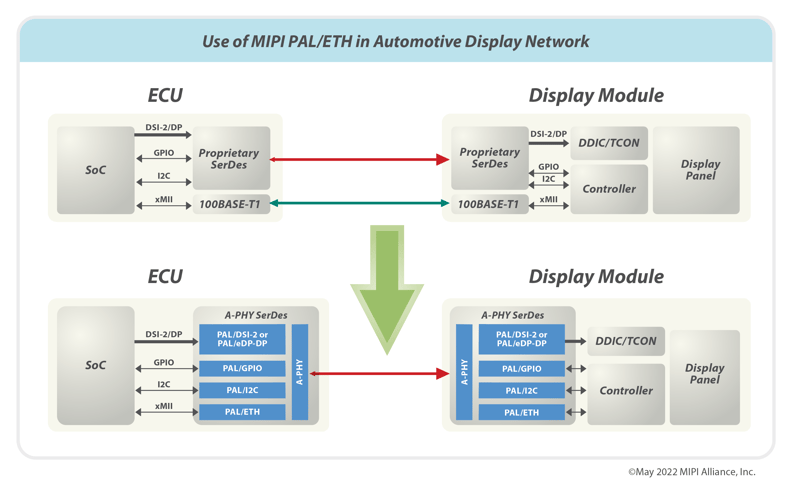 Example of cable reduction using the A-PHY Protocol Adaptation Layer Specification for Ethernet v1.0 for high-speed image data and low-speed Ethernet control data between an automotive display module and ECU


Simplified Connectivity
The new PAL/ETH v1.0 specification defines flows and mechanisms for carrying up to 100 Mbps Ethernet traffic over an A-PHY v1.1 network. It gives a new connectivity option to OEMs and suppliers that currently use a dedicated Ethernet cable for bidirectional, low-speed communication between displays and ECUs for such functions as control data, display diagnostic information and touchscreen inputs used to generate haptic feedback.
By adapting Ethernet frames for transmission over A-PHY, PAL/ETH gives system designers the option to eliminate an Ethernet cable, which simplifies the automotive network, cuts costs, makes the wiring harness smaller and lighter, and reduces power consumption. With the option of low-speed Ethernet over A-PHY, OEMs and suppliers can upgrade control channels to Ethernet, improving system control capabilities. This change may also provide support for the transition to a zonal architecture in which A-PHY is used for image data and Ethernet is used for low-speed data and control.
For use in display applications in place of a dedicated Ethernet connection, PAL/ETH creates a logical 100 Mbps Ethernet channel using MIPI's Display Serial Interface 2 (MIPI DSI-2SM) or VESA Embedded DisplayPort™/DisplayPort (VESA eDP/DP) over A-PHY.


How It Works
MIPI PAL/ETH encapsulates a standard Layer 2 Ethernet frame (EF)—not an Ethernet packet (EP)—into one or more A-Packets, which can be transferred in a standard way across an A-PHY network. The PAL/ETH transmitter extends each Ethernet frame with an additional timestamp. The timestamp is used by the PAL/ETH receiver to ensure that all Ethernet frames are transferred end to end with a consistent timing. The A-PHY network appears as a simple constant interconnect delay for time-sensitive applications over Ethernet.
PAL/ETH was made possible by the addition of a new, faster uplink gear introduced in MIPI A-PHY v1.1, released in late 2021. Gear U2 provides a raw data rate of 200 Mbps, twice the rate of Gear U1 in A-PHY v1.0. This creates an effective data rate of 125 Mbps to accommodate a 100 Mbps Ethernet uplink. Gear U2 provides sufficient bandwidth for the transport of Ethernet and additional low-speed control interfaces such as I2C and GPIO.
The corresponding Ethernet downlink is provided in A-PHY downlink gears G1 through G5, with raw data rates ranging from 2 Gbps to 16 Gbps. Despite the high bandwidth available on these downlinks, PAL/ETH was not designed as an alternative to high-speed, bidirectional Ethernet. Rather, A-PHY serves as the first standardized long-reach solution for high-performance, asymmetric connectivity for edge devices, serving as a complement to automotive Ethernet backbone networks. The PAL/ETH specification also supports Time-Sensitive Networking (TSN) for low-speed aggregated traffic, such as audio and controls, and will scale with future versions of A-PHY to reach 1 Gbps.
Further, as a general-purpose network protocol, Ethernet inherits functional safety and security features from the higher protocol layers to prevent safety-critical data from being corrupted or disrupted between displays and ECUs. PAL/ETH uses these features for safety and security throughout the Ethernet link.


The Suite of MIPI A-PHY PALs
MIPI PAL/ETH v1.0 is the latest addition to the extensive set of PALs included in the MASS framework. The main adaptation layers provided in MASS cover three protocols widely used for automotive camera and display interfaces:
MIPI PAL℠/DSI-2℠ enables high-speed MIPI DSI-2 downlinks that carry display data over A-PHY.
MIPI PAL℠/eDP-DP does the same for display links based on VESA eDP/DP.
MIPI PAL℠/CSI-2® enables high-speed MIPI Camera Serial Interface 2 (MIPI CSI-2®) downlinks from image sensors to associated ECUs over MIPI A-PHY.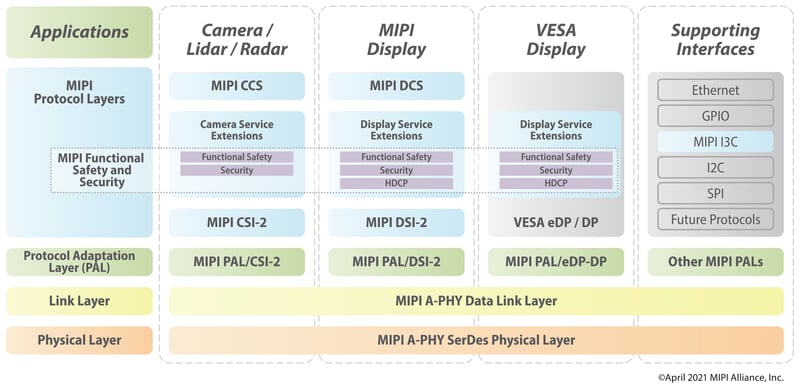 Components of the MIPI Automotive SerDes Solutions (MASS) framework
MASS also incorporates PALs for common low-speed control interfaces, of which Ethernet is the latest. Others include PALs for GPIO and I2C, which likewise enable OEMs to provide for low-speed control data uplinks. PALs for SPI and for the MIPI I3C® bus interface are also in the works.


The Latest Building Block
The rise of advanced driver assistance systems (ADAS), in-vehicle infotainment (IVI) platforms and autonomous driving systems (ADS) keeps escalating automotive connectivity requirements. As image sensors and displays proliferate to support new features, OEMs need new approaches to both standardize and simplify connectivity to these devices. By allowing OEMs and suppliers to add low-speed Ethernet control channels to A-PHY networks, the new PAL/ETH interface adds a critical component to the comprehensive MASS framework.