4 min read
What's Next for MIPI? A Conversation with MIPI Alliance Chairman Joel Huloux

Sharmion Kerley, MIPI Director of Marketing and Membership : 4 February 2019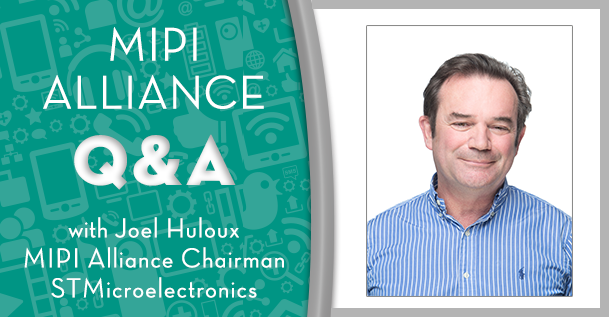 Q: You've

been chairman of MIPI for 11 years now. What are some of the most memorable milestones for the organization?
I've been involved in MIPI since its inception in early 2003 and have enjoyed every meeting and discussion I've had. I have so many memorable moments with many different people, thanks to the melting pot that is MIPI Alliance. My role is both enjoyable and challenging, as we strive to build the Alliance, keep members productive and engaged, and contribute to and add value to ALL the industries we serve by delivering the best interface specifications.
One of the first memorable moments was in 2006 when we realized that the application processor might not be the "center of the world" for defining our interfaces and we introduced the definition of the mobile terminal. It was rewarding to see that we were able to reconsider our scope of work and make progress! Another memorable milestone was when MIPI Alliance reached 300 members—MIPI was gaining traction thanks to the quality and maturity of our specifications being used in mobile and outside our traditional ecosystem. 2019 has already ushered in another major milestone that will help our members to capitalize on their contributions by enabling the use of our specifications under the same rules in all industry segments.


Q: MIPI is kicking off 2019 with a full plate of activities and initiatives. Tell us how MIPI establishes the strategic priorities that guide its work.
MIPI's strategic priorities are revisited and revised every two years, which allows us to quickly shift and refocus if needed to align with industry changes and advancements. For the 2018-2019 priorities, we invited all members to become involved in the process—from providing feedback through surveys to participating in group sessions. At our Vancouver Member Meeting last March, we had a series of discussions with various groups, culminating with a full-day strategic session at the end of the week. All of that feedback was assembled and refined in conjunction with a planning team, and then approved by the Board in June.
With the approved priorities in hand, we sought leaders for each area who could help determine how to move forward and how to measure success.
These priorities help to align members on our vision and mission to focus the organization on the most urgent emerging requirements and opportunities.


Q: What will MIPI's technical areas of focus be over the next couple of years?
While MIPI's core focus remains on mobile and supporting the mobile ecosystem, it's clear we will see the emergence of 5G mobile devices and the growth of new, mobile-influenced systems such as ADAS/automotive and IoT devices. Supporting these areas with evolving MIPI specifications will be a primary focus of our technical efforts.
Two major initiatives on our roadmap will help MIPI meet these technical demands.
First, we are adopting an end-to-end systems approach to the development of interfaces. Rather than focusing on the development of a single protocol, we will look at the hardware and software requirements of the whole system, its applications and use cases. Systems-level roadmaps will define needs for different segments and specifications, such as mobile, automotive and IoT.
Second, MIPI will focus on developing a longer-term roadmap for its MIPI PHY (physical layer) specifications. MIPI currently has three physical layer specifications, and another is in development (A-PHY), so it's important to have a clear roadmap for these cornerstone specifications. This includes determining whether existing PHY technology can scale and transition to evolving requirements with reasonable effort.

Q: How is MIPI helping mobile device vendors prepare for 5G?
5G devices will need faster interfaces to support applications and services built for multi-gigabit networks. To help guide 5G developers and device manufacturers, we offer a white paper that shows how existing MIPI interface specifications meet 5G bandwidth, performance and feature requirements through 2021 and beyond. In addition, MIPI will be extending current specifications (for example, development is well underway for the next-generation RFFE interface) and exploring where to create new ones to support advanced 5G use cases.


Q: What strengths does MIPI bring to the automotive field?
MIPI has deep expertise in developing mobile interfaces and PHY protocols, including its widely deployed specifications for camera and display. MIPI helped to unify a mobile industry that was divided among many interfaces, much like the auto industry is today.
Building on that expertise, MIPI is developing new and updated specifications for automotive. The A-PHY longer-reach physical layer specification, for example, is being designed with automotive OEMs for advanced driver assistance systems, autonomous vehicles and other applications.


Q: How does MIPI plan to address IoT standardization?
Sensors are critical in IoT, with vendors integrating many sensors into one device. However, interfaces between sensors and application processors are fragmented, so designers are often forced to use a different one for each sensor. This slows development and sometimes forces manufacturers to increase pin counts.
MIPI I3C is a low-power, low-complexity interface developed for connected sensors, hubs and application processors that meets IoT cost and performance requirements. It allows manufacturers to connect mechanical, environmental, and other sensors from multiple vendors to a processor. MIPI I3C Basic, which was released late last year, is a subset of MIPI I3C that bundles the most commonly needed I3C features for developers and other standards organizations. The mobile ecosystem and broader system integrator community can now efficiently use these capabilities as an alternative to I2C.


Q: Another priority for MIPI is described as "Adoption and Enablement." Can you briefly explain this area of focus?
This is a broad area that includes efforts to help the greater ecosystem implement MIPI specifications. These efforts involve a wide range of activities, from providing educational opportunities and support documentation, to member recruitment and software development. Also, as part of these efforts, we're looking to provide support to as many geographic areas and uses cases as possible, while maintaining our core focus in mobile. We look forward to bringing MIPI DevCon to Stuttgart, Germany, and Taipei, Taiwan, in 2019. It's our goal to expand the resources and educational content we offer around the globe, expand our industry liaisons and continue to offer valuable, timely interfaces to our expanding membership base.

Joel Huloux is chairman of MIPI Alliance and director of Lobbying & Standardization in Strategic Planning of the Microcontrollers and Digital ICs Group at STMicroelectronics.