4 min read
2022 MIPI Automotive Workshop

MIPI Alliance : 15 November 2022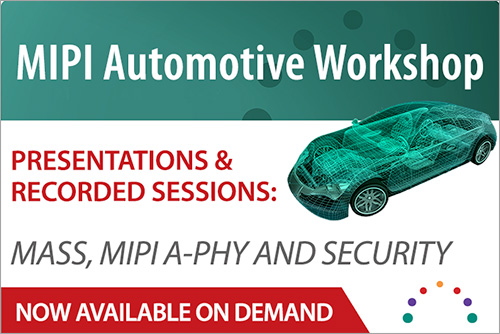 Overview
MIPI's 15 November virtual Automotive Workshop highlighted the latest information on MIPI's automotive-focused initiatives and specifications.
Led by experts from the A-PHY and Security working groups, the program covered topics such as:
Agenda
Welcome and Introduction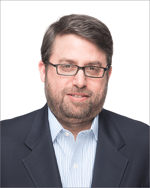 Peter Lefkin has been providing leadership and guidance to the standards development community for more than 20 years. In 2022, he was promoted to executive director of MIPI Alliance, after having served as its managing director since 2011. As MIPI's senior staff executive, he is responsible for all MIPI activities and operations, from strategy development to implementation, and also serves as secretary to the MIPI Alliance Board of Directors.
---
Session 1: MIPI Automotive SerDes Solutions: What's New in the MASS℠ Connectivity Framework
Speaker: Ariel Lasry, Vice Chair of the MIPI A-PHY Working Group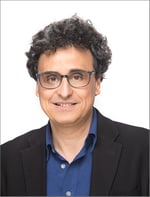 In this presentation, you'll learn about the latest developments within MIPI Automotive SerDes Solutions (MASS) – the framework that provides a full-stack, end-to-end sensor/display-to-ECU solution for autonomous driving and ADAS systems, leveraging existing MIPI CSI-2®, DSI-2℠ and VESA eDP/DP protocols running over MIPI A-PHY®.
The discussion starts with a brief overview of the MASS framework -- its driving principles, components and application to various topologies -- and then focuses on both what's new and under development. This portion of the presentation highlights new developments in the A-PHY protocol adaptation layers, such as those for Ethernet, SPI, I2C, CSI-2 and MIPI I3C®, that extend flexibility and configuration options for use with existing protocols.
The presentation also places special emphasis on the functional safety enablers that have been embedded throughout the camera and display stacks to support the increasing use of sensor-based safety-critical automotive applications, and how this solution will ultimately allow developers to embed functional safety natively at the 'edge' -- within the sensor and ECU components themselves.
Ariel Lasry serves as vice chair of the MIPI A-PHY Working Group. For more than a decade, he has been actively engaged in standardization activities across multiple SDOs including MIPI Alliance, where he has been an active contributor to multiple working groups since 2009.
---
Session 2: MIPI A-PHY®: Continuing to Drive Innovation for In-Vehicle Connectivity
Speaker: Raj Kumar Nagpal, Co-Chair of the MIPI A-PHY Working Group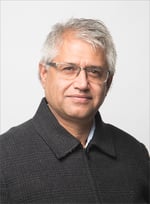 Since its adoption in 2020, the MIPI A-PHY automotive SerDes interface has continued to evolve to meet emerging requirements brought on by increased use of sensor-based safety-critical applications, as well as the introduction of larger and more numerous displays in digital cockpits.
After a brief primer on the characteristics of A-PHY, this presentation reviews the enhancements made available in last year's A-PHY v1.1 release, and then provides an in-depth preview of new features under development for v2.0, including doubling the downlink throughput data rate to 32 Gbps per single lane while significantly boosting the uplink throughput to 1.66 Gbps. The discussion also highlights the suitability of A-PHY for use in zonal architectures, the introduction of support for new power classes, system modeling updates, the expansion of the A-PHY ecosystem and plans underway for compliance testing activities. Also included is a summary of key application notes and other resources available for more information.
Raj Kumar Nagpal is senior manager at Synopsys and serves as co-chair of the MIPI A-PHY Working Group, chair of the PHY Steering Group and chair of the D-PHY Working Group. He has more than 25 years of research and development experience in various fields of electronics, including RF engineering, high-speed serial links, signal integrity, power integrity and product validation.
---
Session 3: MIPI CSI-2® Security Framework: A New Approach for End-to-End Protection of Camera Data Streams
Speaker: Rick Wietfeldt, Co-Chair of the MIPI Security Working Group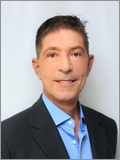 With the increased use of sensor-based systems in safety-critical applications for ADAS and ADS, the need for security becomes paramount. In this presentation, you'll learn about the unique approach MIPI is undertaking to protect connections between MIPI CSI-2-based sensors and their related ECUs from the perspectives of authentication, integrity and confidentiality.
The presentation first defines security for the purposes of the framework's design, and then provides an overview of the system requirements that underlie its approach, such as support for multiple topologies, as well as unicast, multicast, multi-sensor, multi-SoC aggregation and disaggregation; and a flexible, PHY-agnostic design, allowing its use with multiple MIPI PHYs (with or without bridges) and non-MIPI PHYs following "compliant portions" via bridges.
The discussion details the advantages that this application-based approach brings to enable configurable, end-to-end security from the pixel source to pixel sink at the CSI-2 layer. For example, this approach introduces the use of scalable source-selective partial-integrity and encryption (SSPIE) -- the ability to provide highly granular security control of the CSI-2 video frame so that implementers have the flexibility to apply needed tradeoffs between the required security level and cost and/or power constraints in the sensor system. It also allows for scalable MAC modes, which allow MAC accumulation and transmission on variable scales, including on a per-message, per-CSI-2 data-type and per-frame basis, enabling algorithm options for higher- or lower-tier sensors.
The presentation also covers the MIPI specifications being introduced or updated to enable the framework, and the inputs being sought from the automotive community.
Rick Wietfeldt is co-chair of the MIPI Security Working Group and serves as a senior director, technology, at Qualcomm Technologies Inc. He joined Qualcomm in 2007 and established the Advanced Connectivity Technology office responsible for the standards developments organizations (SDO) that drive mobile interface standards. He has authored numerous publications and been awarded numerous patents in mobile device architecture and operation.