3 min read
MIPI Forum: MIPI A-PHY Automotive Industry Forum

MIPI Alliance : 26 January 2022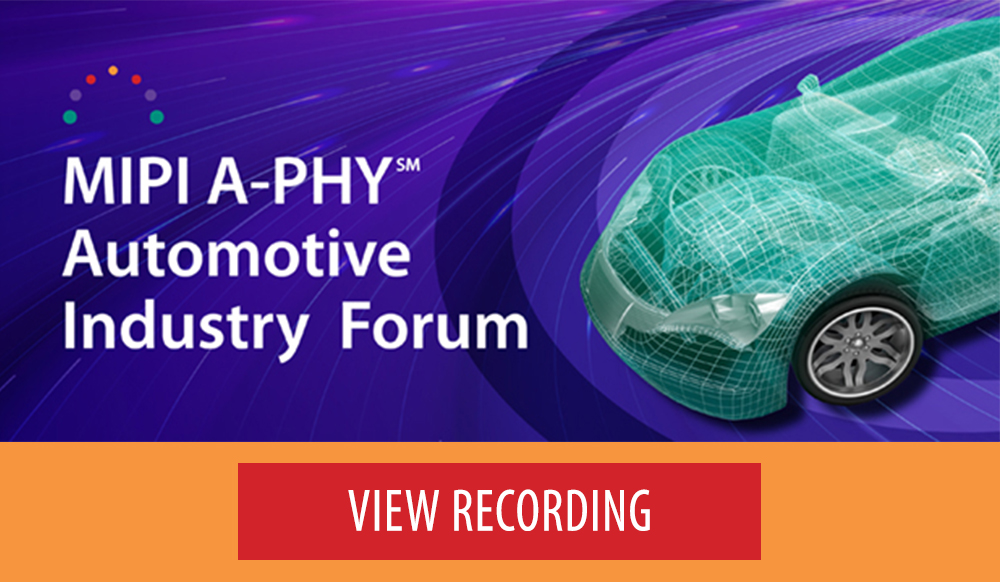 Forum Overview
Originally released to members in September 2020 and adopted by IEEE as a standard in 2021, MIPI A-PHY® is poised to facilitate the next stages of the automotive industry's evolution toward autonomous driving. As the first standardized asymmetric solution for integration of lidar, radar, cameras and displays in vehicles, A-PHY offers both ultra-high speeds and long-reach (up to 15 meters), while still providing high noise immunity and unprecedented reliability with a packet error rate of 10-19 over the lifetime of a vehicle.
Targeted at automotive OEMs and Tier 1 suppliers, this public forum provides a technical overview of the latest A-PHY v1.1 release, followed by an interactive session to help shape the next version of the A-PHY SerDes interface.
The event begins with a brief overview of the specification with a focus on the enhancements in A-PHY v1.1, including doubling of the downlink bandwidth to 32 Gbps, a faster uplink gear with an available data rate of up to 200 Mbps and the addition of optional PAM4 encoding for downlink gears G1 and G2 to allow manufacturers to more easily migrate to A-PHY while using either legacy cables on current platforms or lower-cost cables on new platforms.
The second part of the forum is designed to generate and capture key automotive industry requirements for the next version of A-PHY. Led by leaders of the A-PHY Working Group, a series of potential features and enhancements were presented, based on forecasted automotive industry requirements. Each update was debated, and then an audience poll was be performed to gauge industry support.
The A-PHY Working Group looks forward to engaging with the automotive industry and welcomes questions on A-PHY v1.1, as well as considerations and requirements for the next version.
Presenters
Raj Kumar Nagpal – Co-Chair, MIPI A-PHY Working Group, Synopsys

Raj Kumar Nagpal is senior manager at Synopsys and serves as co-chair of the MIPI A-PHY Working Group, chair of the PHY Steering Group, and chair of the D-PHY Working Group. Raj has more than 25 years of research and development experience in various fields of electronics, including RF engineering, high-speed serial links, signal integrity, power integrity and product validation. His work at Synopsys focuses on high-speed serial links architecture/system-level modeling, as well as signal integrity and power integrity domains of high-speed serial links. Raj has a master's of engineering degree in microwave electronics from the University of Delhi and earned his bachelor of technology degree in electronics and communication from Nagpur University.
Edo Cohen – Co-Chair, MIPI A-PHY Working Group, Valens Semiconductor

Edo Cohen is co-chair of the MIPI A-PHY Working Group and an active member of the MIPI Technical Steering Group. He has been a member of MIPI Alliance since 2009, contributing in multiple working groups and previously serving as the vice chair and chair for the Display Working Group.

Edo is Valens' director for strategic innovation, spearheading automotive standardization. He brings more than 20 years of experience as a senior system engineer, with extensive knowledge in system architecture, technical specifications, definition and execution. Prior to Valens, Edo was a senior system architect at Intel Corporation, heading activities in the wearables and IoT group. Previously, he was a senior staff system engineer at Marvell Cellular Division, responsible for the company's cellular processor environment, and has held engineering managerial positions at Floware, Alvarion and NAMS. Edo holds an MBA and a bachelor of science degree in electrical engineering from Tel Aviv University.
Ariel Lasry – Vice Chair, MIPI A-PHY Working Group

Ariel Lasry joined Qualcomm in April 2021 as Director, Technical Standards. He is actively engaged with standardization activities across multiple SDOs including the MIPI Alliance, where he has been contributing to several working groups since 2009. Prior to his role at Qualcomm, Ariel worked at Toshiba Electronics Europe in Düsseldorf since 1996. As Chief Engineer he was responsible for strategic business planning and standardization, and represented Toshiba on the MIPI Alliance Board of Directors from June 2012 through 2020.

Since 2009 Ariel has gained extensive experience in strategic marketing, product management, business development and industry alliances covering a wide range of vertical segments including mobile, industrial automation and automotive. From 1996 to 2009 Ariel worked as SoC Architect, project manager and SoC designer contributing to the Toshiba product lineup. From 1994 to 1996 he worked as an SoC design engineer at SGS-Thomson Microelectronics in Grenoble (now STMicroelectronics). He holds an Diplôme d'Ingénieur degree from Ecole Supérieur d'Electricité (SUPELEC) in Paris.