2 min read
MIPI Alliance Welcomes Bosch and Qualcomm as Promoter Members

MIPI Alliance : 13 March, 2018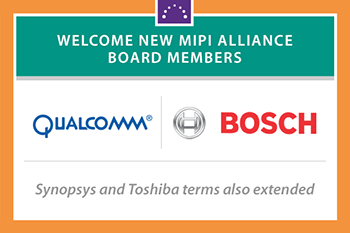 Lindenkreuz and Wietfeldt join MIPI Alliance Board of Directors to help guide future direction of device interface technologies in mobile, IoT, automotive and other areas
PISCATAWAY, N.J., and VANCOUVER, BC, March 13, 2018 - The MIPI Alliance, an international organization that develops interface specifications for mobile and mobile-influenced industries, today announced that Qualcomm Incorporated and Robert Bosch GmbH (Bosch) have been approved as Promoter members.
As Promoter members, each company obtains a seat on the MIPI Alliance Board of Directors to help the organization guide the future direction of device interface technologies.
With the appointment, effective immediately, the two companies join Intel, Samsung Electronics, STMicroelectronics, Synopsys, Texas Instruments and Toshiba on the board. Rick Wietfeldt, Ph.D., Sr. Director, Technology, Qualcomm Technologies, Inc., will represent Qualcomm, and Thomas Lindenkreuz, Director, Automotive Electronics, will represent Bosch on the board.
"We welcome Qualcomm and Bosch as Promoter member companies," said Joel Huloux, chairman of MIPI Alliance. "Qualcomm, as a Contributor member since 2009, has been instrumental in providing leadership across numerous working groups, and this leadership and broad expertise will bring additional perspectives to the board as well. Bosch, which recently joined as a Contributor member, is already making an impact to help drive requirements for key specifications. As MIPI Alliance continues to develop and evolve interface specifications for mobile and mobile-influenced industries such as automotive, the Internet of Things and other areas, the expertise and leadership these companies bring is invaluable."
"Qualcomm is pleased to join the MIPI Alliance Board of Directors as a Promoter Member. Since joining MIPI in 2009, Qualcomm has developed a record of making technically solid and relevant contributions," said Dr. Edward Tiedemann, Senior Vice President, Engineering, Qualcomm Technologies, Inc., who is responsible for Qualcomm's activities in standards and industry organizations. "Qualcomm proudly plays a leading role in many MIPI endeavors, including chairing the Technical Steering Group (TSG), and contributing to or leading the development of key specifications such as MIPI I3C, MIPI D-PHY, MIPI C-PHY and in other areas of display, audio and radio frequency front end efforts. Qualcomm values MIPI's contributions to the mobile and adjacent industries and proudly continues its contributions to MIPI."
"As a leading IoT company, Bosch offers innovative solutions for smart homes, smart cities, connected mobility and connected manufacturing. It uses its expertise in sensor technology, software and services, as well as its own IoT cloud, to offer its customers connected, cross-domain solutions from a single source. Bosch wants to actively shape this process and help develop optimal industry specifications in MIPI," said Thomas Lindenkreuz, Director, Automotive Electronics, Bosch.
Promoter members are elected to their positions by the MIPI Alliance board and have a two-year term. Promoters can be re-elected to additional terms. With the Bosch and Qualcomm appointments, MIPI Alliance now has eight directors including four Promoter members. Synopsys and Toshiba have been re-elected for an additional two-year term through May 31, 2020.
To discover more about MIPI Alliance and to connect with its social networks, follow its Twitter page, join its LinkedIn group and like its Facebook page. To join MIPI Alliance, use the Join MIPI link on the organization's site.
About MIPI Alliance
MIPI Alliance (MIPI) develops interface specifications for mobile and mobile-influenced industries. There is at least one MIPI specification in every smartphone manufactured today. Founded in 2003, the organization has over 300 member companies worldwide and 14 active working groups delivering specifications within the mobile ecosystem. Members of the organization include handset manufacturers, device OEMs, software providers, semiconductor companies, application processor developers, IP tool providers, automotive OEMs, test and test equipment companies, as well as camera, tablet and laptop manufacturers. For more information, please visit www.mipi.org.
MIPI® is a registered trademarks owned by MIPI Alliance. MIPI I3CSM, MIPI D-PHYSM, MIPI C-PHYSM are service marks of the MIPI Alliance.