3 min read
MIPI Alliance Announces Annual Membership Award Recipients

MIPI Alliance : 27 March, 2019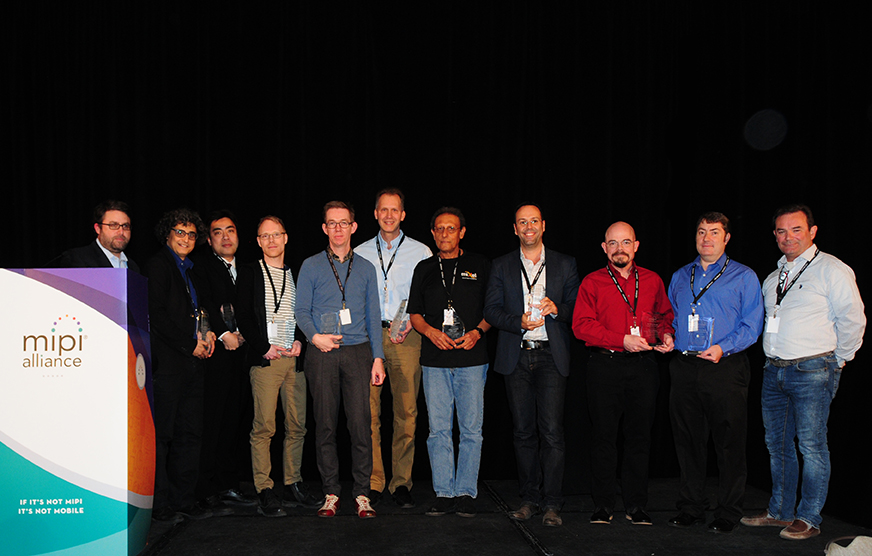 Awards program recognizes individuals and member companies for outstanding contributions and accomplishments that advance the organization's specifications for mobile, IoT, automotive and other applications

PISCATAWAY, N.J., and Montreal, March 27, 2019 – The MIPI Alliance, an international organization that develops interface specifications for mobile and mobile-influenced industries, today announced the 2018 MIPI Alliance Membership Award winners. The luncheon awards ceremony took place today during the Alliance's weeklong member meeting in Montreal.
"As MIPI forges ahead in its 16th year of developing specifications that advance hardware and software integration in mobile, IoT, automotive and other areas, the annual awards program recognizes individuals and companies for their invaluable contributions supporting the organization's ongoing growth and success," said Joel Huloux, chairman of MIPI Alliance. "The commitment demonstrated by this year's award recipients is greatly appreciated. Their ongoing support and participation, as well as the support from all our members, help shape MIPI's important specification development work in mobile and other mobile-influenced areas."
The annual MIPI Alliance Membership Awards Program recognizes outstanding contributions and achievements by individual and corporate members. An awards and recognition committee appointed by the board of directors receives nominations from MIPI members and selects the award winners.
This year's program honored nine award recipients. Awards were given in four categories: Lifetime Achievement, Corporate, Working Group Leadership and Distinguished Service.
The Lifetime Achievement Award is presented to individuals who have participated in MIPI Alliance efforts for at least seven years and provided significant contributions or leadership to a working group, the board or other MIPI entities. Two individuals were awarded this year: Ariel Lasry, Toshiba Electronic Devices & Storage Corporation, and Jim Ross, Skyworks Solutions Inc. Lasry was recognized for his distinguished efforts as an advocate for MIPI DSI-2, MIPI D-PHY and MIPI UniPro, as well as for his valuable leadership in the Technical Steering Group and, most recently, as a MIPI board member. Ross was awarded for his outstanding work as chair of the MIPI RF Front-End Control Working group, contributions to the MIPI RFFE specification and his invaluable work in advancing MIPI RFFE in preparation for the transition to 5G.
The Corporate Award was presented to Cadence Design Systems, Inc. and Sony Corporation. Cadence was recognized for its collective contributions to MIPI working groups, with several company members serving in chair and vice chair roles. Cadence representatives actively participate in member meetings, are consistent MIPI DevCon presenters, and help promote and drive MIPI specifications into the market. Sony was awarded for its leadership role in providing technical expertise for image sensors and other areas, and for contributing to the expansion of MIPI's ecosystem by applying MIPI specifications to Sony's image sensor products. Sony also has been an important contributor to the development of the forthcoming MIPI A-PHY specification and has promoted MIPI within other standards organizations.
The Working Group Leadership Award is presented to leaders within MIPI working groups in recognition of noteworthy contributions to the groups' activities or specification development work. Four individuals were recognized for their efforts in 2018. Loren Reiss, Cadence Design Systems, Inc., was recognized for his devoted work within the MIPI PHY Working Group, contributing to updated diagrams and bringing clarity to help implementers overcome interoperability issues. Henrik Icking, Intel Corporation, was also awarded in recognition of exemplary leadership and dedication as the chair of the MIPI PHY Working Group and for his support across the MIPI Alliance organization. Mikko Muukki, HiSilicon Technologies Co. Ltd., was awarded for his leadership and dedication to the development of MIPI CCS (Camera Command Set) v1.0, a specification that streamlines configuration of image sensors in mobile devices. Rob Gough, Intel Corporation, was selected for the 2018 award for his exemplary efforts and dedication to the MIPI Software Working Group within MIPI Alliance. MIPI software specifications streamline the software integration of components in mobile devices.
The Distinguished Service Award recognizes individuals impacting the MIPI Alliance specification development process or those contributing by serving on the board of directors, a working group or helping in the areas of marketing and testing. Ashraf Takla, Mixel Inc., received the 2018 award for his ongoing support and dedication to MIPI DevCon, as well as for his dedicated work and leadership in collecting and defining requirements for the development of MIPI A-PHY. Takla also is active in multiple working groups, and has been a strong advocate for MIPI Alliance through the publication of articles and whitepapers, as well as by partnering with the Alliance to deliver MIPI-related education at industry events.
Photos and more information may be found here: https://www.mipi.org/membership/annual-awards
To discover more about MIPI Alliance, subscribe to its blog and connect with its social networks by following MIPI on Twitter, LinkedIn and Facebook.
About MIPI Alliance
MIPI Alliance (MIPI) develops interface specifications for mobile and mobile-influenced industries. There is at least one MIPI specification in every smartphone manufactured today. Founded in 2003, the organization has over 300 member companies worldwide and 14 active working groups delivering specifications within the mobile ecosystem. Members of the organization include handset manufacturers, device OEMs, software providers, semiconductor companies, application processor developers, IP tool providers, test and test equipment companies, as well as camera, tablet and laptop manufacturers. For more information, please visit www.mipi.org.
MIPI® and MIPI UniPro® are registered trademarks owned by MIPI Alliance. MIPI A-PHYSM, MIPI CCSSM MIPI DSI-2SM, MIPI D-PHYSM and MIPI RFFESM are service marks of MIPI Alliance.