2 min read
MIPI Alliance and VESA Enable Next Generation of High-Performance Displays for Mobile, AR/VR, Automotive, Other Applications

MIPI Alliance : 15 May, 2018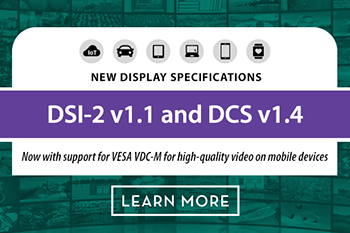 New MIPI DSI-2 v1.1 and DCS v1.4 specifications support VESA VDC-M compression standard for high-quality video on smartphones, tablets and more
PISCATAWAY, N.J., May 15, 2018 - The MIPI® Alliance, an international organization that develops interface specifications for mobile and mobile-influenced industries, today released new versions of MIPI Display Serial Interface 2 (DSI-2) and MIPI Display Command Set (DCS). Both new specifications support the Video Electronics Standards Association (VESA®) Display Compression - M (VDC-M), a new display interface compression standard specifically designed for the handheld display market.
MIPI DSI-2 v1.1 specifies the physical link between the chip and display in devices such as smartphones, tablets, AR/VR headsets and connected cars. MIPI DCS v1.4 specifies display functions such as resolution, width and brightness that are transmitted over MIPI DSI-2 v1.1.
The VDC-M standard provides up to 5:1 compression with no visible effect on video quality and a corresponding reduction in power consumption. The combination of VDC-M and MIPI DSI-2 and DCS helps systems designers minimize device cost and complexity, maximize battery life and deliver the high-resolution video content that customers seek.
"MIPI Alliance and VESA have a long history of collaborating to provide the marketplace with the foundation for advanced devices and applications, such as the Display Stream Compression (DSC) standard," said Joel Huloux, chairman of MIPI Alliance. "The latest example is our support for VDC-M, which enables compression without compromise. The combination of VDC-M with MIPI DSI-2 gives companies a powerful set of tools for minimizing cost, complexity, power consumption and time to market."
According to Bill Lempesis, executive director at VESA, "Consumers are increasingly streaming high-definition video on their mobile devices, which along with emerging VR applications, is pushing the limits of even the most advanced devices. VESA and MIPI Alliance have teamed up once again to address the need for visually lossless video compression—this time with more focus on handheld mobile use cases such as smartphones—with the development of the new VDC-M standard. VDC-M aims to enable device makers to continue to support the ever-growing needs of consumers for high-quality video content on demand, while also enabling sleeker devices with long battery life."
MIPI DSI-2 v1.1 and MIPI DCS v1.4 are available to MIPI members. Companies are encouraged to join MIPI to enjoy membership benefits, including access to relevant patents and licenses, and opportunities to participate in specification development activities, interoperability workshops and other events.
Industry-wide Collaboration
The MIPI Display Working Group developed MIPI DSI-2 v1.2 and DCS v1.4 in collaboration with VESA to ensure the specifications benefit companies across the display ecosystem. Supporting companies include Cadence Design Systems, Inc., Hardent Inc., Samsung Electronics, Co., Synopsys, Inc. and others.
"VDC-M combined with MIPI DSI-2 v1.1 transport will play an important role in enabling the next generation of mobile phones, tablets, AR/VR products and automotive displays," said Alain Legault, VP IP Products at Hardent. "As a contributor to MIPI and VESA, we are accelerating the adoption of these two new standards by providing VDC-M encoder and decoder IP cores that will enable designers to deliver higher resolution display products."
To discover more about MIPI Alliance and to connect with its social networks, follow its Twitter page, join its LinkedIn group and like its Facebook page. To join MIPI Alliance, use the Join MIPI link on the organization's site.
About MIPI Alliance
MIPI Alliance (MIPI) develops interface specifications for mobile and mobile-influenced industries. There is at least one MIPI specification in every smartphone manufactured today. Founded in 2003, the organization is celebrating its 15th year of moving mobile forward with over 300 member companies worldwide and 14 active working groups delivering specifications within the mobile ecosystem. Members of the organization include handset manufacturers, device OEMs, software providers, semiconductor companies, application processor developers, IP tool providers, test and test equipment companies, as well as camera, tablet and laptop manufacturers. For more information, please visit www.mipi.org.
MIPI® is a registered trademark owned by MIPI Alliance. MIPI DSI-2SM and MIPI DCS SM are service marks of MIPI Alliance. All other trademarks cited are the property of their respective owners.