3 min read
MIPI Alliance Expands Reach with New Automotive Working Group

MIPI Alliance : 07 March, 2018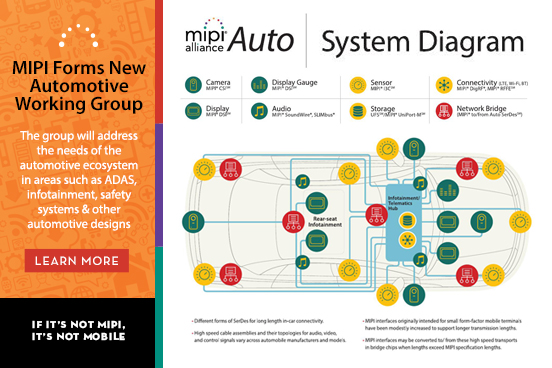 Group established to address the needs of the automotive ecosystem as the industry develops ADAS, infotainment, safety systems, other automotive designs

PISCATAWAY, N.J., March 7, 2018 - The MIPI Alliance, an international organization that develops interface specifications for mobile and mobile-influenced industries, today announced the formation of the MIPI Automotive Working Group (AWG) to address the needs of the automotive ecosystem. The group is open to MIPI Contributor members.
As the number of sensors continues to increase in the automobile to support passive and active safety, infotainment, advanced driver assistance systems (ADAS) and autonomous driving systems, the need for interface specifications is apparent. Building upon the success of the MIPI Alliance Automotive Subgroup and Automotive Birds of a Feather (BoF) Group, the MIPI Board of Directors has approved the creation of the MIPI AWG.
"The approval of the MIPI Automotive Working Group marks a significant milestone for MIPI Alliance's development activity," said Joel Huloux, chairman of MIPI Alliance. "While MIPI's focus is foremost on developing interface specifications for mobile devices, automakers already rely on MIPI's industry-standard interfaces to enable a wide variety of applications. This additional focus on automotive is a natural extension to broaden MIPI specifications' applicability."
The first focus of the group will be to collaborate with other MIPI working groups on a new automotive physical layer specification for longer reach applications. This work will build upon the success of MIPI Alliance's development of high-speed physical layer specifications that serve as essential interconnection in mobile and other devices. In addition, the group will look at other existing MIPI specifications and determine their adaptability to automotive use cases.
"We look forward to working with MIPI working groups and the MIPI Auto BoF to bring together automotive ecosystem requirements to support a high-speed serial data link," said Matt Ronning, chair of the MIPI AWG. "MIPI's Automotive Working Group will help align key interfaces for cameras, lidars, radars, displays and more with OEMs' specific requirements in automotive. As new MIPI interfaces are developed, while rooted in mobile, they will now also have an eye toward automotive."
"Standardization of all interfaces between subsystems, like surround sensors, and ECUs (electronic control units) is a prerequisite of modular concepts for automotive systems," said Uwe Beutnagel-Buchner, vice chair of the MIPI AWG. "Additionally automotive systems stand to benefit from standardized interfaces to meet development, cost, testing and reliability requirements. Highly sensitive, mission-critical automotive applications also benefit from MIPI interfaces' low electromagnetic interference (EMI), a capability that's been proven in billions of mobile phones and other handheld devices."
Join the MIPI Alliance Automotive Working Group
The MIPI AWG is seeking Contributor member participants to provide key input into current and future MIPI interface specifications. The Automotive Working Group will meet through regular teleconferences, as well as face-to-face sessions at MIPI member meetings.
To learn more about the AWG, visit: http://bit.ly/2Ffj075
The Auto BoF will remain in place to foster communication between the AWG and the automotive ecosystem. Qualified experts from original equipment manufacturers (OEMs), tier-one suppliers, component suppliers and related are encouraged to join the existing MIPI Auto BoF, which is open to both MIPI members and nonmembers. To learn more and join the group visit: http://bit.ly/2FcVRX9
Additionally, MIPI Alliance will host a webinar "MIPI Alliance Extends Interface Standards to Support the Automotive Market," on April 4, 2018, at 8:00 am PDT, 11 am EDT. To register, go to: http://bit.ly/2Fdmnzu
Join MIPI at ADAS Sensors 2018
MIPI Alliance is a sponsor the 3rd Annual ADAS Sensors Conference & Exhibition on April 4-5, 2018, in Detroit, Michigan. Learn more at: http://www.adassensors.com/index.html
To discover more about MIPI Alliance and to connect with its social networks, follow its Twitter page, join its LinkedIn group and like its Facebook page. To join MIPI Alliance, use the Join MIPI link on the organization's site.
About MIPI Alliance
MIPI Alliance (MIPI) develops interface specifications for mobile and mobile-influenced industries. There is at least one MIPI specification in every smartphone manufactured today. Founded in 2003, the organization has 300 member companies worldwide and 14 active working groups delivering specifications within the mobile ecosystem. Members of the organization include handset manufacturers, device OEMs, software providers, semiconductor companies, application processor developers, IP tool providers, test and test equipment companies, as well as camera, tablet and laptop manufacturers. For more information, please visit www.mipi.org.
MIPI® is a registered trademark owned by MIPI Alliance. All other trademarks cited are the property of their respective owners.