3 min read
A-PHY Compliance Pilot Program To Hold Next Testing Event This Month

Sharmion Kerley, MIPI Director of Marketing and Membership : 8 May 2023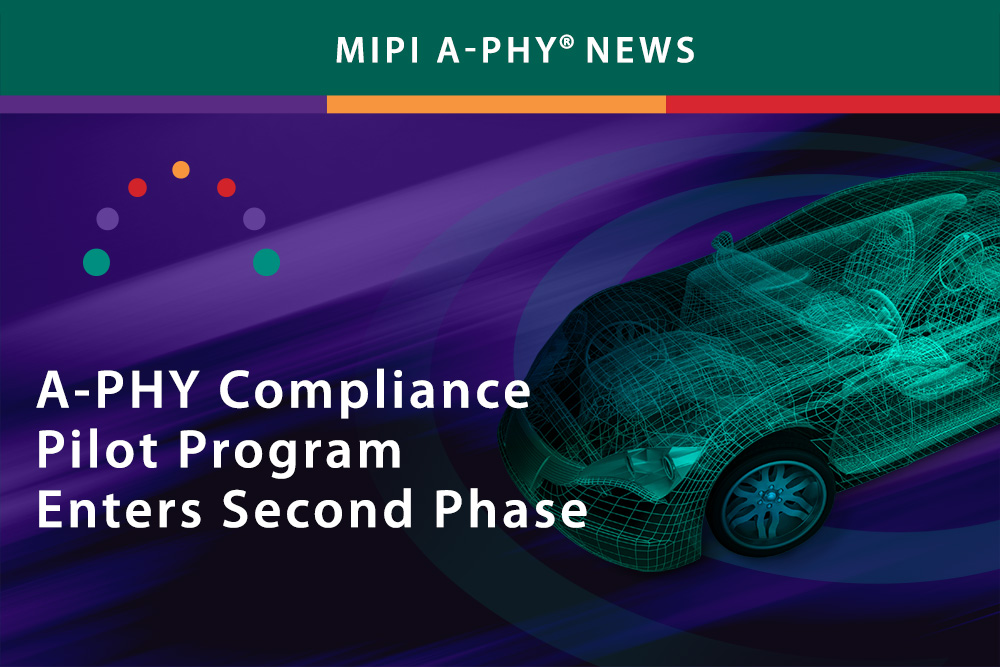 The MIPI A-PHY Compliance Pilot Program is now shifting into its next phase, with a more extensive testing event to be hosted by Eurofins Digital Testing at a lab in Belgium on 11 May. The event will test DUTs (devices under test) against more of the draft A-PHY Reference Compliance Test Suite under actual test-lab conditions, as well as implement insights gained from the first event to improve the testing process and correlation of results from multiple vendors.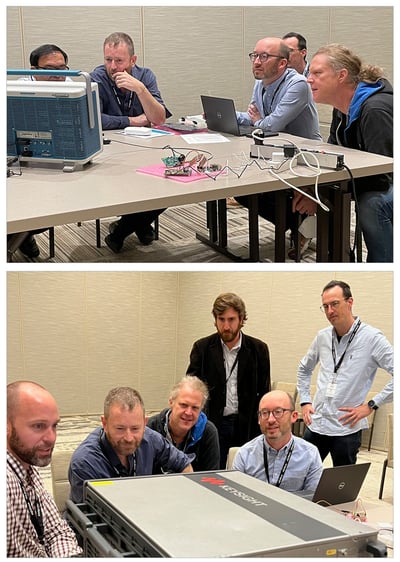 The first phase of the pilot program, designed by the A-PHY Working Group to model and test the process for conducting a potential compliance program, was completed in conjunction with MIPI's Vancouver member meeting in October 2022. At the event, two test equipment vendors, Keysight Technologies Inc. and Tektronix Inc., conducted a series of tests taken from the compliance test suite. BitifEye Digital Test Solutions GmbH acted in the role of a testing lab, with Valens Semiconductor providing a device under test. The methods of implementation (MOIs) defining how the tests would be performed had been submitted in advance by the test equipment vendors and approved by the working group.
After review of the October activity by the MIPI Board of Directors, the pilot program was approved for extension to the upcoming event in Belgium.
The full A-PHY Reference Compliance Test Suite outlines dozens of "box-to-box" connector-level tests. In the document, a test is prescribed to verify every "shall" statement in the A-PHY specification. In other words, for any instance where the specification says that an implementation shall do X, there will be a test that verifies that the tested implementation, does, in fact, carry out X within the specified electromagnetic interference (EMI) boundaries, at the specified frequencies, within defined error rates, etc.
The test suite currently being drafted applies to both A-PHY v1.0 (released in 2020 and now adopted as an IEEE standard, IEEE 2977-2021) and A-PHY v1.1 (released in 2021). Version 1.1.1, which updates v1.1 for inclusive language, is scheduled to be released this summer and also will be brought forward for adoption as an IEEE standard.
As a practice, MIPI working groups develop conformance test suites against which products are tested by vendors to validate that the implementation meets the specification. However, automotive manufacturers and their Tier 1 suppliers have encouraged the MIPI A-PHY Working Group to consider establishing a compliance program given the tremendous demands around functional safety throughout their systems, as well as the unusually challenging design environment in terms of EMI.
MIPI A-PHY is the first industry-standard asymmetric serializer-deserializer (SerDes) physical layer interface for advanced driver assistance systems (ADAS), autonomous driving systems (ADS) and other surround-sensor applications in automobiles, including cameras and in-vehicle infotainment (IVI) displays. A-PHY also serves as the foundation of the end-to-end MIPI Automotive SerDes Solutions connectivity framework, designed to simplify the integration of cameras, sensors and displays, while also incorporating functional safety and security. If a compliance program is established, it is envisioned that the testing program would begin with A-PHY and then be extended to include specifications in the MASS framework to support system solution testing.
For more information about the MIPI A-PHY Compliance Pilot Program and the next evaluation event, contact George Goodman, MIPI A-PHY Working Group technical program manager. The group welcomes participation to help shape the program's ongoing development, and the input of automotive manufacturers and Tier 1 suppliers is especially needed to help ensure that A-PHY and MASS, and the ecosystem of resources and tools around them, meet the industry's needs and requirements.
Quotes from A-PHY Compliance Pilot Program Participants
"With BitifEye's 17 years of engagement in the area of building world-class receiver testing solutions, we are honoured to host on behalf of MIPI a series of compliance pilots, with the goal of establishing a well-trusted compliance program known throughout the whole automotive world," said Tom Kopf, chief operating officer, BitifEye Digital Test Solutions GmbH.
"Keysight is excited to be working with the MIPI Alliance on the A-PHY Compliance Pilot Program because it represents an important evolution of the automotive industry's approach to test and measurement. There are many examples of data center and computer bus standards that have successfully implemented compliance test programs, and we are very happy to see MIPI leading the way for automotive standards as well," said Kevin Kershner, solutions planner automotive SerDes, Keysight Technologies Inc.
"As an active participant in the MIPI Alliance on the A-PHY Compliance Pilot Program, Tektronix is enthusiastic about the progress the standards body is making in the transition from specification to measured values. At the recent event, we witnessed how the forum's experts who were on hand validated test procedures and supported the MOI pilot test with minimal changes to the proposed Compliance Test Suite," said Gajendra Patro, senior application engineer for automotive, MIPI & HDMI solutions, Tektronix Inc.