5 min read
Developer Kits with MIPI Camera And Display Support Provide a Fast Track for Designs
Ian Smith, MIPI Alliance Technical Content Consultant : 9 September 2020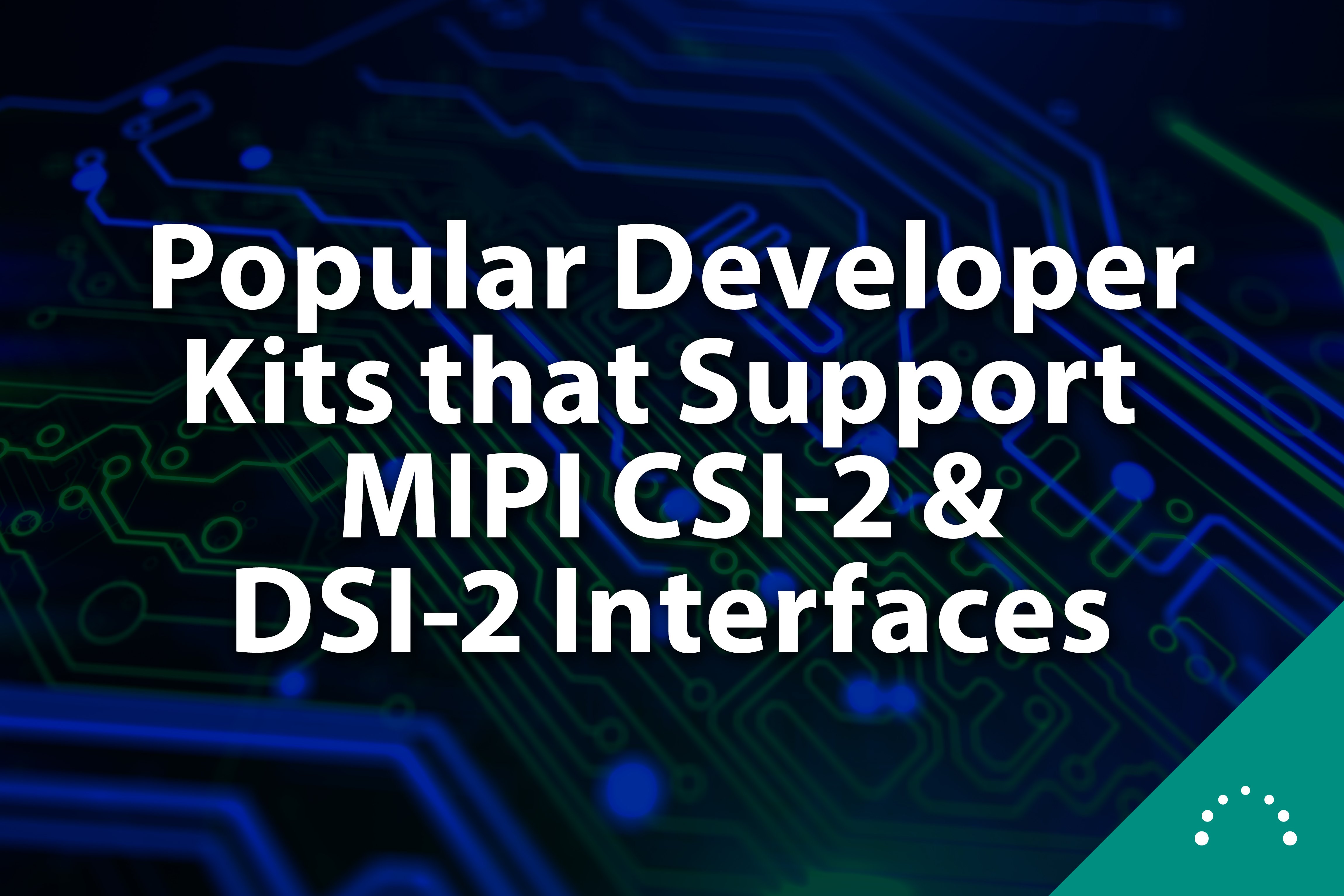 Advanced high-resolution cameras and displays are at the core of many new electronic devices, enabling continuously more sophisticated vision-based services and enhanced user experiences. Integrated cameras and displays can now be found in a wide array of devices, from traditional devices such as smartphones, tablets and PCs, to a new wave of connected devices, as described in the MIPI white paper: Enabling the IoT Opportunity.


MIPI CSI-2 and DSI-2 Ecosystems
MIPI Alliance's Camera Serial Interface 2 (CSI-2SM) and Display Serial Interface 2 (DSI-2SM) specifications have become de facto industry standards for connecting cameras and displays within mobile devices. The key driving factors behind the use of these specifications are their high-bandwidth performance, low power consumption and low electromagnetic interference.
The adoption of MIPI specifications by the mobile industry has fostered interoperability between component vendors and resulted in a huge vendor community, which in turn has significantly lowered costs, widened choice, and reduced complexity for developing and integrating advanced cameras and displays within electronic devices.
Developer communities have also built up around MIPI CSI-2 and DSI-2, providing developers with software tools and other resources such as example code and drivers to help developers get started with the interfaces.
This vibrant ecosystem is evident in the number of different single-board developer kits that support MIPI CSI-2 and DSI-2 interfaces. Leveraging the interoperability provided by these specifications, an ecosystem of specialist camera and display vendors has also emerged, offering a range of camera and display modules that developers can connect to the developer kits.


Common Kits Supporting MIPI CSI-2 and DSI-2
The array of available MIPI compatible camera modules is staggering and includes low-, medium- and high-resolution standard cameras, monochrome infrared cameras, stereoscopic cameras and 3D time-of-flight cameras. A similarly impressive range of DSI-2 compatible displays is also available, with multiple screen sizes and resolutions. With such a range of modules to choose from, developers can easily match the perfect camera and display modules to meet their specific target use cases.
Here is a brief overview of some commonly available developer kits that support both MIPI CSI-2 and DSI-2 interfaces:

Other Developer Kits
The list above is not exhaustive -- there are many other developer kits that support MIPI camera and display interfaces. Other developer kits noted for supporting both CSI-2 and DSI-2 interfaces include the Asus Tinker Board, Digi ConnectCore 8M Nano, Mediatek X20, Microchip Polarfire FPGA Video and Imaging Kit, Rock960, ROCK Pi 4 and SolidRun HummingBoard Gate. It is worth noting that the Mediatek X20 and Rock960 kits, like the Qualcomm kits mentioned earlier, conform to the 96Boards Consumer Edition specification, which includes MIPI CSI-2 and DSI-2 interfaces as standard. (Review a full list of 96board Consumer Edition developer kits.).


I3C Developer Kit
While this blog focused on developer kits supporting the well-established CSI-2 and DSI-2 interfaces, MIPI I3C® will soon be supported by new developer kits coming to market. MIPI I3C is the faster, lower power, lower pin count successor of the I2C interface and is used to connect sensors and other ancillary components to an application processor. One of the first kits supporting MIPI I3C is the NXP i.MX RT685 evaluation kit, which already supports the necessary MIPI I3C header connections.


Conclusion
It is clear that the high speed, lower power and low complexity MIPI CSI-2 and DSI-2 interfaces are widely supported by a range of different developer kits – from basic kits costing just a few dollars to powerful high-end kits supporting the very latest AI and machine vision capable hardware.
In addition, all the kits described in this article are supported with high-quality developer resources including tutorials, software tools, example code and developer forums, making the MIPI CSI-2 and DSI-2 interfaces accessible to the developer community and easily leveraged for any application that requires a camera or display capability.


Vendor

Model

CSI-2

DSI-2

GPU

Application Processor

Indicative Cost

Raspberry Pi

1

1

-

Quad Cortex A72

$35+

Raspberry Pi

1

1

-

Quad Cortex A53

$35

Raspberry Pi

1

0

-

Single ARM11

$10

NVIDIA

6

2

Yes

Dual Denver-2

Quad Cortex A57

$399

NVIDIA

4

1

Yes

Quad Cortex A57

$99

NXP

1

1

Yes

Quad Cortex A53

Single Cortex M7

$399

NXP

1

1

Yes

Dual Cortex A7

Single Cortex M4

$249

Qualcomm

7

2

Yes

Quad Cortex A77

Quad Cortex A55

$495

Qualcomm

4

2

Yes

Quad Cortex A75

Quad Cortex A55

$449

Seeed

1

0

-

Xilinx Spartan-7 FPGA

$35
Example List of Developer Kits Supporting MIPI CSI-2 and/or DSI-2 Interfaces

Please note: The inclusion of a product in this blog post does not represent an endorsement of the product by MIPI Alliance or guarantee the product's compliance or conformance with MIPI specifications.