4 min read
Forthcoming MIPI A-PHY Update Will Double Maximum Data Rate and Expand Implementation Options

Edo Cohen, Raj Kumar Nagpal and Ariel Lasry, MIPI A-PHY Working Group leadership : 13 October 2021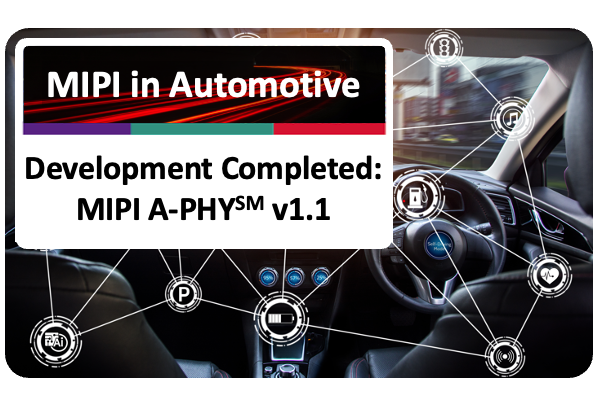 As announced earlier this week, development is now complete on the next version of the MIPI A-PHYSM SerDes interface, which will double the maximum available downlink data rate from 16 Gigabits per second (Gbps) to 32 Gbps to support evolving requirements of automotive displays and sensors (cameras, lidars and radars). The enhanced version, v1.1, also will double the data rate available for uplink control traffic and introduce options for implementing A-PHY's lower speed gears over lower-cost legacy cables, providing additional flexibility for manufacturers to implement A-PHY.
Due for release in late 2021, v1.1 will be fully interoperable with A-PHY v1.0, and devices using both releases will be able to coexist on the same network.

About A-PHY
Advanced driver assistance systems (ADAS), digital cockpits, in-vehicle infotainment (IVI) and autonomous driving systems (ADS) have created the need for more onboard sensors and displays with ever higher performance and bandwidth requirements. To answer these increasingly complex demands, MIPI Alliance developed A-PHY, the first industry-standard, long-reach, asymmetric serializer-deserializer (SerDes) interface to provide high-performance links between automotive image sensors and displays and their associated electronic control units (ECUs) anywhere in a vehicle.
A-PHY provides asymmetric data links in all types of automotive network topologies (for example, point-to-point or daisy-chain) with high-speed unidirectional data, low-speed bidirectional control data and optional power on a single cable. With a reach of up to 15 meters, it offers unprecedented reliability with an ultra-low packet error rate of 10-19, high noise immunity in harsh automotive environments, ultra-low latency and built-in features for functional safety.
Prior to A-PHY, the automotive industry has had to rely on proprietary SerDes solutions, which has made integration and adherence to quality and regulatory standards more expensive, complex and time-consuming – limiting the automakers' choice of technologies and suppliers.
A-PHY eliminates the need to use proprietary solutions, reducing costs and time to market. It lets automakers and suppliers amortize non-recoverable engineering costs over more products and fosters a broad ecosystem developing interoperable components with improved economies of scale.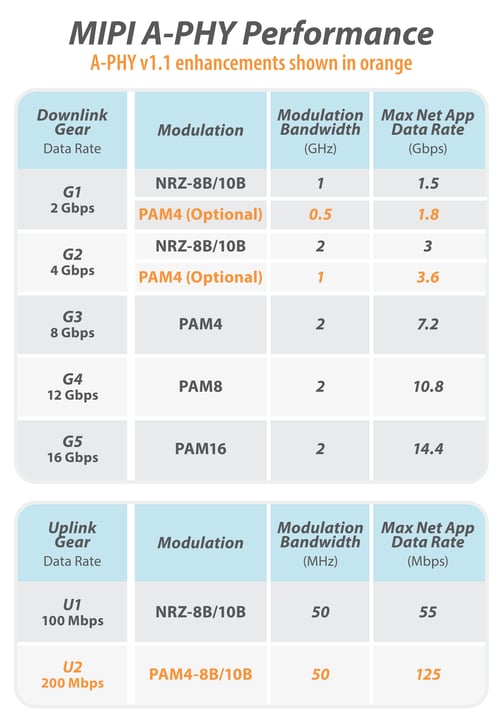 Increased support for lower-cost legacy cable types
A key advantage of A-PHY v1.1 is that it will introduce the option of PAM4 encoding for A-PHY downlink gears G1 and G2, as shown in the table above. The lower modulation bandwidth of PAM4, which enables low-bandwidth, sub-1 GHz operation, will give manufacturers the option of migrating to A-PHY either using existing legacy cables for their current platforms or, in the case of new platforms, using lower-cost cables.


Doubled maximum uplink data rate
A-PHY v1.1 will also add a faster uplink gear, U2, with a data rate of up to 200 Mbps, twice the rate of the existing 100 Mbps uplink gear, providing more bandwidth for command and control of automotive peripherals. This higher speed will be achieved using PAM4 encoding, which supports twice the data rate of the U1 gear with the same modulation bandwidth.


Adding implementation flexibility
While A-PHY v1.0 offers an asymmetric cable configuration using either coaxial or shielded twisted-pair (STP) cables, v1.1 will add support for Star Quad (STQ) shielded dual differential pair cables, which are already used in automotive applications. STQ cables have four conductors providing dual differential pairs within a single shielded jacket. They enable two A-PHY ports over a single cable, allowing for savings in cost, weight and complexity compared with using two separate coaxial or STP cables. The modular nature of A-PHY makes this possible without major changes through reuse of existing components of the specification.
Using STQ cables will enable new A-PHY cable configurations, examples of which are shown in the diagram below.

The first example shows a highly asymmetric, dual-downlink configuration that utilizes both pairs of conductors as downlinks, providing a total downlink bandwidth of up to 32 Gbps (2x16 Gbps). One pair can also accommodate an uplink channel of up to 200 Mbps. The higher-capacity downlink can be used to connect larger and higher-resolution cameras and displays (plus any associated control interfaces), and it will allow manufacturers to daisy-chain more components from a single ECU, reducing the number of cables.
The second example shows an asymmetric configuration that uses one pair of conductors as a conventional A-PHY downlink with as much as 16 Gbps of bandwidth. The other pair of conductors provides a reverse downlink, using A-PHY downlink gears G1 or G2, with bandwidth of up to 4 Gbps. The ability to transmit data at high rates in both directions will allow the use of one cable instead of two – for example, where a camera and display are co-located within a vehicle – also reducing cost, weight and complexity.
Finally, the support for STQ cables will make it possible to implement symmetric cable configurations that use one pair of conductors for a full-speed downlink (up to 16 Gbps) and the other pair for a reverse downlink of equal (up to 16 Gbps) bandwidth.

The bigger picture
While A-PHY was the initial step in standardizing image sensor and display connectivity, it actually forms the foundation of MIPI Automotive SerDes Solutions (MASS), an end-to-end framework for connecting cameras, sensors and displays with built-in functional safety, security and data protection. The framework incorporates interfaces already widely used in automotive, such as MIPI Camera Serial Interface 2 (MIPI CSI-2®), MIPI Display Serial Interface 2 (MIPI DSI-2SM) and VESA Embedded DisplayPort/DisplayPort (VESA eDP/DP).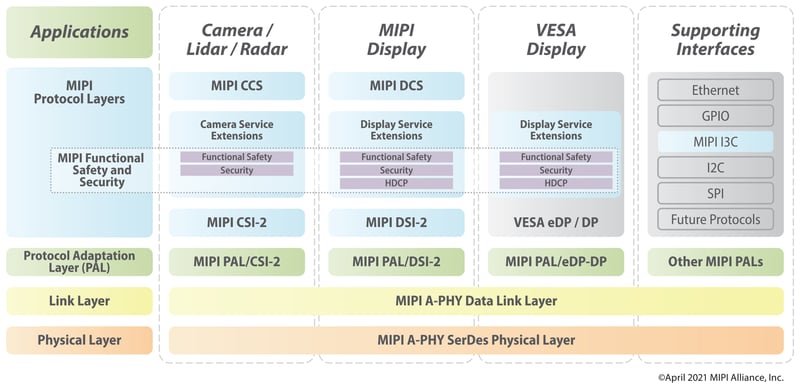 MIPI has already released A-PHY protocol adaptation layers (PALs) for MIPI CSI-2 and DSI-2, as well as for VESA eDP/DP, I2C and GPIO. The PAL for control and configuration of peripherals via Ethernet is nearing completion, a PAL for SPI has started development, and another for MIPI I3C® is in the planning stages. The release of MIPI Display Service Extensions (MIPI DSESM) earlier this year added end-to-end functional safety features and support for High-bandwidth Digital Content Protection, and the CSI-2 complementary specification, Camera Service Extensions (CSE), was just released in the last week. In mid-2022, through the development of new MIPI security specifications and updates to MIPI DSE and CSE, MASS will gain security enablers for confidentiality, integrity and authentication, the final pieces of the end-to-end connectivity framework.

What's next for A-PHY
Following the release of v1.1, MIPI will soon begin seeking inputs and requirements from MIPI members for the next version of A-PHY. To provide your input, you will need to engage with the MIPI A-PHY Working Group. The A-PHY Working Group is also developing additional resources for implementers, including application notes and a reference compliance test suite. More information on how to join MIPI to contribute to the working group can be found here.
To learn more about A-PHY and MIPI's automotive efforts, visit the A-PHY specification page and read the recently published MASS white paper, "An Introductory Guide to MIPI Automotive SerDes Solutions (MASS)." A-PHY and MASS will also be discussed at this week's Automotive SerDes Conference (12-13 October), of which MIPI Alliance is a supporting organization, and at the MIPI Automotive Workshop scheduled for 17 November 2021.

About the authors:
Raj Kumar Nagpal is chair of the MIPI PHY Steering Group, chair of the MIPI D-PHY Working Group and co-chair of the MIPI A-PHY Working Group.
Edo Cohen is co-chair of the MIPI A-PHY Working Group.
Ariel Lasry is vice chair of the MIPI A-PHY Working Group.