3 min read
In-Person MIPI Meetings Resume With Full Week of Events in Munich

Christina Slape, MIPI Senior Communications Manager : 28 June 2022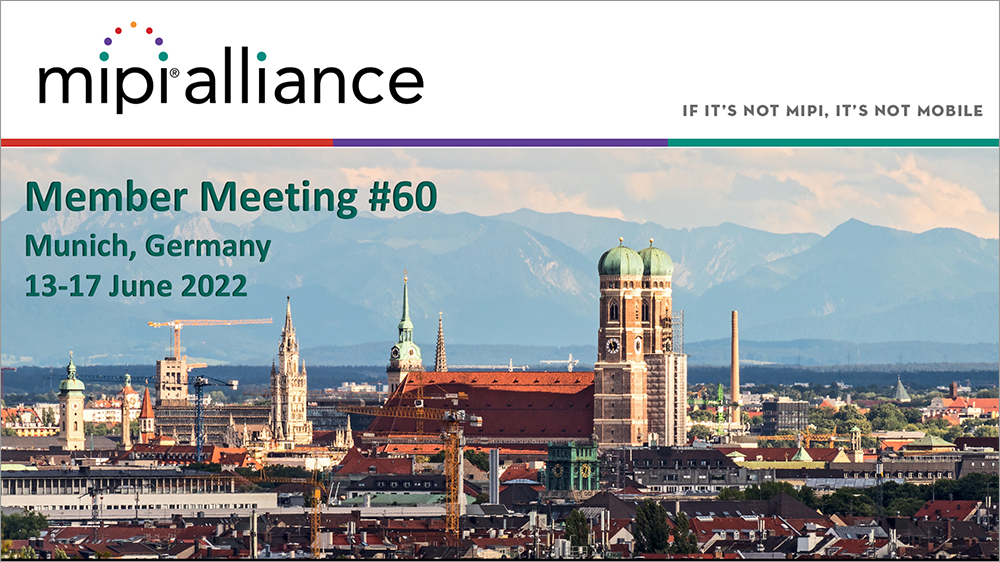 The excitement of returning to in-person collaboration was evident earlier this month as MIPI Board and Contributor members gathered in Munich, 13-17 June, for MIPI Alliance Member Meeting #60.
The first face-to-face (F2F) meeting since 2019, the weeklong event brought together participants from more than a dozen working groups to advance MIPI specifications and key initiatives, provide input on education and marketing activities, and network with colleagues from around the globe. In addition, attendees were updated on industry trends and MIPI activities during the Opening Plenary, honored their fellow members at the ninth annual Awards Ceremony, and shared technical knowledge during the I3C Interop Workshop and MIPI Demo Day.
Meeting #60 Kicks off at the Opening Plenary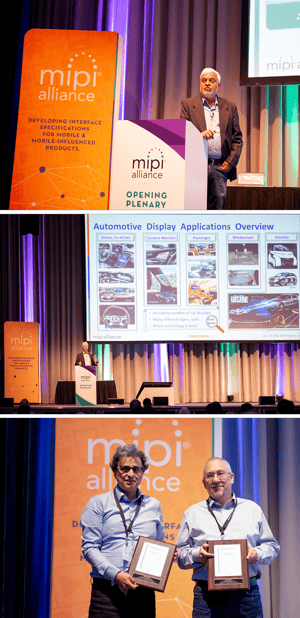 The Munich event officially launched on 14 June at the Opening Plenary, where outgoing board chair Joel Huloux handed the gavel to newly appointed chair Sanjiv Desai. Following Desai's update (top photo) on membership, specification adoptions and major Alliance activities, attendees heard from guest speaker Karlheinz Blankenbach (middle photo), professor at Pforzheim University, Display Lab, who covered trends, techniques and interfaces in automotive displays.
Also on the program were James Goel, chair of the Technical Steering Group, and Kevin Yee, chair of the Marketing Steering Group, who briefed attendees on the MIPI specification roadmap and major marketing efforts. Philip Hawkes, co-chair of the Security Working Group provided an update on the group's progress, with a focus on CSI-2 security in automotive; and MIPI executive director Peter Lefkin shared an overview of the Alliance's strategic priorities.
To conclude the session, Lefkin recognized the A-PHY Working Group on the recent adoption of MIPI PAL℠/ETH v1.0. Congratulations to the entire working group, co-chair Edo Cohen (bottom, right), vice chair Ariel Lasry (bottom, left), and co-chair Raj Kumar Nagpal (not pictured), for their work on the specification.
View the Opening Plenary presentations » (MIPI members only)
Device Testing at the I3C Interop Workshop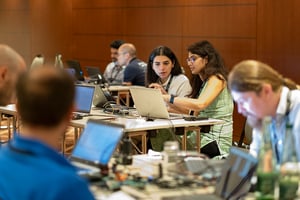 In conjunction with the meeting, the I3C Working Group and I3C Basic Ad Hoc Working Group hosted a workshop on Monday and Tuesday for implementers of MIPI I3C and I3C Basic to engage in interoperability testing between controller and target devices in a confidential environment. Participants included a mix of electronics manufacturers, both MIPI members and nonmembers, illustrating broad industry commitment to MIPI I3C as a versatile utility and control bus interface for connecting peripherals to an application processor.
Member Demos Showcase MIPI Interfaces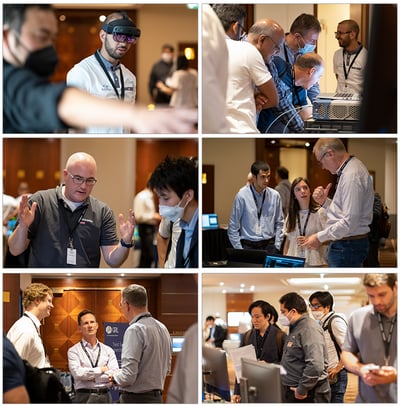 Also on Tuesday, MIPI held a Demo Day for attendees to tour member demos featuring MIPI specifications. Thank you to the following participating companies:
Award Ceremony Recognizes Outstanding Contributions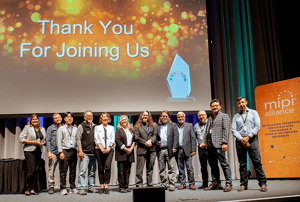 Continuing a tradition begun in 2013, MIPI Alliance held an awards ceremony luncheon to honor exceptional leadership and achievements within MIPI. This year's event honored nine recipients in five categories:
The Corporate Award was presented to Google LLC for exemplary leadership within the MIPI Audio Working Group and significant contributions to MIPI CSI-2 and MIPI DSI-2 development efforts.
Three members received the 2021 Distinguished Service Award: Wonseok Lee of Samsung Electronics, Eyran Lida of Valens Semiconductor and Takashi Miyamoto of Sony Group Corporation.
The Working Group Leadership Award was presented to three individuals: Edo Cohen of Valens Semiconductor, co-chair of the MIPI A-PHY Working Group; Kirill Dimitrov of Western Digital Technologies Inc., chair of the MIPI M-PHY Working Group; and Ramesh Hanchinal of Synopsys Inc., chair of the MIPI UniPro Working Group.
The Automotive Marketing Subgroup (a subgroup of the Marketing Steering Group) received the 2021 Special Achievement Award for their work promoting MIPI Automotive SerDes Solutions (MASS).
The Legacy Award, a posthumous recognition of individuals for their notable participation in MIPI Alliance, was awarded to Earl McCune, a true leader in his field and within MIPI.
Read more about the 2021 award winners »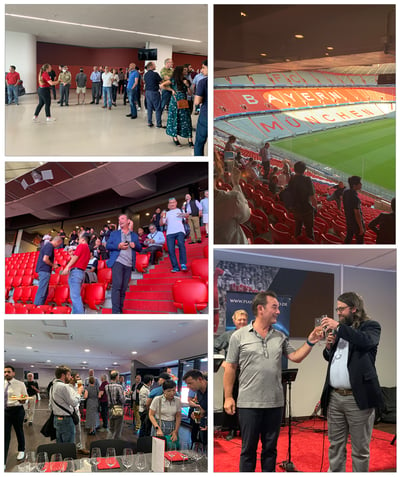 Members Enjoy Evening Reception, Bid Farewell to Longtime Chair
Attendees paused their working sessions and technical discussions for a social gathering on Wednesday evening at the Allianz Arena, home of FC Bayern Munich.
Along with a backstage tour of the stadium and socializing with fellow members over drinks and dinner, the evening also included a sendoff to retiring chair Joel Huloux, who had served in the leadership role since 2008. Following a toast to Huloux's many achievements during his tenure, a brief video was shown highlighting his years and the friendships he's made while with MIPI.
Watch the farewell video for Joel Huloux »
MIPI's next member meeting will be held 17-21 October, at the JW Marriott Parq Vancouver. Registration will open in July.