6 min read
IoT Market "Reality Checked" at MIPI DevCon 2020
Ian Smith, MIPI Alliance Technical Content Consultant : 10 November 2020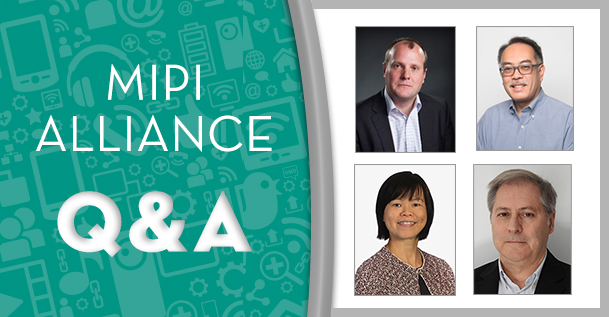 In the closing session of MIPI DevCon 2020, a panel of IoT experts convened to assess the current state of the "Internet of Things" and answer fundamental questions such as, "Is the IoT transitioning from hype to reality?"
The panel consisted of:
Yiru Zhong, lead analyst for IoT and Enterprise at GSMA Intelligence;
Kevin Yee, director of IP and Ecosystem Marketing at Samsung Foundry (and chair of MIPI's Marketing Steering Group); and
Michele Scarlatella, director, Microcontroller & Digital ICs at STMicroelectronics.
The panel was moderated by Ian Smith, technical content manager at MIPI Alliance. We posed questions to our panelists below.


Q: What are your views on the present state of the IoT market? Is it still hype or is it now reality?
Yiru Zhong: As an analyst who has been looking at IoT since the early 2000s, I am very conscious that we've been talking about this for well over a decade and that we've had to adjust our expectations over this period. In the latest GSMA Intelligence IoT market forecast, there has been a slight reduction in future connections and revenue. We are presently forecasting 24 billion IoT device connections in 2025, down from the 25 billion previously forecast. More importantly, we are expecting $900 billion of revenue in 2025, down from the $1 trillion previously forecast.
What was interesting is that our recent "enterprise in focus" survey found that there is now much greater awareness of IoT within enterprises -- with 65% of enterprises saying that IoT is part of their digital transformation agenda, and more than 50% of enterprises surveyed believing that IoT was transformational to their business, which is 12 percentage points higher than in our 2018 survey.


Q: Can you give any insight into which industries are performing strongly in their adoption of IoT solutions and which sectors may be lagging behind and finding barriers to adoption?
Yiru Zhong: I'm expecting industrial, non-consumer-facing sectors to show the fastest growth with sectors such as manufacturing and utilities leading the way. Our recent enterprise survey backs this up, and I am also seeing numerous trials taking place in these sectors. The COVID-19 pandemic also highlighted a greater need within enterprises for operational data that many IoT solutions address, enabling them to react more quickly to market changes.
On the flip side, some consumer IoT markets are lagging as the pandemic is causing consumers to hold off purchases of new products and services. I'm expecting to see an impact on consumer IoT markets, such as connected cars.
Kevin Yee: When we think of IoT, we tend to think of consumer use cases like wearables, but what Yiru said is very true -- it's going to be enterprises and industrial applications driving much of the adoption in this market. We're also in the data era, and IoT devices are going to be one of the primary channels to collect this data. So I think we're going to be seeing a lot more IoT adoption across all market segments, with many different types of products.
Michele Scarlatella: There was certainly a big hype and expectation at the beginning, but when developers looked into integrating the solutions, they found it wasn't so easy, and this has slowed down the market somewhat. Personally, I do believe that the market will now grow, as there is a much better understanding within enterprises of how to use IoT device hardware, software and the cloud to create the IoT solutions needed. I can also see a lot of investment in the market as the operational efficiencies of IoT solutions are becoming clear.


Q: There are always barriers to the development of any new market. What are the main barriers affecting the growth of IoT?
Yiru Zhong: We know that enterprises are looking to increase the scale of their IoT deployments, but even with average size deployments of around 500 devices, they are facing integration problems. The good news is that in our recent survey, we saw an increase in enterprises deploying more than 500 devices, but we also saw the number of enterprises reporting IT integration challenges grow from 47% in 2018 to 53% in 2019. We noted that market fragmentation and data privacy were some of the principal issues causing these integration problems, particularly when trying to integrate IoT into well-established IT domains like those for industrial and medical.

Q: How is MIPI Alliance trying to help resolve some of these market barriers?
Kevin Yee: When you are transitioning technology from hype to reality I think it's natural to start by leveraging existing technology -- taking existing hardware and infrastructure from one industry to address a new market like the medical market. Moving technology from the mobile industry into IoT markets is a common strategy, and we are realizing that this approach can work OK -- but in many cases could be better if we did things a little differently.
This is where MIPI Alliance comes in, because MIPI develops a lot of the de facto standards for mobile, and what we are trying to do now is adapt and customize these specifications for the IoT market. Some of the tenets driving MIPI have been about flexibility, high performance, low power and low EMI. All these things will help drive the IoT market, supporting the need to collect more data, and enabling low-power devices. A great example is MIPI I3C® for sensors (and the publicly available version, MIPI I3C BasicSM), which improves performance significantly from past standards and directly addresses the IoT market's need for low power and reduced numbers of input / outputs.
One of MIPI's goals is to develop specifications that help address fragmentation, so regardless of whether you are using sensors in a wearable, smart city, or industrial agricultural application, you can leverage the same interface across different market segments. And to get to the reality of billions of units and to fix fragmentation issues, you need standardization to enable scalability.


Q: MIPI has a wide range of well-adopted specifications, but traditionally these are focused on the hardware side. Markets such as IoT are likely to require more of a software focus. Is MIPI addressing the software side of things as well?
Michele Scarlatella: There are three areas that I'd like to particularly highlight as important for the IoT: MIPI I3C HCI℠ (Host Controller Interface), MIPI CSI-2℠ Camera Interface, and the MIPI Debug and Trace family of specifications.
First, to support the adoption of MIPI I3C for sensors, we have developed MIPI I3C HCI, which standardizes access to the MIPI I3C bus, providing a common interface to connect sensors, actuators and other components that are essential for IoT devices. It is extensible and available to both MIPI members and nonmembers.
Second, there are MIPI's camera specifications that have been hugely successful. For many IoT applications, a camera is really important, especially when combined with image recognition and edge computing to recognize objects using AI and take actions. MIPI CCI (Camera Control Interface) is a really useful component of the MIPI CSI-2 camera interface that enables advanced power-saving features, like Smart Region of Interest (SROI), and works with all types of camera modules, from the low end to the most advanced high-resolution cameras used for machine-vision applications.
Lastly, I want to highlight debug, because this is essential for any system, and for IoT devices, we are typically talking about debugging many components in parallel to speed up time to market. There are a couple of MIPI debug initiatives to mention. The first is MIPI Debug for I3C℠, which enables the parallel debug of multiple components within an IoT device, including microcontrollers and sensors, using a common MIPI I3C interface. The second is MIPI System Software Trace, known as MIPI SyS-T℠, which has been adopted into the Linux kernel and provides a standard interface for developers looking to connect a debug and test system to an IoT device. Both of these initiatives will help speed up IoT device development.


Q: How can developers get started with the various MIPI technologies?
Michele Scarlatella: There are many vendor-centric developer kits already available, but I'd like to focus on the "neutral" educational developer kits, including Raspberry Pi and Arduino, which we are all familiar with. All the Raspberry Pi kits natively support MIPI interfaces such as MIPI DSI-2℠ and MIPI CSI-2. This is important because the use of these standard interfaces is becoming ingrained into developers' DNA through their use of these educational kits, and we can see that they are bringing these skills into companies. They know that if they use the MIPI interfaces that they can integrate components from many different hardware suppliers. There are also lots of other vendors' kits out there supporting MIPI interfaces, including many low-level entry kits that are readily available.


Q: Can you provide an overview of where MIPI is heading next to support IoT?
Kevin Yee: IoT is a very big focus for MIPI right now, and we are leveraging a lot of what we're learning from the IoT market to develop specifications with IoT in mind. In addition to camera, display and audio interfaces, MIPI is also looking at developing software frameworks, and we have run plugfests to ensure interoperability. That said, many MIPI specifications are already reducing fragmentation and helping scalability. We've just published a white paper to explain to developers the MIPI resources that are currently available and how they fit with the IoT.

This blog offers a summary of the closing session of MIPI DevCon 2020. A full recording of the panel session is available from the MIPI DevCon 2020 Engagement Hub.
Additional information on how MIPI is supporting the growth of the IoT is contained in the recently published white paper; "MIPI Alliance: Enabling the IoT Opportunity."