4 min read
MIPI Alliance, Automotive SerDes Alliance Enter Liaison Agreement to Expand CSI-2 Implementation in Automotive Industry

Sharmion Kerley, MIPI Director of Marketing and Membership : 9 August 2023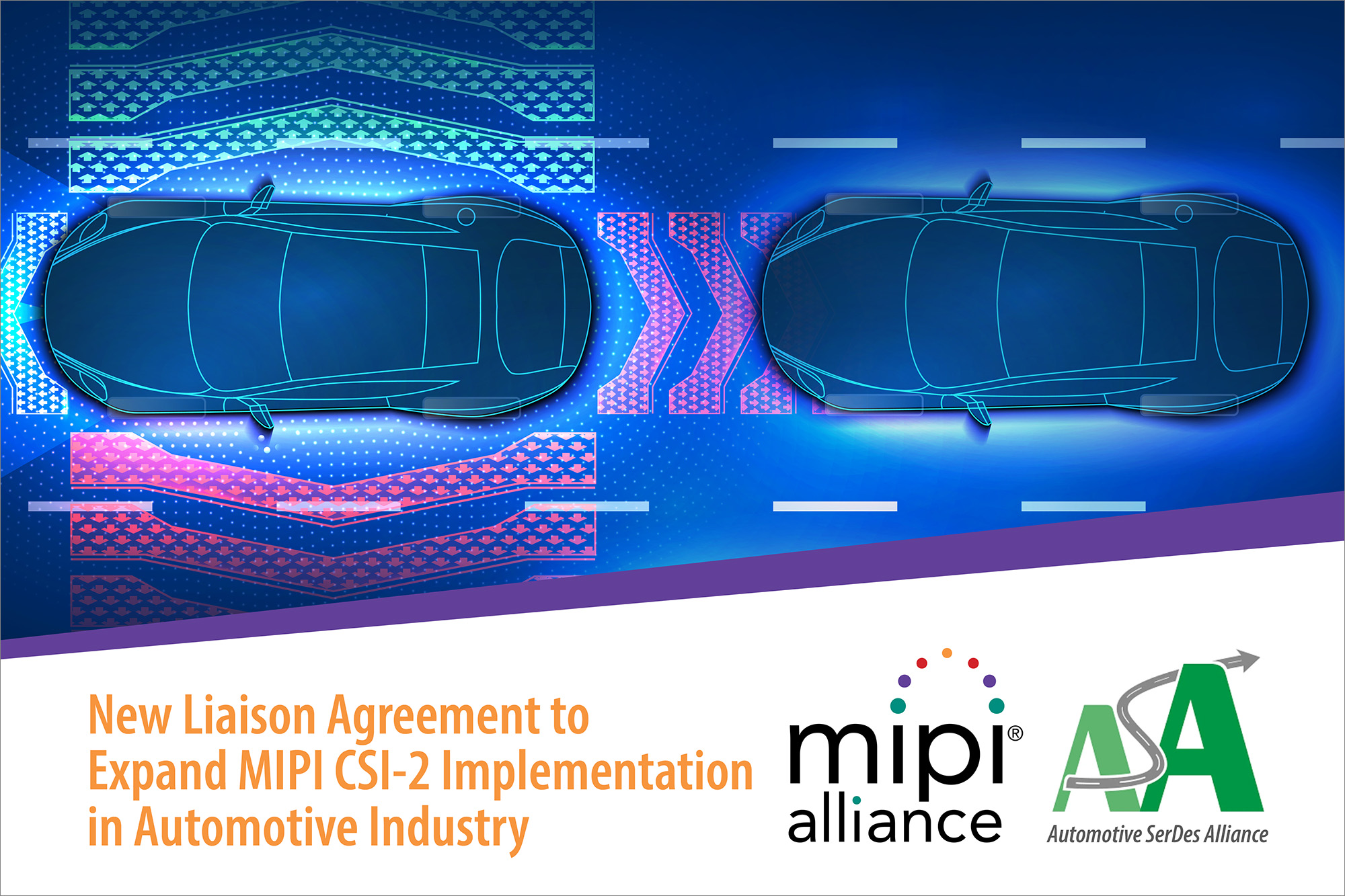 MIPI Camera Serial Interface 2 (CSI-2®) further secures its place as the preferred image sensor interface by the extended automotive ecosystem as part of a liaison relationship announced jointly today between MIPI Alliance and the Automotive SerDes Alliance (ASA).
The liaison agreement creates a pathway to enable "native," or direct, CSI-2 implementation with the ASA Motion Link (ASA-ML) physical layer (PHY) interface. As MIPI and ASA each have developed automotive SerDes specifications — MIPI A-PHY® and ASA-ML respectively — CSI-2 will be staged for implementation with both organizations' standardized solutions for applications that rely heavily on cameras and image sensors, and require ultra-fast data transfer, such as advanced driver-assistance systems (ADAS), autonomous driving systems (ADS) and in-vehicle infotainment (IVI).
Under the agreement, ASA will develop an Application Stream Encapsulation Protocol (ASEP) to enable native CSI-2 transport over the ASA Motion Link PHY. Once the CSI-2 ASEP is approved by MIPI, ASA will include the CSI-2 ASEP in its next specification release as the only recommended camera protocol interface. Supporting specifications would also be made available through this pathway, such as MIPI Camera Service Extensions (MIPI CSE℠), which provides protocol-layer security and additional functional safety support.
First introduced for mobile devices in 2005, CSI-2 has achieved widespread adoption for its ease of use and ability to support a broad range of high-performance applications, including 1080p, 4K, 8K and beyond video, and high-resolution imaging.
PHY Support for MIPI CSI-2 Native Implementation
As a longstanding policy, MIPI members have been able to implement CSI-2 natively with a MIPI PHY—which includes the short-reach MIPI C- and D-PHY, or the long-reach asymmetric SerDes A-PHY—or with a MIPI Board-approved non-MIPI PHY. Members incorporating other PHYs may implement CSI-2 indirectly, or non-natively, using a "bridge" device following a MIPI compliant portion.
When completed, this will mark the second time that a non-MIPI PHY has been authorized by the MIPI Board of Directors. In 2022, the use of CSI-2 over Wi-Fi (IEEE 802.11 PHY) was approved, and a new specification is currently under development to enable Wi-Fi implementation.
Implementation of CSI-2 over ASA-ML will require memberships in both MIPI and ASA to benefit from their respective intellectual property (IP) licensing terms. The agreement also provides for ongoing dialogue between the organizations on other opportunities for collaboration, such as the use of MIPI Display Serial Interface 2 (MIPI DSI-2℠) and security-related specifications.
"The pathway for native implementation of CSI-2 created by this liaison agreement with ASA fosters continued coalescence in the automotive industry around MIPI's widely implemented camera interface," said Peter Lefkin, executive director of MIPI Alliance. "At the same time, MIPI continues its commitment to the advancement of MIPI A-PHY and the growing ecosystem around it. The combination of CSI-2, A-PHY and its SerDes framework of related MIPI specifications creates a unique standardized solution for automakers and their suppliers for implementation today and into the future."
Advancing MIPI A-PHY
MIPI CSI-2, RFFE℠, D-PHY℠ and other specifications have been used in automotive for more than a decade. A-PHY has become a particular focus in recent years in response to automakers' desire for a standardized solution that would simplify and streamline integration of the increasing number of cameras and image sensors using a longer-reach multi-gigabit SerDes interface to rapidly carry data to associated ECUs.
Originally released in September 2020, A-PHY became the first such solution, delivering a reach of up to 15 meters, high noise immunity and an ultra-low packet error rate. A-PHY v1.0 was also adopted in 2021 by IEEE as a publicly available standard, IEEE 2977-2021.
The A-PHY specification, now at v1.1, offers increased support for lower-cost legacy cables, a doubled uplink data rate and support for star-quad cables to enable dual-lane operation for a data rate of up to 32 Gigabits per second (Gbps). A-PHY v2.0, scheduled for completion later this year, will double the downlink rate to 32 Gbps per lane and increase the uplink to 1.6 Gbps. These capabilities position A-PHY to support emerging zonal architectures, greater software-defined vehicle capabilities and the modern automotive cockpit environment.
A-PHY Compliance Program Driving Forward
After conducting an A-PHY pilot compliance program over the last year, the MIPI board recently approved the next steps to formalize the initiative and move beyond the pilot phase. MIPI historically has produced conformance test suites (CTSs), whereby products may be validated against the specifications. However, the automotive industry encouraged MIPI Alliance to consider a more formal/rigorous compliance program given the tremendous demands around functional safety and the challenging design environment in terms of EMI.
A Growing A-PHY Ecosystem
Today, a broad ecosystem of suppliers is rolling out products and supporting services designed around A-PHY. Companies that have indicated intent to support A-PHY include: Aptiv Services Deutschland GmbH, Arasan Chip Systems, Inc., Cadence Design Systems Inc., Chemtronics, Hosiden Corporation, Innoviz Technologies, Intel Corporation, Keysight Technologies Inc., Leopard Imaging Inc., LG Electronics, Inc., LG Innotek, MAXVY Technologies Pvt. Ltd., Mobileye, OmniVision Technologies Inc., Smart Radar System, Sony Group Corporation, Sumitomo Electric Industries, LTD., Sunny Optical Technology, Truechip Solutions Pvt. Ltd. and Valens Semiconductor.
Furthermore, the Japan Automotive Software Platform and Architecture (JASPAR) organization has validated A-PHY for its network of Japanese OEMs and suppliers, and its Next Generation High-Speed Network Working Group published recommended Multi-gigabit Electric Circuit Specifications (ST-HN-10) and conducted a comprehensive suite of EMC tests.
This spirit of innovation has extended equally to MIPI's Automotive SerDes Solutions (MASS), a full-stack, A-PHY-based framework for integrating sensors and displays, with built-in functional safety and security. In fact, MASS development has been one of the most fervent application spaces for MIPI-wide collaboration. Components of the framework have continued to evolve and expand, and will be capped off by a major addition by the end of the year – a new security suite initially focused on end-to-end protection of automotive MIPI CSI-2-based image sensor data streams.
Roughly half of MIPI Alliance's nearly 400 member companies are active in the automotive sector. MIPI invites the input of OEMs and Tier 1 suppliers to ensure that A-PHY, MASS and the range of supporting resources meet the industry's requirements. For information about MIPI membership, please visit the Join MIPI page.
(This blog post was updated 10 August 2023 to include LG Electronics, Inc. to the list of companies that have indicated intent to support A-PHY.)