3 min read
MIPI Alliance and Automotive SerDes Alliance Enter Liaison Agreement to Enable Native MIPI CSI-2 Implementation with ASA-ML PHY

MIPI Alliance : 09 August, 2023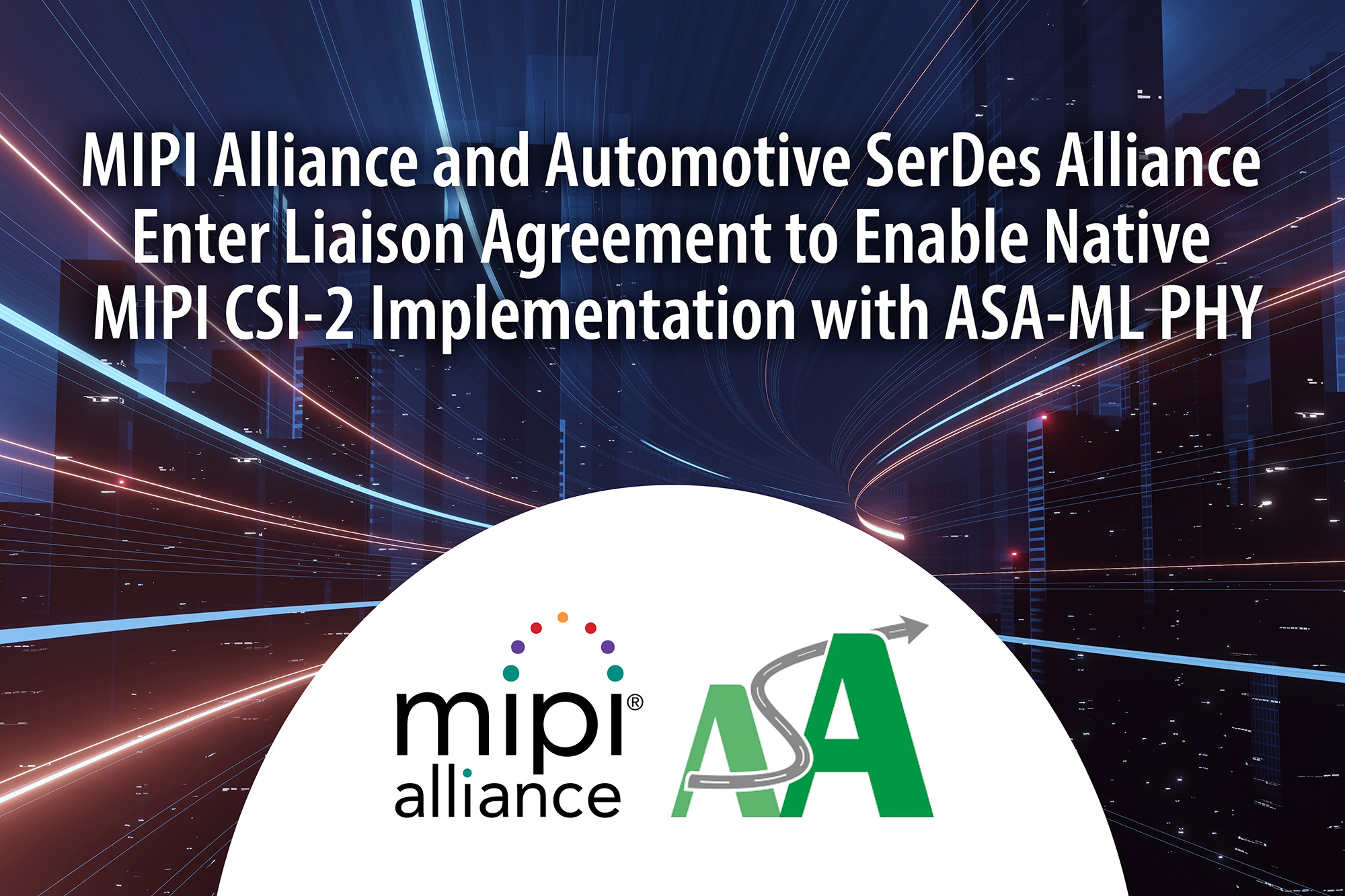 Agreement benefits automotive industry by aligning MIPI camera specification with ASA and MIPI standardized SerDes solutions
PISCATAWAY, N.J., and MUNICH, GERMANY, August 9, 2023 - The MIPI Alliance, an international organization that develops interface specifications for mobile and mobile-influenced industries, and the Automotive SerDes Alliance (ASA), a non-profit industry alliance of automotive technology providers collaborating to standardize asymmetric SerDes technology, announced today that the two organizations have entered into a liaison agreement.
The terms of the agreement create a pathway so that implementers will be able to use MIPI Camera Serial Interface 2 (MIPI CSI-2)—widely considered the preferred camera and image sensor interface by the extended automotive ecosystem—directly, or "natively," with the ASA Motion Link (ASA-ML) physical layer (PHY) interface. Supporting specifications would also be made available through this pathway, such as MIPI Camera Service Extensions (MIPI CSE), which provides protocol-layer security and additional functional safety support.
MIPI and ASA each have standardized asymmetric SerDes PHY interfaces (MIPI A-PHY and ASA-ML, respectively) for automotive applications such as advanced driver-assistance systems (ADAS), autonomous driving systems (ADS) and in-vehicle infotainment (IVI) that rely on cameras/sensors and displays. MIPI members can implement CSI-2 directly only with a MIPI PHY (i.e., A-/C-/D-PHY) or MIPI Board-approved non-MIPI PHY. Products incorporating other PHYs may utilize CSI-2 with a "bridge" device following a MIPI-approved PHY. Upon successful completion of the process defined under this liaison, ASA-ML will be approved for native integration with CSI-2.
Under the agreement, ASA will develop an Application Stream Encapsulation Protocol (ASEP) to enable native CSI-2 transport over the ASA Motion Link PHY. Once the CSI-2 ASEP is approved by MIPI, ASA will include the CSI-2 ASEP in its next specification release as the only recommended camera protocol interface. Implementation of CSI-2 over ASA Motion Link will require memberships in both MIPI and ASA to benefit from their respective intellectual property licensing terms.
The agreement also provides for ongoing dialogue between the organizations on other opportunities for collaboration, such as the use of MIPI Display Serial Interface 2 (MIPI DSI-2) and security-related specifications.
"This agreement supports the continued coalescence around MIPI CSI-2 in automotive applications," said Sanjiv Desai, chair of the MIPI Alliance. "The specification is already strongly established in the market, and we believe alignment on CSI-2 will help foster a streamlined development environment for the global automotive industry. At the same time, MIPI will continue to support MIPI A-PHY and the rapidly growing ecosystem around it."
"ASA is pleased to work with the MIPI Alliance to expand the ways the ASA-ML SerDes can be deployed in automotive industry," said Christoph Arndt, chair of the Automotive SerDes Alliance. "The ASA-ML specification has been tuned for multi-gigabit connectivity in harsh automotive environments and as a result has been gaining strong momentum. This liaison creates a pathway to new implementations and a broader ecosystem."
For more details about ASA, please visit its website or follow the organization on its LinkedIn page.
To discover more about MIPI Alliance, subscribe to its blog and connect with its social networks by following MIPI on Twitter, LinkedIn and Facebook.
About Automotive SerDes Alliance
The Automotive SerDes Alliance (ASA) is a non-profit industry alliance of automotive technology providers collaborating to standardize asymmetric SerDes technology. The group currently has 125 active member companies that work together to industrialize and promote the "ASA Motion Link." The member companies of ASA include representatives from the complete automotive ecosystem, including car manufacturers, tier-ones, semiconductor vendors, cable and connector manufacturers, test tool vendors, and test houses. Having such a diverse and rich ecosystem ensures that the ASA standards development is in-tune with market requirements and is optimized through the participation of industry experts.
About MIPI Alliance
MIPI Alliance (MIPI) develops interface specifications for mobile and mobile-influenced industries. There is at least one MIPI specification in every smartphone manufactured today. Celebrating its 20th anniversary in 2023, the organization has over 375 member companies worldwide and more than 15 active working groups delivering specifications within the mobile ecosystem. Members of the organization include handset manufacturers, device OEMs, software providers, semiconductor companies, application processor developers, IP tool providers, automotive OEMs and Tier 1 suppliers, and test and test equipment companies, as well as camera, tablet and laptop manufacturers. For more information, please visit www.mipi.org.
MIPI®, A-PHY® and CSI-2® are registered trademarks owned by MIPI Alliance. C-PHY℠, CSE℠, D-PHY℠ and DSI-2℠ are service marks of MIPI Alliance.
Press Contacts:
Becky Obbema
Interprose, PR for MIPI Alliance
+1 408.569.3546
becky.obbema@interprosepr.com
Kamal Dalmia
Automotive SerDes Alliance
+1 408.520.4816
avivainfo@avivalinks.com