4 min read
MIPI in IoT: Enabling the Smart Home
Ian Smith, MIPI Alliance Technical Content Consultant : 10 August 2021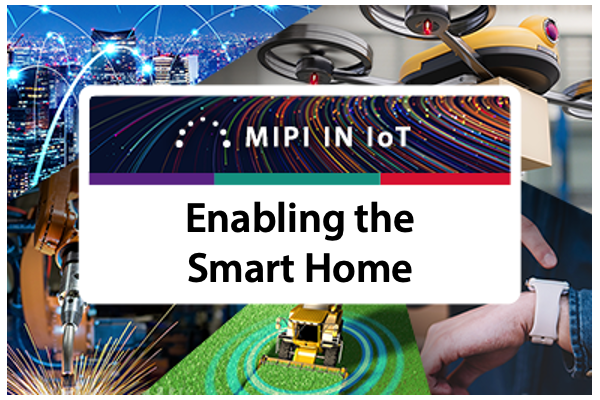 In this latest installment of our MIPI in IoT blog series, we'll examine the use of MIPI specifications in the smart home market, including a closer look at the features of key MIPI specifications in IoT and how they can meet the specific requirements of smart home devices.
Overview of the smart home market
According to a recent analyst report, global consumer spending on smart home hardware, services and installation totaled $86 billion in 2020, slightly lower than predicted due to the COVID-19 pandemic. However, growth and spending on smart home services is expected to bounce back in 2021 to $123 billion and continue to grow at a 15% CAGR (compound annual growth rate) to $173 billion by 2025. Also by 2025, it is predicted that more than 400 million homes worldwide—or 19% of all households—will have at least one type of smart system installed, such as home security, home control and automation, home entertainment systems and/or smart appliances.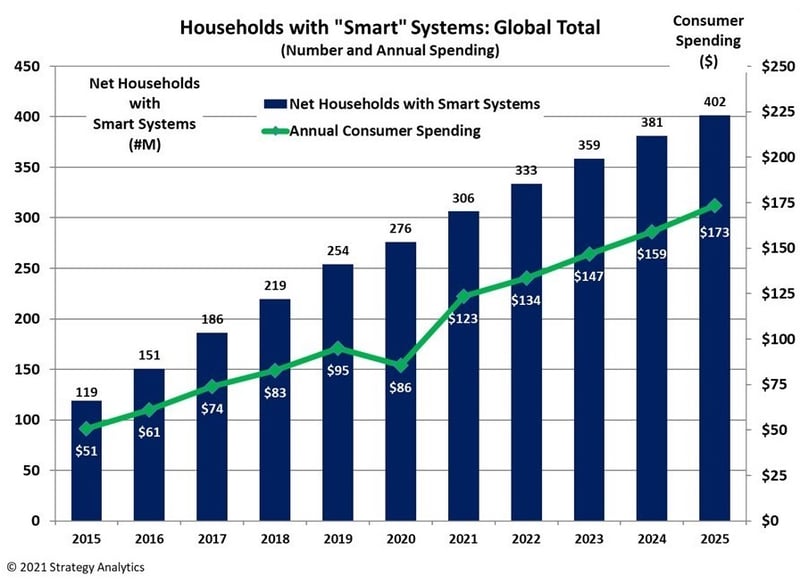 MIPI specifications: Solving technology challenges
MIPI Alliance members work together to develop interface specifications to connect embedded electronic components (cameras, displays, sensors and communications modules) within electronic devices. These specifications are intentionally crafted to support the design goals of high-bandwidth performance, low power consumption and low EMI.
The attributes outlined below allow MIPI specifications to enable smart home services that require machine vision, embedded displays, wireless connectivity, audio, sensors and actuators.
High bandwidth / flexibility: MIPI specifications define high-speed, highly scalable, ultra-low-latency interfaces for connecting electronic systems and components. The interfaces provide highly data-efficient modes of operation to support the requirements of a wide range of imaging and sensing components, from the most advanced cameras to the most basic, low-speed sensor components.
Low power consumption: MIPI specifications enable highly power-efficient and flexible data transmission between components. The specifications enable very low power consumption in "active" modes when data is being sent and received, in ''active-standby" modes when data transmission is low and interrupt-driven, and in "full-standby" modes when there is no data transmission.
Low EMI: Many smart home devices need to meet strict EMI design goals, both to ensure product reliability and to adhere to strict, sector-specific electromagnetic compatibility (EMC) regulations. MIPI specifications reduce EMI through a combination of factors, including low-voltage swings on high-speed physical layers and the support of slew rate control—giving developers the flexibility to adjust the EMI profile of the physical layer interface to the EMI needs of the end device. These EMI properties also reduce product weight, requiring less EMI shielding.
Reduced size and weight: MIPI specifies high-performance serial interfaces that use a minimum number of wire conductors to allow designers to minimize pin counts—leading to fewer interconnections on chips and across printed circuit boards. The resulting reduced complexity supports the ever-tighter packaging of components and, critically for many devices, reduces the weight of the overall design.
5G ready: MIPI specifications are future-focused to meet the demands of forthcoming requirements. MIPI specifications are already capable of supporting 5G services, including eMBB (enhanced Mobile Broadband), mMTC (massive Machine-Type Communications) and URLLC (Ultra-Reliable Low-Latency Communications).
Security: MIPI recognizes that security is critical to the smart home market with many devices collecting personal information on household behavior. The MIPI Security Working Group is overseeing the development of a MIPI security framework that will steer the development of new security capabilities across MIPI's specification portfolio.
MIPI specifications in smart homes
MIPI specifications can be used within a wide variety of smart home devices, including home hubs, smart doors and smart appliances as described below. Additional use cases can be found in the recently published white paper, MIPI Alliance: Enabling the IoT Opportunity."
In home hubs:
MIPI SoundWire

® provides a shared, two-wire interface to drive codecs, microphones and speakers. It enables noise cancellation, beam steering and low-power audio "keyword" activation.
MIPI DSI-2SM over MIPI C-PHY℠ / MIPI D-PHY℠ is used to drive low-power, high-resolution displays enabling display partitioning when a device is in a low-power standby mode, and a touchscreen user interface using MIPI Touch over MIPI I3C®.
MIPI CSI-2® over MIPI C-PHY / MIPI D-PHY offers a highly scalable interface to connect high-resolution cameras, enabling low-power vision inferencing and camera control using CCI over the same connector using USL.
MIPI I3C provides a shared, two-wire interface to connect sensors and simple UI components.
MIPI UniPro® enables Universal Flash Storage (UFS) that can be used for fast boot and to read and write high-resolution images.
MIPI RFFE℠ is used to control RF front-end components within wireless communication modules, including power amplifiers, low-noise amplifiers, filters, switches and antenna tuners.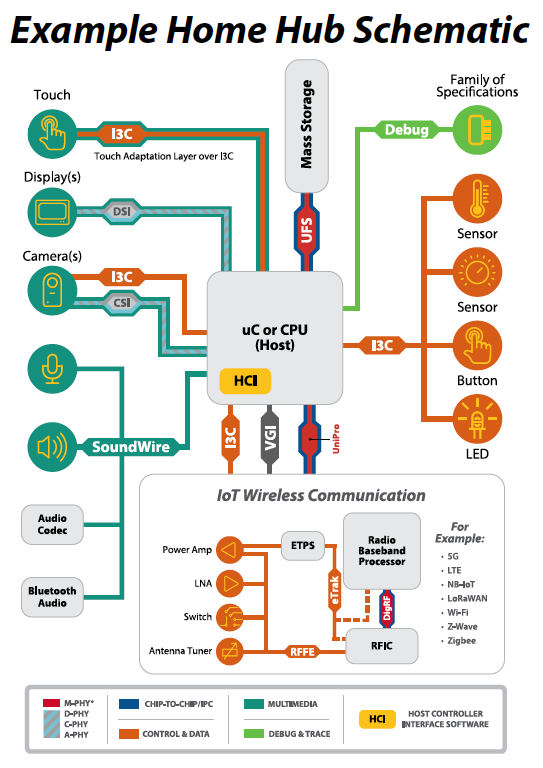 In smart doors: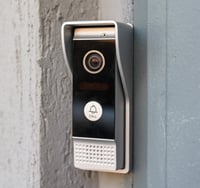 In smart home appliances: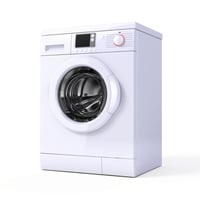 Learn more
For more information on how MIPI specifications are enabling smart home services and to see examples of other IoT use cases, download the recently published white paper; "MIPI Alliance: Enabling the IoT Opportunity."
Register for MIPI DevCon 2021 on 28-29 September to join us for the following IoT-related sessions:
You can also access on-demand IoT resources from MIPI DevCon 2020, including an IoT presentation and closing chat session, to hear from industry experts about the growth of IoT, market trends and the role of MIPI specifications in supporting connected devices.