3 min read
MIPI Releases Introductory Guide to MIPI Automotive SerDes Solutions (MASS)
Ian Smith, MIPI Alliance Technical Content Consultant : 15 September 2021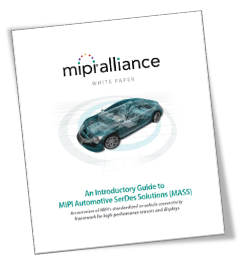 Automotive technology is advancing faster than ever, and electronic components have never been more central to the design and success of new vehicles. Advanced driver-assistance systems (ADAS) and rapidly evolving in-vehicle infotainment (IVI) platforms are the stars of many new models, while autonomous driving systems (ADS) are a major focus of development.
These innovations require more cameras, sensors, displays and computing resources from a growing ecosystem of suppliers, and the data interfaces linking these components play an essential role in safety and security, which are core requirements of the new onboard systems. Standardization of these interfaces and the promise of interoperability will be essential for automotive innovation to flourish.
MIPI Alliance recently published a new white paper that provides an overview of its standardized automotive connectivity framework for high‑performance sensors and displays, known as "MIPI Automotive SerDes Solutions," or "MASS" for short. The paper explains how MASS is addressing the in-vehicle connectivity requirements of future automotive sensor (camera/lidar/radar) and display systems.


MASS Components
Describing how MASS provides an end-to-end, full stack connectivity framework that leverages MIPI A-PHY℠, MIPI CSI-2®, MIPI DSI-2℠ and many other de facto industry standardized protocols with built in functional safety, security and resilience, the white paper provides a detailed overview of four principal components:
MASS physical layer: MIPI A-PHY is the foundation of MASS and is the first industry-standard, long-reach, asymmetric, serializer/deserializer (SerDes) physical layer interface with high noise immunity. A-PHY is designed specifically to meet the needs of the automotive industry and will eliminate the need for proprietary asymmetric PHYs and bridges, simplifying in-vehicle communication networks and reducing cost, cable harness weight and development time.
MASS higher-layer protocols: The framework incorporates a suite of widely adopted higher layer application protocols proven in billions of devices and already being leveraged in automotive. These protocols include MIPI CSI-2 for cameras, MIPI DSI-2 and VESA eDP/DP for displays, and lower speed protocols such as I2C (Inter-Intergrated Circuit), GPIO (General Purpose Input Output), Ethernet and MIPI I3C®.
MASS functional safety: Several functional safety enabling features are built into the framework, helping MASS-based applications meet the functional safety requirements of

ISO standard 26262:2018 "Road vehicles – Functional safety"

and enabling designers to build systems that meet common Automotive Safety Integrity Level (ASIL) specifications from ASIL B through ASIL D.
MASS security: High-bandwidth Digital Content Protection (HDCP) is already supported for display applications, and additional security functionality to enable end-to-end authentication, privacy (encryption), message integrity and replay protection will be added in the near future.
The paper explains how these components are implemented into the MASS protocol stack, describing in detail each component shown in the image below: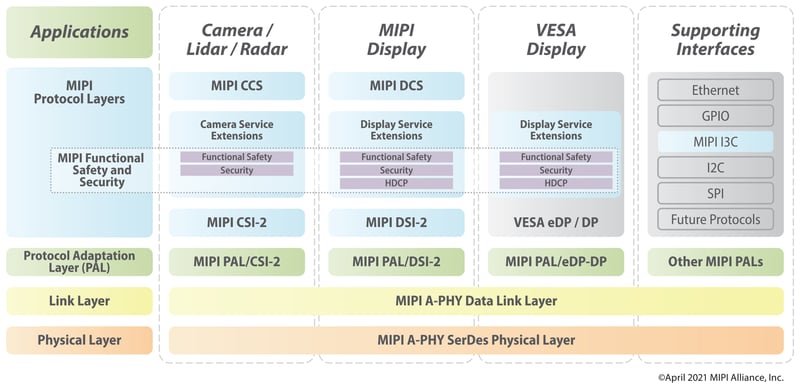 Caption: The MASS Protocol Stack (Source: MIPI Alliance)
One key layer of the stack is the MIPI A-PHY Protocol Adaptation Layer (PAL), which defines the adaptations necessary to carry proven MIPI and approved third-party protocols over A-PHY links. The PAL maps those approved higher-layer protocols to A-PHY's A-Packet format, acting as a conduit to and from A-PHY's generic data link layer. In this way, the PAL enables higher-layer protocols to operate seamlessly over A-PHY physical links.


Benefits of MASS
In addition to its technical focus, the paper also outlines the commercial benefits of adopting the standardized MASS framework in the following ways:
Creates economies of scale around a set of industry-supported standards, reducing integration costs and enabling automotive original equipment manufacturers (OEMs) and Tier 1 suppliers to amortize engineering costs over larger volumes of components.
Helps industry improve technologies faster, as vendors develop more efficient ways to implement these specifications, which will then be integrated into future releases.
Eases ongoing product maintenance and updates, thanks to backward and forward compatibility, while also encouraging long-term developer support.
Removes the burden of designing or selecting a proprietary interface, allowing OEMs and Tier 1 suppliers to focus on "higher value" product differentiating technologies in the protocol stack – such as applications that leverage machine learning and artificial intelligence to provide enhanced customer experiences.
Has been purpose-built to address applications that require high-speed, highly asymmetric data links within a vehicle.
Complements symmetric protocols such as automotive Ethernet. While Ethernet and other symmetric network protocols are primarily designed for full duplex, symmetric networking among peer devices, MASS is optimized to link resource-constrained peripheral components with their associated electronic control units.
Enables components at the edge of a vehicle to be smaller and less complex while providing high bandwidth in one direction, such as an inbound data stream from a camera or lidar sensor to an ECU, or an outbound data stream from an ECU to a digital cockpit display.
Read the full white paper online, or download the PDF for offline viewing.