3 min read
The Power of Collaboration — A Conversation with Joel Huloux

Sharmion Kerley, MIPI Director of Marketing and Membership : 21 December 2020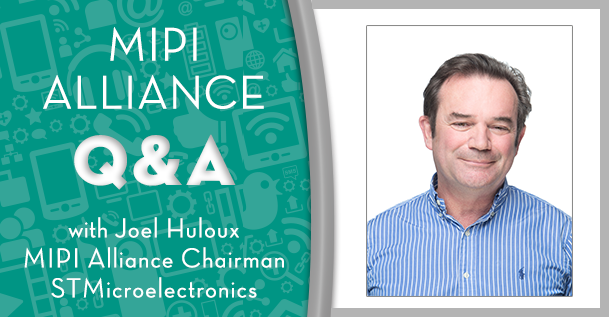 Update: MIPI A-PHY was adopted as an IEEE standard in June 2021 and is also available as IEEE 2977-2021.
Recently MIPI Alliance announced it had signed a memorandum of understanding (MoU) with IEEE, the world's largest technical professional organization dedicated to advancing technology for the benefit of humanity. Under the agreement, MIPI A-PHYSM v1.0 will be brought forward through the adoption process to become an IEEE standard. In this Q&A, Joel Huloux, chairman of MIPI Alliance, discusses the significance of this announcement and the importance of liaison relationships, and shares a look ahead at what's to come for MIPI Alliance.

Q: What does this MoU mean for the automotive industry and MIPI?
For the global automotive industry, the adoption of A-PHY as an IEEE standard will provide even greater interoperability, choice and economies of scale for OEMs (original equipment manufacturers) and their suppliers to help solve the in-vehicle connectivity challenges posed by the proliferation of cameras, sensors and displays. As the first asymmetric long-reach SerDes standard for the industry, the addition of A-PHY also brings a new approach to IEEE's existing portfolio of automotive solutions.
For MIPI, the collaboration with IEEE will mean broader availability for MIPI A-PHY. The specification has been available to MIPI members since September, and now under this agreement, it's positioned for even wider adoption within a broader ecosystem. The A-PHY protocol adaptation layers for MIPI CSI-2® and MIPI DSI-2SM also are good candidates to go through the IEEE adoption process.

Q: This is an important relationship for MIPI Alliance. Tell us about some of MIPI's other liaisons and why these relationships are important for the industries that MIPI serves.
Oftentimes, MIPI and liaison organizations serve adjacent, complementary market segments in mobile and beyond—collectively we are trying to advance technologies and their uses cases through standardization. So through these collaborations, we can solve industry challenges more quickly, which results in expanded opportunities for everyone involved.
These relationships are one of the important ways that we continually grow the ecosystem of interoperability and application expertise around MIPI specifications. Our work with global organizations such as IEEE, Japan Automotive Software Platform and Architecture (JASPAR), JEDEC Solid State Technology Association (JEDEC), Universal Flash Storage Association (UFSA) and Video Electronics Standards Association (VESA) to name a few are critical to help MIPI reach beyond its roots in mobile and demonstrate the benefits of our specifications in additional application spaces.

Q: Why is standardization becoming a more important driver in development?
Standards and, more specifically, the interoperability and ecosystem that develops from globally adopted standards, are important across many industries because of their demonstrated ability to cut development costs, ease integration and offer economies of scale. Standards provide a cost-effective foundation upon which innovation and product differentiation can flourish, and this is true in most every area of global commerce.
For example, in the automotive industry, advanced driver assistance systems (ADAS), autonomous driving systems (ADS) and other surround-sensor applications demand more onboard cameras, sensors, displays and electronic control units (ECUs), built by a growing number of suppliers.
The data interfaces that link these together, although proprietary today, play an essential role in safety and security for the new technologies. With the arrival of A-PHY, OEMs and their suppliers can take advantage of the promise of interoperability. This is critical for lowering costs through economies of scale, simplifying integration and for fostering a growing ecosystem for innovation.


Q: Shifting gears a bit, what's ahead for MIPI Alliance in 5G, the IoT, mobile and automotive?
All the world's major chip and mobile component vendors use MIPI specifications, and every smartphone in the world today includes at least one of our mature and robust interfaces. Because we remain focused on the key design goals of high-bandwidth performance, low power consumption and low electromagnetic interference (EMI), we've seen MIPI specifications appear in an ever-broadening array of devices, including automotive, industrial equipment, wearables, medical devices and drones. For all of these application spaces, our goal is not only to provide the interface specifications, but also to deliver the conformance test suites, debug tools, software and other resources that designers and developers need to create state-of-the-art connected devices.
Where possible, we're pursuing an end-to-end systems approach in developing our interfaces (as opposed to focusing on a single protocol), and our system-level roadmaps also define the needs for these different segments and specifications across the diverse application landscape. For example, 5G needs faster interfaces that support applications and services built for multi-gigabit networks; automotive system designers need interfaces that help lower costs and solve complex integration and safety needs, and manufacturers of IoT devices must be able to connect mechanical, environmental and other sensors from multiple vendors.
You can particularly see this in the development of our MASSSM (MIPI Automotive SerDes Solutions) specifications, which build on A-PHY to create an end-to-end system that will simplify the integration of cameras, sensors and displays across a vehicle while adding functional safety and security. This is also evident in the innovation, ecosystem and developer community that is building up around MIPI I3C®, particularly for IoT devices, which you can learn more about in the MIPI White Paper: Enabling the IoT Opportunity.
Looking ahead, we will continue to advance our specifications and related resources to meet the broad range of industries and applications that make up our diverse membership. In 2020, MIPI grew to more than 350 members, and our ecosystem continues to become richer with a range of device manufacturers, semiconductor companies, silicon IP providers, camera and display module providers, sensor providers, automotive OEMs and Tier 1 suppliers, organizations developing IoT solutions, and many others. There's an enormous amount of activity happening within MIPI right now — it's a great time to join and engage in the working groups that are most aligned with your organization's development goals.


Joel Huloux is chairman of MIPI Alliance and director of Lobbying & Standardization in Strategic Planning of the Microcontrollers and Digital ICs Group at STMicroelectronics.