Download MIPI Camera Command Set v1.0 Conformance Test Suite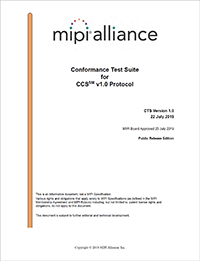 A Conformance Test Suite (CTS) defines a set of conformance or interoperability tests whereby a product can be tested against other implementations of a common specification. This particular suite of tests for CCS v1.0 was developed by the MIPI Camera Working Group to help implementers evaluate the MIPI CSI-2® v2.0 functionality of their products.
The latest version of MIPI Camera Command Set, MIPI CCS v1.1, is also available to download, along with the CTS for CCS v1.1.
Visit the MIPI Alliance website to learn more and see MIPI Alliance's entire portfolio of specifications.