Download MIPI Camera Command Set v1.1 Conformance Test Suite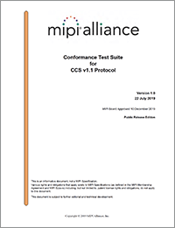 A Conformance Test Suite (CTS) defines a set of conformance or interoperability tests whereby a product can be tested against other implementations of a common specification. This particular suite of tests for CCS v1.1 was developed by the MIPI Camera Working Group to help implementers evaluate the MIPI CSI-2® v3.0 functionality of their products.
Visit the MIPI Alliance website to learn more and see MIPI Alliance's entire portfolio of specifications.