Download MIPI I3C Basic℠ v1.1.1

A subset of MIPI I3C available for implementation without MIPI membership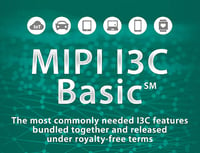 MIPI I3C BasicSM, a subset of the MIPI I3C® specification, bundles the most commonly needed I3C features for developers and other standards organizations.
About MIPI I3C and I3C Basic
MIPI I3C (and I3C Basic) can integrate mechanical, motion, biometric, environmental and any other type of sensor. These specifications incorporate key attributes of the traditional I2C and SPI interfaces to provide a new, unified, high-performing, very low-power solution.
The technology is implemented on a standard CMOS I/O. It uses a two-wire interface, which reduces pin count and signal paths to offer system designers less complexity and more flexibility. It can also be used as a sideband interface to further reduce pin count. MIPI I3C supports a minimum data rate of 10 Mbps with options for higher performance high data rate modes, offering a substantial leap in performance and power efficiency compared with previous options.
MIPI I3C Basic v1.1.1, the first update to the specification, was released in July 2021 and includes many features from the core specification, some of which were specifically requested from industry liaisons, as well as clarifications and editorial fixes included in I3C v1.1.1. It also replaces the terms master and slave (which MIPI has deprecated) with controller and target, respectively.
Visit the MIPI I3C webpage for a listing of the features included in I3C Basic v1.1.1. Version 1.0 of the specification is also available to download.
Availability to implementers
MIPI Alliance considers I3C technology to have significant advantages over the widely adopted legacy interfaces currently used for similar applications, and wishes to see I3C technology broadly deployed in the industry. Being aware that some advanced I3C v1.x features are not needed for many common applications, and that some potential users might regard MIPI Alliance membership as a barrier, the MIPI Board of Directors decided to make the I3C Basic specification freely available without requiring a MIPI Alliance membership, and to facilitate a royalty-free licensing environment for all implementers, as described within the specification.
IPR status
MIPI Alliance's regular intellectual property rights-related terms apply only by and among members. To address this issue, MIPI Alliance created a set of supplemental patent licensing terms for the current and future versions of the I3C Basic specification, available in the specification as Annex E. MIPI required that all members participating in the development of the I3C Basic specification agree to these additional terms. These terms include an obligation to license applicable patent claims to both member and non-member implementers, for uses both in mobile devices and otherwise, on "RAND-Z" terms: that is, under royalty-free (the Z references zero royalty) and otherwise reasonable and non-discriminatory terms.
As described in Annex E, any implementer that wishes to benefit from the RAND-Z obligation must also commit to license other implementers under the same RAND-Z terms. This reciprocity requirement is intended to expand royalty-free license obligations through the broader I3C Basic ecosystem.
The MIPI member companies that joined the I3C Basic specification development effort and manifest agreement to the terms in Annex E are listed in Annex F. Annex F also notes if and when any party terminates their agreement to these terms (subject to certain ongoing license obligations, as described in the terms).
The I3C Basic IPR terms are intended to create a robust royalty-free environment for implementers. However, no set of IPR terms can comprehensively address all potential risks. The terms apply only to those parties that agree to them, and the scope of application is limited to what is described in the terms. Implementers must ultimately make their own risk assessment, and the disclaimers described in the specification document remain in full force and effect.