3 min read
MIPI Alliance Invites Mobile, IoT, Automotive and 5G Developers to MIPI DevCon Seoul

MIPI Alliance : 18 September, 2018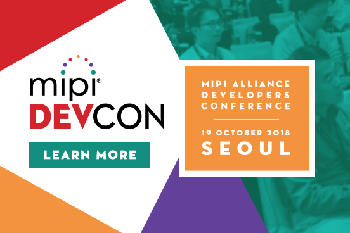 One-day event provides networking and educational opportunities to broaden knowledge of MIPI mobile specifications

PISCATAWAY, N.J., September 18, 2018 – The MIPI Alliance, an international organization that develops interface specifications for mobile and mobile-influenced industries, today announced details of its upcoming MIPI Developers Conference (DevCon) to be held 19 October 2018 at the Millennium Seoul Hilton in Seoul, South Korea. The one-day event will provide education, technical training and a networking forum for implementers of MIPI specifications.
WHAT: MIPI DevCon Seoul
WHEN & WHERE: 19 October 2018, at the Millennium Seoul Hilton in Seoul, South Korea
WHO SHOULD ATTEND: The conference is tailored to developers who are interfacing sensors in mobile, IoT or automotive designs, or integrating and testing imaging, displays and touch components in connected cameras, tablets, laptops and other devices. The program's technical content and practical use case sessions provide a valuable resource for system architects, engineers, engineering managers, and business and marketing executives. Members of the media and industry analysts are invited to attend with complimentary registration.
WHO IS SPEAKING AT THE EVENT: The opening keynote, "Mobile Technologies for a Smart World," presented by Jongshin Shin, vice president, Samsung Electronics, explores how the rapidly expanding mobile world, driven by the widespread use of smart devices, is making significant impacts on daily life. Shin's keynote examines emergent technologies, such as 5G and advanced driver assistance systems (ADAS), and points to the role MIPI's interface solutions can play in helping advance this mobile evolution. In addition, MIPI Alliance working group chairs and other experts will lead nine technical sessions to share their implementation experiences, demonstrate use cases and provide application examples.
OVERVIEW: MIPI DevCon Seoul brings the latest information on MIPI specifications to developers in the region. Educational sessions highlight how developers can apply MIPI specifications to achieve significant performance and integration advantages while shortening time to market and lowering component costs. In addition to the educational sessions, the exhibit area offers opportunities to interact with MIPI member companies one-on-one and view product demonstrations. The event schedule provides several networking opportunities as well.
"As one of the top mobile markets in the world, South Korea is an important region for MIPI to share information collaboratively with developers looking to implement MIPI specifications in high-performing, high-performance designs for mobile, IoT, automotive and other markets," said Soheil Modirzadeh, chair of MIPI DevCon. "MIPI DevCon Seoul offers a unique opportunity for the region's development community to meet with industry experts and get the latest information on implementation guidelines, best practices, use cases and more."
TO REGISTER: Find more details and register at https://www.mipi.org/devcon/seoul/register. An "early bird" $49 registration fee is available until 5 October 2018.
PROGRAM DETAILS: The MIPI DevCon Seoul agenda (also available in Korean) features expert commentary and presentations from MIPI members representing the industry's top companies working in mobile, IoT, automotive and other fast-growth markets.
Technical sessions include:
Powering AI and Automotive Applications with the MIPI Camera Interface
Integrating Image, Radar, IR and TOF Sensors: Developing Vision Systems with Dissimilar Sensors
High-Performance VR Applications Drive High-Resolution Displays with MIPI DSI
Next Generation Verification Process for Automotive and Mobile Designs with MIPI CSI-2 Interface
Exhibiting companies include Arasan Chip Systems, Inc.; BitfiEye Digital Test Solutions GmbH; Cadence Design Systems, Inc.; Gowin Semiconductor Corp.; Hardent Inc.; Introspect Test Technology, Inc.; Keysight Technologies, Inc.; Lattice Semiconductor Corp.; Mixel, Inc.; Prodigy Technovations Pvt. Ltd.; Protocol Insight; Sony Semiconductor Solutions Corp.; Synopsys, Inc.; Tektronix, Inc.; and Teledyne LeCroy.
Event sponsors include Arasan Chip Systems, Inc.; Introspect Test Technology, Inc.; Mixel, Inc.; and Teledyne LeCroy. Industry sponsors include the IEEE Standards Association (IEEE-SA); the Industry Standards and Technology Organization (ISTO); and the Universal Flash Storage Association (UFSA). Media sponsors include EDACafe.com and Embedded Computing Design.
To inquire about sponsorship opportunities, please visit the MIPI DevCon Seoul sponsor information page at https://www.mipi.org/devcon/seoul/sponsor.
To discover more about MIPI Alliance and to connect with its social networks, follow its Twitter page, join its LinkedIn group and like its Facebook page. To join MIPI Alliance, use the Join MIPI link on the organization's site.
About MIPI Alliance
MIPI Alliance (MIPI) develops interface specifications for mobile and mobile-influenced industries. There is at least one MIPI specification in every smartphone manufactured today. Founded in 2003, the organization is celebrating its 15th year of moving mobile forward with over 300 member companies worldwide and 14 active working groups delivering specifications within the mobile ecosystem. Members of the organization include handset manufacturers, device OEMs, software providers, semiconductor companies, application processor developers, IP tool providers, test and test equipment companies, as well as camera, tablet and laptop manufacturers. For more information, please visit www.mipi.org.
MIPI® is a registered trademark owned by MIPI Alliance.