3 min read
MIPI Alliance to Advance Autonomous Driving, other Automotive Applications with New Data Interface Specifications at 12-24 Gbps and Beyond

MIPI Alliance : 02 August, 2018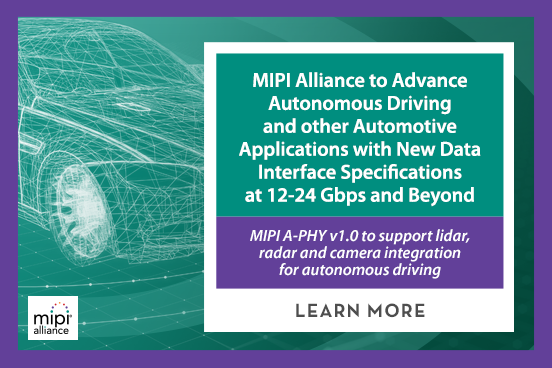 MIPI A-PHY v1.0 to support lidar, radar and camera integration for autonomous driving
PISCATAWAY, N.J., August 2, 2018
Highlights:
MIPI Alliance has initiated development of a physical layer (up to 15m) specification targeted for ADS, ADAS and other surround sensor applications
Requirements gathering has begun for higher-speed versions to provide greater bandwidth (e.g., 48 Gbps and more) for in-vehicle infotainment displays and other peripherals
The Alliance invites automotive OEMs, technology companies and suppliers to join and participate in future requirements gathering and specification development
The MIPI® Alliance, an international organization that develops interface specifications for mobile and mobile-influenced industries, today announced it has mapped a course to address the automotive industry's needs for high-speed data interface specifications. With development of the MIPI A-PHY physical layer specification already underway to meet 12-24 gigabits per second (Gbps), requirements gathering has begun to support higher speeds including over 48 Gbps for display and other use cases. When complete, these specifications will serve a broad spectrum of the industry's connectivity needs.
Technology and automotive companies are invited to join the many MIPI Alliance members already involved in these efforts. Companies participating in the MIPI Automotive Working Group include: Analog Devices, Inc., Analogix Semiconductor, Inc., BitifEye Digital Test Solutions GmbH, Cadence Design Systems, Inc., Fraunhofer IIS, Intel Corporation, Keysight Technologies Inc., L&T Technology Services, MediaTek Inc., Microchip Technology Inc., Mixel, Inc., Mobileye, an Intel Company, NXP Semiconductors, OmniVision Technologies, Inc., ON Semiconductor, Parade Technologies Ltd., Prodigy Technovations Pvt. Ltd., Qualcomm Incorporated, Robert Bosch GmbH, Samsung Electronics Co., Ltd., Socionext Inc., Sony Corporation, STMicroelectronics, Synopsys, Inc., Tektronix, Inc., Teledyne LeCroy, Toshiba Corporation, University of New Hampshire InterOperability Lab, Valens Semiconductors and others.
"Automakers around the globe are amid a tremendous wave of innovation related to autonomous driving, ADAS, new fuel-economy standards, vehicle electrification and connectivity, new business models, new forms of in-car infotainment and more," said Ian Riches, Executive Director - Global Automotive Practice with Strategy Analytics. "With so many new applications to be supported in and across the vehicle, the auto industry is under pressure to more simply, efficiently and cost-effectively integrate disparate, high-speed data components from an increasingly large supply base."
MIPI A-PHY v1.0 is expected to be available to developers in late 2019. The specification will optimize wiring, cost and weight requirements, as high-speed data, control data and optional power share the same physical wiring. The asymmetric nature of the MIPI A-PHY link, its point-to-point topology and its reuse of generations of mobile protocols promise overall lower complexity, power consumption and system costs for developers and automotive OEMs. It's anticipated that the first vehicles using A-PHY components will be in production in 2024.
In addition to automotive uses, the configuration of the specification will be well suited for applications such as IoT and industrial.
"MIPI Alliance is uniquely positioned to bring its strong knowledge and expertise of developing low electromagnetic interference (EMI) and low power interfaces in mobile to new environments such as automotive and IoT," said Joel Huloux, chairman of MIPI Alliance. "Mature MIPI interface specifications for camera, display, sensors and physical layers are deployed in billions of mobile devices and are already prevalent in mobile-influenced industries such as automotive today. As MIPI's specifications are designed to work together as a complete 'stack,' the addition of the longer reach MIPI A-PHY will provide greater ease of integration, resulting in an even richer solution."
To discover more about MIPI Alliance and to connect with its social networks, follow its Twitter page, join its LinkedIn group and like its Facebook page. To join MIPI Alliance, use the Join MIPI link on the organization's site.
About MIPI Alliance
MIPI Alliance (MIPI) develops interface specifications for mobile and mobile-influenced industries. There is at least one MIPI specification in every smartphone manufactured today. Founded in 2003, the organization is celebrating its 15th year of moving mobile forward with over 300 member companies worldwide and 14 active working groups delivering specifications within the mobile ecosystem. Members of the organization include handset manufacturers, device OEMs, software providers, semiconductor companies, application processor developers, IP tool providers, test and test equipment companies, as well as camera, tablet and laptop manufacturers. For more information, please visit www.mipi.org.
MIPI® is a registered trademark owned by MIPI Alliance. MIPI A-PHY is a service mark of MIPI Alliance. All other trademarks cited are the property of their respective owners.