4 min read
Press Release: MIPI Alliance Announces Honorees in 10th Annual Membership Awards Ceremony

MIPI Alliance : 15 March, 2023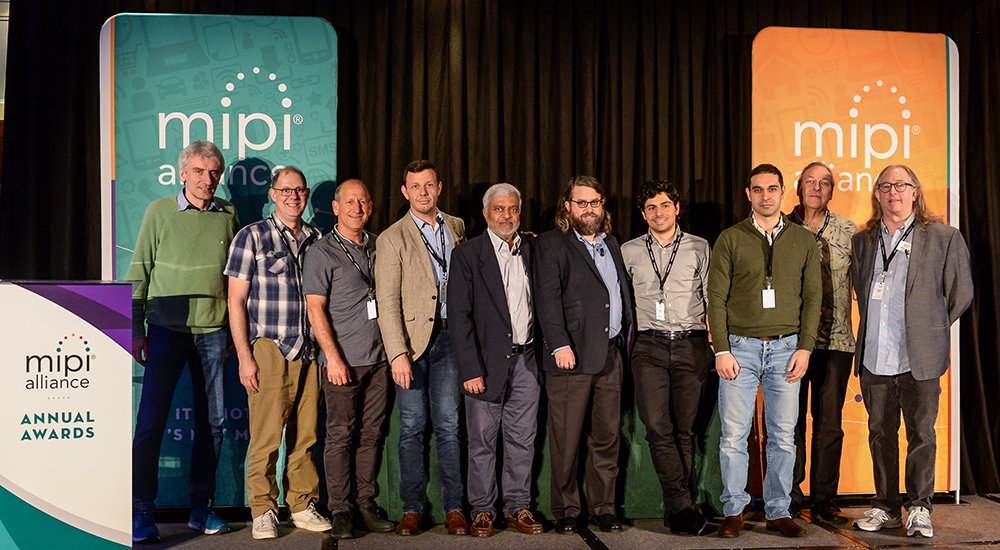 Ten recipients recognized for extraordinary contributions to MIPI specifications for mobile, IoT, security, automotive and more
PISCATAWAY, N.J., March 15, 2023 - The MIPI Alliance, an international organization that develops interface specifications for mobile and mobile-influenced industries, today announced the recipients of the 2022 MIPI Alliance Membership Awards for their outstanding contributions and leadership. MIPI's 10th annual awards ceremony took place last week in conjunction with MIPI Member Meeting #62 in Lisbon, Portugal.
"It is primarily because of the intense commitment of our growing membership that MIPI Alliance is able to succeed in our mission to deliver the interface specifications necessary to create state-of-the-art, innovative mobile-connected devices" said Sanjiv Desai, chair of the MIPI Alliance. "This awards ceremony is always a welcome opportunity to recognize those individuals and member companies who have given the most of themselves to MIPI activities and the industries we serve. We thank all of our members for their continued contributions."
Individuals and companies are nominated by MIPI members. An awards and recognition committee appointed by the MIPI Board of Directors reviews and recommends nominees, and the board approves the final honorees. Ten award recipients in six categories were recognized in the 2022 program.
The Lifetime Achievement Award is presented to individuals with at least seven years of service to MIPI Alliance and who have provided noteworthy contributions or leadership to a working group, the board of directors or another MIPI area. Sergio Silva of Synopsys, Inc., was recognized for his ongoing influence and innovative contributions to MIPI M‑PHY, particularly in both the electrical and digital domains. An active contributor for more than a decade, Silva recently brought forward a key proposal for the next version of the specification and has leveraged his profound knowledge of physical layer requirements to proactively resolve issues and challenges, and clarify M-PHY use cases.
The Corporate Award was presented to Western Digital Technologies Inc., a MIPI Alliance member since 2006, for outstanding leadership and contributions to the development of the MIPI M-PHY physical layer interface and the MIPI UniPro transport layer, both of which have been developed in collaboration with JEDEC for its widely implemented Universal Flash Storage standard. Western Digital representative Kirill Dimitrov assumed the chair role for the MIPI M‑PHY Working Group in 2018 and received a 2021 MIPI Working Group Leadership Award.
The Working Group Leadership Award is presented to leaders within MIPI working groups in recognition of their noteworthy contributions to the groups' activities or specification development. Two individuals were recognized for their efforts in 2022:
Philip Hawkes of Qualcomm Incorporated, co-chair of the MIPI Security Working Group, was recognized for his own contributions, as well as his efforts to encourage others to participate in the development of the forthcoming MIPI Security framework, which includes the MIPI Security v1.0 and MIPI Security Profiles v1.0 specifications. The group is also collaborating with the Camera Working Group to apply these specifications to securing MIPI CSI-2 data streams.
Niel Warren of Google LLC, chair of the MIPI Audio Working Group, was honored for his contributions and dedication in the development of MIPI SoundWire and the forthcoming MIPI SoundWire I3S (MIPI SWI3S) specification. Warren has been instrumental in soliciting member inputs, and under his leadership, working group participation has been at an all-time high.
Four members received the Distinguished Service Award, which recognizes individuals impacting the MIPI specification development process or those contributing by serving on the board of directors, a working group, or helping in the areas of marketing or testing:
Nadav Banet of Valens Semiconductor received the award for innovative contributions across the end-to-end MIPI Automotive SerDes Solutions (MASS) framework. The lead of the Camera Adaptation Layer Subgroup, Banet's major inputs include the Service Extension Packet (SEP) format, which has been adopted by both the MIPI Camera Service Extensions (MIPI CSE) and MIPI Display Service Extensions (MIPI DSE) specifications.
Hendrik Lange of KIOXIA Corporation was recognized for his contributions to the development of MIPI UniPro v2.0. In addition to helping create a comprehensive and thorough Conformance Test Suite (CTS) for the newest version of UniPro, Lange helped ease implementation by ensuring high-quality descriptions were included in the specification.
Cédric Marta of Synopsys, Inc. was selected to receive this honor for his contributions to the MIPI Camera Working Group. As a co-vice chair of the working group, Marta has provided especially crucial support in discussions surrounding the MIPI CSI-2 ecosystem and interoperability, and has served as a MIPI author to provide education on the features and capabilities of CSI-2.
Jürgen Urban of KIOXIA Corporation was recognized for his input in creating the CTS for MIPI UniPro v2.0. Urban was instrumental in applying new features and leading discussions on change proposals for the CTS, helping speed its completion. As a former chair of the UniPro Working Group, Urban also received a Working Group Leadership Award in 2014.
The Special Achievement Award is presented to individuals who actively and consistently perform and contribute toward MIPI Alliance objectives. The 2022 award was presented to Chris Grigg, MIPI's specifications and technical editing director. For 10 years, Grigg has expertly managed the editing process for a growing portfolio of MIPI specifications and supporting documents to ensure high quality, clarity and consistency across all technical materials and Alliance policies.
The Legacy Award, presented posthumously for notable participation in MIPI Alliance, was presented to Paul Kimelman of NXP Semiconductors. A longtime contributor, Kimelman's extraordinary leadership and tireless coordination were key to the development and promotion of MIPI I3C. He was also a notable contributor to MIPI Debug for I3C, authoring a key section of the specification.
For photos and information about past recipients, please visit https://www.mipi.org/membership/annual-awards.
To discover more about MIPI Alliance, subscribe to its blog and connect with its social networks by following MIPI on Twitter, LinkedIn and Facebook.
About MIPI Alliance
MIPI Alliance (MIPI) develops interface specifications for mobile and mobile-influenced industries. There is at least one MIPI specification in every smartphone manufactured today. Celebrating its 20th anniversary in 2023, the organization has over 375 member companies worldwide and more than 15 active working groups delivering specifications within the mobile ecosystem. Members of the organization include handset manufacturers, device OEMs, software providers, semiconductor companies, application processor developers, IP tool providers, automotive OEMs and Tier 1 suppliers, and test and test equipment companies, as well as camera, tablet and laptop manufacturers. For more information, please visit www.mipi.org.
MIPI®, A-PHY®, CSI-2®, M-PHY® and UniPro® are registered trademarks owned by MIPI Alliance. C-PHYSM, CSESM, D-PHYSM, DSESM, MIPI SecuritySM and SWI3SSM are service marks of MIPI Alliance.
Press Contact:
Becky Obbema
Interprose for MIPI Alliance
+1 408.569.3546
becky.obbema@interprosepr.com