5 min read
IEEE Adopts MIPI A-PHY – A Conversation with Rick Wietfeldt and Tzahi Madgar

Sharmion Kerley, MIPI Director of Marketing and Membership : 21 July 2021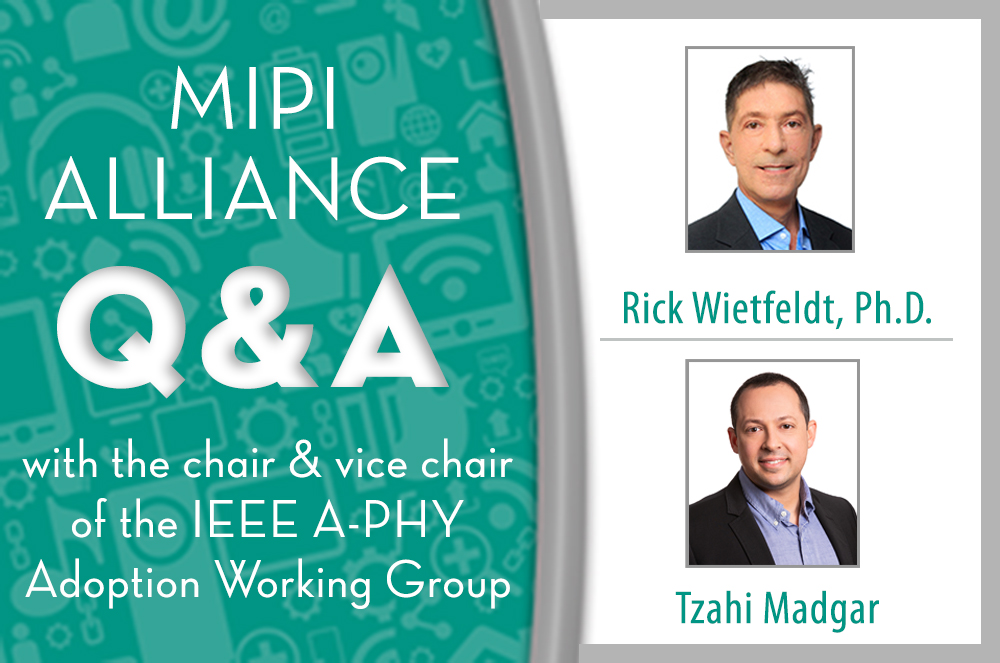 As announced on 13 July, MIPI A-PHY v1.0 was recently adopted by IEEE, the world's largest technical professional organization dedicated to advancing technology for humanity.
The publication of IEEE 2977™-2021, IEEE Standard for Adoption of MIPI Alliance Specification for A-PHY Interface (A-PHY) Version 1.0 promises to expand the ecosystem of application expertise around A-PHY and, in turn, further promote interoperability, vendor choice and economies of scale for the global automotive industry.
To learn more about this milestone, we asked MIPI members Rick Wietfeldt of Qualcomm Technologies Inc. and Tzahi Madgar of Valens Semiconductor, chair and vice chair, respectively, of IEEE's MIPI A-PHY Adoption Working Group, to share their insights into the implications of IEEE's adoption of A-PHY—for the automotive industry, and for MIPI Alliance and IEEE members. Rick also serves as a director on the MIPI Alliance Board of Directors and is co-chair of the MIPI Security Working Group. Tzahi has been active in the development process for several leading automotive connectivity standards and played a key role in facilitating the adoption of MIPI A-PHY v1.0 within IEEE.


Q: This is the first time MIPI Alliance has submitted a specification to another standards body for adoption. Why did MIPI pursue IEEE adoption of A-PHY?
Rick: A-PHY is the first industry-standard asymmetric automotive serial/deserializer (SerDes) interface, and MIPI is committed to promoting its availability to as wide an audience as possible. Putting A-PHY forward for adoption as an IEEE standard was a strategic decision that further underscores its significance to the industry.


Q: What does the IEEE adoption of A-PHY mean for MIPI Alliance and the IEEE community at large?
Tzahi: A-PHY v1.0 was released to MIPI members late last year, and now the adoption by IEEE further expands its availability to potential implementers, both within IEEE's membership and beyond, which we believe will accelerate growth of the ecosystem and ultimately lead to faster, broader adoption.
The original concept for A-PHY was driven by the automotive industry, and MIPI went through an extensive process of requirements gathering, electromagnetic compatibility testing and development to produce a specification that fulfills multiple critical needs: It not only provides long reach (up to 15 meters) and high-speed performance (up to 16 Gbps now with a roadmap to 48 Gbps and beyond), but it also offers an ultra-low packet error rate of 10‑19 for unprecedented reliability, and ultra-high immunity to electromagnetic interference (EMI) effects.
In short, A-PHY can simplify designs and cut costs, complexity, weight and power consumption, and its adoption by IEEE is an additional catalyst to help bring about the economies of scale, vendor choice and interoperability that the industry has been seeking.
Rick: It's also important to note that while A-PHY was developed for the automotive industry, another aspect of this story is what it could mean for other application areas. A-PHY is suitable for the IoT (Internet of Things), industrial applications and a variety of other spaces that require long-reach SerDes interfaces with high immunity to EMI effects. IEEE adoption of the specification helps to expose A-PHY to a broader audience of academic researchers and system developers even beyond those of the automotive industry.
And, of course, for IEEE, it now adds a new asymmetric SerDes interface approach to its existing portfolio of mobility standards.


Q: A-PHY is often described as the foundation of the MIPI Automotive SerDes Solutions framework. Can you briefly describe MASS and share the latest developments in the framework?
Rick: MIPI Automotive SerDes Solutions, which we call "MASS" for short, is MIPI's standardized connectivity framework for high-performance sensors and displays. It encompasses A-PHY as the physical layer, proven higher layer protocols for cameras, sensors and displays (such as MIPI CSI-2®, MIPI DSI-2SM and VESA Embedded DisplayPort/DisplayPort), with functional safety and security enablers built in, along with HDCP (high-bandwidth digital content protection) support for displays. Taken together, it's a comprehensive integration solution for ADAS (advanced driver-assistance systems), digital cockpits and in-vehicle infotainment services. MIPI has been rolling out components of the framework as they are completed, but the entire framework is scheduled to be released by the end of the year, with the exception of the security pieces, which are expected to be available in mid-2022.


Q: Is the use of A-PHY royalty-free, and are there any differences in intellectual property rules between MIPI and IEEE with regard to A-PHY implementation?
Tzahi: The MIPI A-PHY specification, like all MIPI specifications, is available under MIPI's RF IPR terms. These terms enable all members to benefit from royalty-free licenses granted by all other members to patent claims that are necessary to implement the applicable MIPI specification. These licenses attach automatically to "Compliant Portions"—that is, to those components of member products at any level of the supply chain that implement relevant portions of the MIPI specification. This is one of many reasons that we believe the IPR policy to be quite friendly to implementers. The details can be found in the MIPI Membership Agreement, which is posted on the MIPI website.
Companies that are not members of MIPI have the option of choosing to join MIPI to benefit from the RF terms or can choose to access and implement the standard under the IEEE's IPR terms. IEEE's terms work differently than MIPI's terms: IEEE requests that any owners of essential patent claims submit a "Letter of Assurance" under which the owner typically commits to license the claims to any implementer, under terms that could—but don't necessarily have to—include a reasonable royalty. Details about the IEEE IPR terms can be found in the IEEE SA Standards Board Bylaws, which are posted online.


Q: What's next for A-PHY? How can companies become involved in automotive activities within MIPI Alliance?
Tzahi: We're seeing increasing momentum in interest for A-PHY, and MIPI membership growth from the automotive sector has been climbing. My company, for instance, has already taped out A-PHY-compliant chipsets and is working with partners such as Sony and Mobileye to evaluate and/or integrate A-PHY into their next-generation sensors. Based on what we're hearing, we expect to see similar kinds of announcements coming forward in the near future.
Rick: In terms of development, A-PHY will continue to evolve, and the ongoing work will remain within MIPI Alliance. In fact, MIPI A-PHY v1.1 is nearing completion and is scheduled to be released to MIPI members by the end of the year. This update will add some welcome enhancements, such as doubling the maximum downlink data rate in Gear 5 from 16 to 32 Gbps by supporting dual downlinks over star quad (STQ) cables, and doubling the uplink speed from 100 to 200 Mbps. In addition, v1.1 will expand PAM4 encoding to lower gears, reducing the operating bandwidth of these gears and allowing A-PHY to be implemented using lower-cost legacy cables and connectors. We're planning to submit v1.1 into the IEEE adoption process as well.
Tzahi: The best way to get directly involved is to join MIPI Alliance at the Contributor level to participate in the A-PHY Working Group or any of the many automotive-related working groups and subgroups. Next, I'd also encourage interested companies to learn more about A-PHY and the MASS framework through the many webinars and other presentations that MIPI has offered. Plus, MIPI has a new MASS white paper in the works that will be published later this summer.
In terms of upcoming education opportunities, several automotive presentations will be offered in late September at MIPI DevCon 2021, and an automotive workshop is planned for November. If you would like to help shape A-PHY, or look at how it can be applied to additional markets like IoT and industrial, now is a great time to engage.