5 min read
MIPI Automotive Display Stack Paves the Way for Next-Generation Automotive Displays

James Goel, Co-Vice Chair of the MIPI Display Working Group and Chair of the Technical Steering Group : 27 May 2021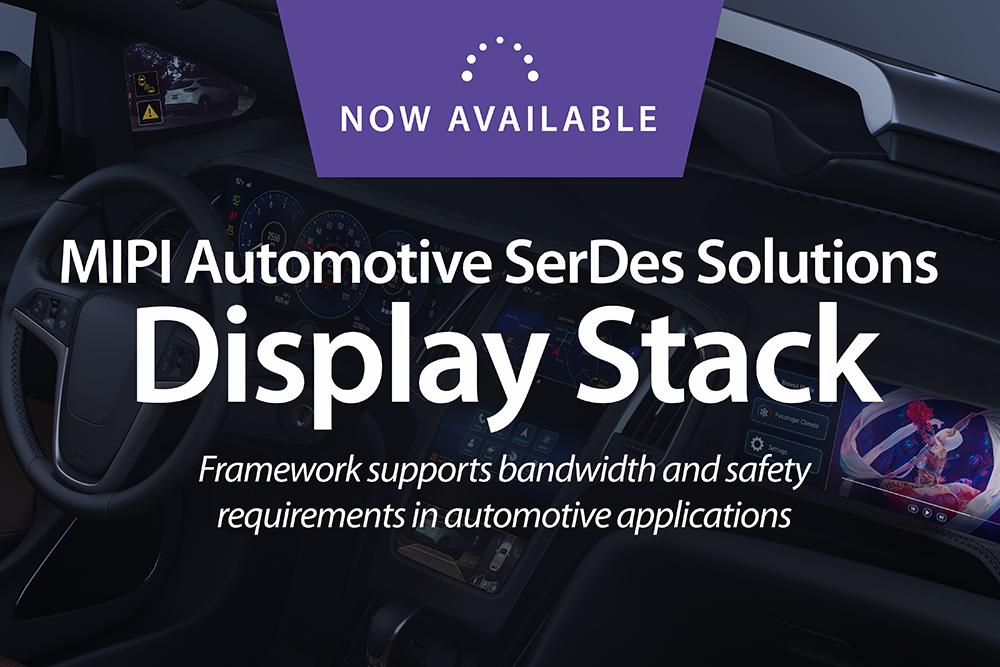 Current trends in automotive electronics are accelerating the demand for more in-vehicle displays with higher performance. Advanced driver-assistance systems (ADAS) and autonomous driving systems (ADS) bring more cameras and sensors, generating richer streams of display data that require interfaces with high bandwidth, low latency and functional safety. The transition to digital cockpits and ever more immersive forms of in-vehicle infotainment are further increasing the number of display data streams, generating a need for even more bandwidth and, in some cases, for content protection.
The recently completed MIPI Automotive SerDes Solutions (MASS℠) "display stack" specifications standardize and streamline the integration of automotive displays, meeting the growing bandwidth and functional safety demands required today, and enabling OEMs, suppliers and system integrators to meet the ever-increasing requirements of high-performance displays in next-generation vehicles.
The MASS display stack includes all the specifications needed to connect electronic control units (ECUs) to advanced in-vehicle displays across an entire vehicle, with built-in enablers to support functional safety and data protection. Specifically, it allows manufacturers to extend MIPI Display Serial Interface 2 (MIPI DSI-2℠) and VESA Embedded DisplayPort/DisplayPort (eDP/DP) display protocols over MIPI A-PHY℠, the first industry-standard, high-performance, highly reliable, asymmetric, long-reach serializer-deserializer (SerDes) physical layer interface.
The stack includes new protocol adaptation layers (PALs) for DSI-2 and eDP/DP; the newly introduced Display Service Extensions (MIPI DSE℠) specification, which adds functional safety enabling features; and the latest version of the Display Command Set (MIPI DCS℠), with updates to support MIPI DSI-2 command and control over A-PHY links.
The display stack specifications are important components of MASS, an overarching standardized framework for connecting automotive sensors (e.g., camera/lidar/radar) and displays to their associated ECUs, with built-in functional safety and security support.


Meeting the display challenge
Let's take a closer look at how the MASS display stack helps OEMs, suppliers and system integrators integrate high-performance, safety-critical displays in next-generation cars.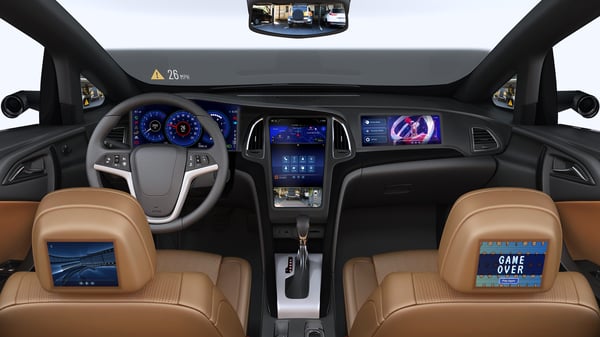 The introduction of ADAS applications, digital cockpits and connected in-vehicle infotainment has generated a need for more in-vehicle displays.
The MASS display specifications bring the benefits of standardization to automotive display integration and enable design engineers to build sophisticated car displays using interoperable components, reducing the non-recurring engineering costs currently required when integrating proprietary components from multiple suppliers.
The specifications also directly address the important new roles automotive displays are beginning to play. They include functional safety features to help automakers comply with vehicle safety requirements, as well as support for optional High-Bandwidth Digital Content Protection (HDCP) to prevent unauthorized copying of data streamed to displays.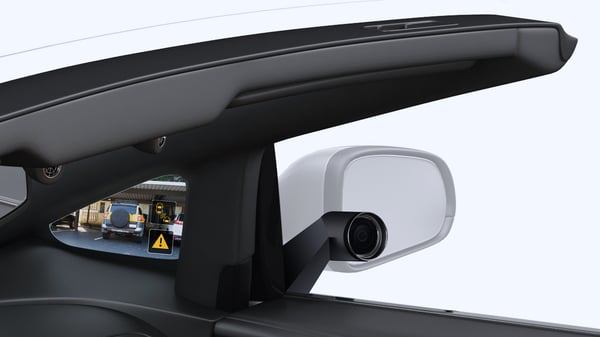 Virtual mirrors, 360-degree views and head-up displays are just a few of the applications enabled by MIPI automotive display specifications.
Currently, there are many in-vehicle display applications that can be implemented more effectively using the MASS display stack. One emerging application is virtual side-view mirrors, which replace the bulky mirrors on each side of the car with camera housings that take up less space and improve aerodynamics. The high-resolution cameras constantly stream live video to the displays at each corner end of the dashboard. Similarly, the display stack can help support a new generation of high-performance rear-view backup display systems, as well as displays fed by 360-degree camera arrays surrounding the vehicle. Another application is head-up displays that are projected on the inside of the windshield for driver assistance and alerts.


MASS display stack components
Using A-PHY as a foundation, the MASS display stack provides everything needed for reliable, source-to-sink connectivity between automotive displays and processors.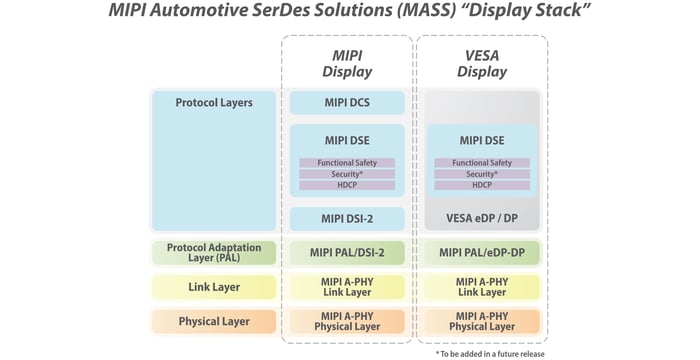 The MASS display stack connects MIPI DSI-2 and VESA eDP/DP displays with A-PHY through protocol adaptation layers (PALs) and includes extensions for additional services.


MIPI A-PHY
MIPI A-PHY, the physical layer of MASS, is designed primarily for long-reach connectivity between sensors (e.g., camera/lidar/radar) and displays and their associated electronic control units (ECUs). Operating at the edge of automotive networks to connect peripheral components that require high-speed asymmetric data transmission, it complements full-duplex backbone protocols such as automotive Ethernet. It removes the need for proprietary PHYs and can be implemented in a point-to-point or daisy-chain topology. As A-PHY can be integrated directly into sensors, displays and their associated ECUs, it will ultimately eliminate "bridges" between short-reach and long-reach PHYs, allowing simplified networks, quicker time to market and reduced cost and weight.


MIPI Protocol Adaptation Layers (PALs)
The stack includes new protocol adaptation layers for MIPI DSI-2 (PAL℠/DSI-2℠) and VESA eDP/DP (PAL℠/eDP-DP). Like other PALs that have been introduced or are in development, these allow higher-layer protocols to establish direct connections over A-PHY—in this case, for DSI-2 and eDP/DP display traffic to be transferred over an A-PHY network.


MIPI Display Service Extensions (DSE)
The next critical piece of the MASS display stack is the MIPI Display Service Extensions (DSE) specification, which defines functional safety, data protection and other service enablers for automotive display data streams, and the format that helps to make them available.
The Service Extensions Packet (SEP) provides the format for tunneling higher-layer display protocols. MIPI DSI-2 or VESA eDP/DP display traffic is converted to SEP form and then packetized into A-packets, the format MIPI A-PHY uses to transport data. In this way, SEP defines a uniform format for carrying native pixel data, with uniform video timing, control, configuration and management, over A-PHY.
The content of a display stream can be converted to or from the SEP format by MIPI A-PHY bridges or, in the case of integrated A-PHY, by the display source or sink itself, allowing for end-to-end links. The SEP container allows for content delivery between MIPI and eDP/DP display devices. This lets OEMs and system integrators develop heterogeneous display systems, reducing complexity and cost.
DSE also provides several functional safety enablers that can help manufacturers create systems that meet ISO 26262 functional safety requirements from Automotive Safety Integrity Level (ASIL) B through ASIL D. These functional safety enablers include:
Frame counter: The frame counter can detect a frozen frame on a display to prevent conditions such as a frozen video stream from a backup camera.
Link detection failure: Similarly, link detection failure detects a bus failure that interrupts the stream of data.
Timeout monitor: This feature of DSE detects any temporary loss of data between an ECU and a display.
Cyclic redundancy check: The SEP format includes a CRC-32 field to detect accidental changes to data so corrective action can be taken against corruption. CRC-32 is calculated over the SEP header, payload and footer.
Message counter: The SEP Message Counter field provides replay protection by assigning a number to each SEP packet that can be used to detect an attacker's attempt to replay the same message.
SEP also defines the format for supporting an optional HDCP service over display links. HDCP, which is supported in both MIPI DSI-2 and VESA eDP/DP, is designed to prevent unauthorized copying of display content, which may include in-vehicle entertainment as well as maintenance data and software updates.
Through the development of future MIPI security specifications and updates to MIPI DSE, expected in the first half of 2022, the MASS display stack will gain security enablers for confidentiality, integrity and authentication.


Updated Display Command Set (DCS)
Also included is an updated version of MIPI Display Command Set (MIPI DCS℠), MIPI's standard command set for DSI-2 displays. The new version, v1.5, supports A-PHY control and management, as well as command and control for new features coming later this year in MIPI DSI-2 v2.0.


Enabling the future of display
As automakers prepare to integrate a wave of new display applications into the next generation of vehicles, these standardized display interfaces will streamline development, and reduce cost and complexity. With A-PHY and this comprehensive set of specifications that support functional safety and security, the MASS display stack represents a significant step in this new evolution in edge connectivity.


Coming next: MIPI DSI-2 v2.0
Following closely after the introduction of the MASS display stack, MIPI Alliance will soon release MIPI DSI-2 v2.0, the next major version of the display protocol. With this version, DSI-2 will gain several new features relevant to automotive applications, including support for greater pixel depth, the latest VESA Display Stream Compression (DSC) and Display Compression-M (VDC-M) codecs, and new video formats and features that improve efficiency, reliability and the user experience. These features include seamless transitions from Video Mode (active streaming) to Command Mode (static display), which improves display efficiency and user experience; and Adaptive Refresh Panel, which enables displays to save energy by retaining an image for a longer time under some circumstances.
To learn more about the MASS display stack, visit MIPI's online Knowledge Library to watch the May 19 webinar, "Enabling Automotive Displays Using MIPI Automotive SerDes Solutions (MASS)," presented by James Goel, co-vice chair of the MIPI Display Working Group.
For an in-depth study on automotive display compression, download MIPI's recently published white paper, "Validating the Use of Compression for Automotive Displays," which highlights recent findings about VDC-M's visually lossless compression properties for automotive images. Display Working Group members Alain Legault and ​Simon Bussières also presented a webinar on 26 May, "Leveraging Video Compression within MIPI DSI-2 for High-Performance Displays," now available on demand in the Knowledge Library.
To gain access to all MIPI specifications and contribute to the development of future standards, consider joining MIPI Alliance.