3 min read
MIPI Hosts Member Events, DevCon in Taipei

Christina Slape, MIPI Senior Communications Manager : 6 November 2019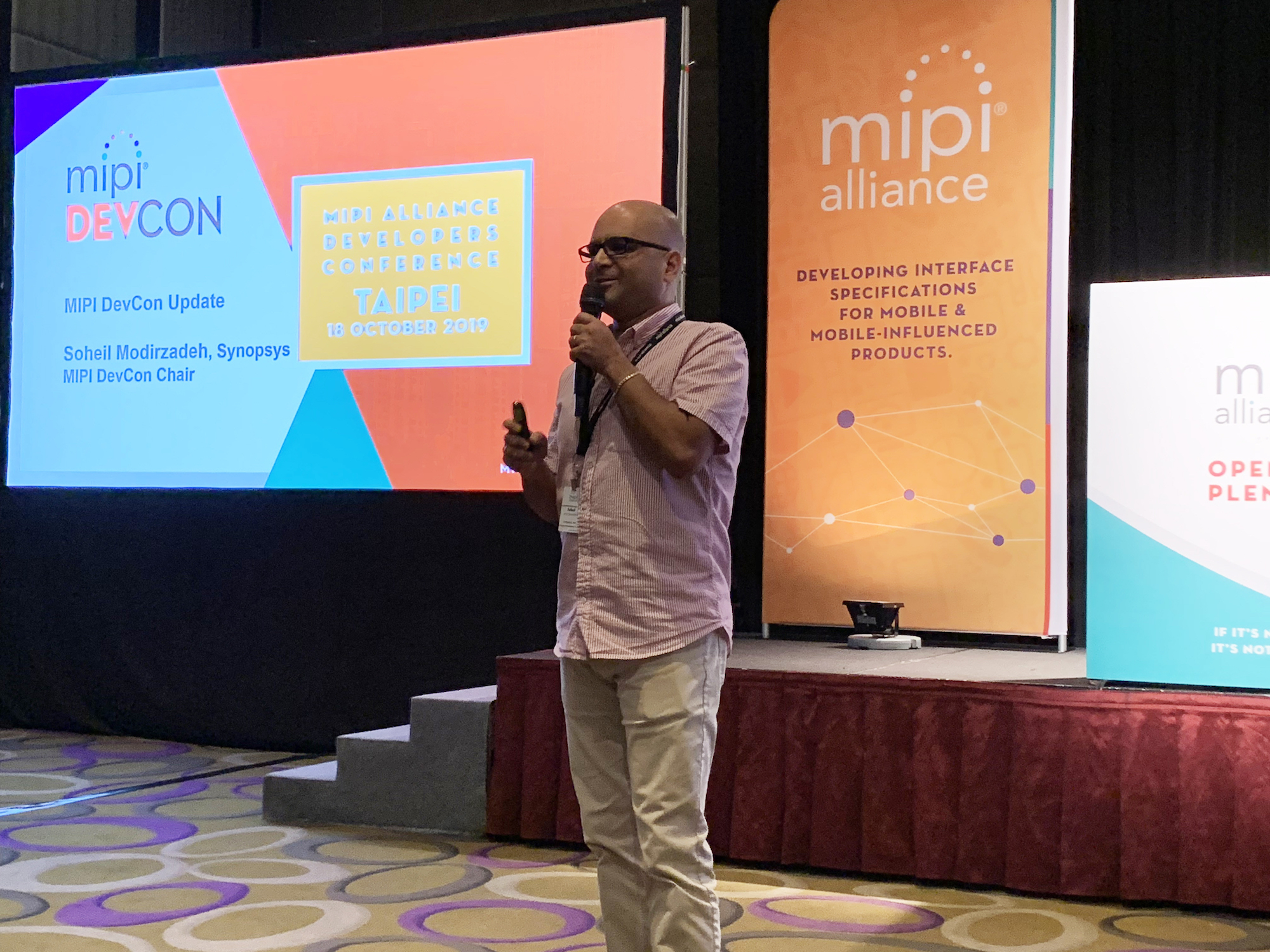 MIPI Alliance made its mark in Taipei from 14 to 18 October, with a week packed full of activities – from a MIPI I3C Interop Workshop, to Member Meeting #52 with more than a dozen working groups collaborating at face-to-face meetings, to MIPI DevCon Taipei capping off the week with a day of technical education and member demos.


MIPI Alliance Member Meeting Asia #52
The F2F meeting in Taipei drew 132 Contributor and Board members, representing 41 companies, to advance MIPI specifications and strategic priorities, receive updates on key initiatives, map out development and marketing activities, and network with colleagues from around the globe.
The 16 groups gathering at the Grand Hyatt Taipei included the Board of Directors, the Marketing and Technical steering groups, 10 working groups, the SoundWire Device Class subgroup, the new Security Investigation Group and the I3C Basic Ad Hoc Group. Members are encouraged to keep an eye on their inboxes for the post F2F report and updated specification roadmap, which are sent shortly after each member meeting to update members on working group timelines, specification progress and key activities.


Opening Plenary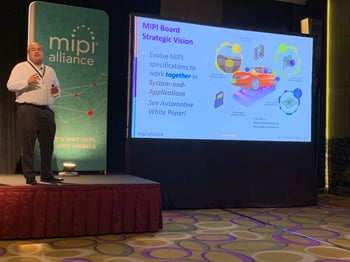 Member Meeting #52 officially kicked off on Tuesday, 15 October, at the Opening Plenary, where attendees received high-level updates from Joel Huloux, MIPI Alliance chairman, and James Goel, chair of the Technical Steering Group. Next on the program were working group updates, including the evolution of the MIPI imaging conduit, from Haran Thanigasalam, chair of the Camera WG, and the latest code development activities from the Software WG chair, Rob Gough. Rounding out the program were Soheil Modirzadeh, MIPI DevCon Steering Committee chair, with a preview of the DevCon agenda, and Rob Anhofer, MIPI's director of operations, who briefed attendees on MIPI's new Code of Conduct policy.
Review the Opening Plenary (MIPI members only) »
The plenary also included recognition of the working groups whose specifications have been adopted since the last member meeting in June. Congratulations to the following working group leaders who accepted MIPI specification awards on behalf of their groups (right, clockwise from top left):
Haran Thanigasalam of Intel Coporation (Camera WG chair) and Tom Kopet of On Semiconductor (Camera WG vice chair) on the adoption of CSI-2 3.0
Henrik Icking of Intel Corporation (PHY WG chair) and George Wiley of Qualcomm (C-PHY subgroup chair) on the adoption of C-PHY 2.0
Henrik Icking, Raj Kumar Nagpal of Synopsys (D-PHY subgroup chair), Nuno Martins of On Semiconductor and Loren Reiss of Cadence Design Systems (technical leads) on the adoption of D-PHY v2.5
Enrico Carrieri of of Intel Corporation (Debug WG chair) on the adoption of SPP v2.0
View photos from Member Meeting #52 »
The next MIPI Alliance Member Meeting will be held 16-20 March 2020, at the Hilton Boston Back Bay in Boston.


MIPI I3C® Interop Workshop
In conjunction with the member meeting, the I3C WG hosted a workshop on Monday and Tuesday, 14-15 October to allow adopters of MIPI I3C and the MIPI I3C HCI℠ (Host Controller Interface) to engage in interoperability testing between master (HCI and non-HCI supported) and slave devices in a confidential environment. The event drew 21 participants representing 10 companies and included testing between six master and 14 slave devices.
Tektronix, the only oscilloscope company attending the Taipei event, was a key contributor, as its I3C protocol decode SW on MSO Series 5 Scopes setup was instrumental in debugging and finding complex timing issues between I3C master and slave devices.
"This was the sixth consecutive time that Tektronix has participated in the event, working closely with MIPI customers and demonstrating our commitment to the I3C and MIPI D-PHY solution," said Subhasis Bera, product marketing manager at Tektronix. "Participation has enabled TEK to access the v1.1 products and validate our I3C decode solutions before CTS v1.1 is finalized. It gives us immense satisfaction to help move the industry forward in the I3C space."

MIPI DevCon Taipei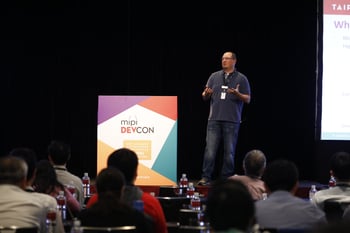 The week concluded on a high note at MIPI's developers conference on Friday, 18 October. Nearly 200 participants from 75 companies, including representatives from member and nonmember companies and the media, had the opportunity to attend 11 educational sessions and 14 company demos.
MIPI DevCon Taipei launched with a keynote address, "Technologies for Automated Driving," from Simon Teng, assistant general manager of the Intelligent Automotive Business Unit at MediaTek, followed by a briefing on the "State of the Alliance," from Peter Lefkin, MIPI managing director. The agenda for the rest of the day included nine technical sessions, including presentations focused on the upcoming MIPI I3C v1.1 and MIPI A-PHYSM, RFFE enhancements for 5G use cases, display and camera applications, testing challenges and solutions, and more.
Review presentations and audio recordings of the sessions »
View photos from MIPI DevCon Taipei »
MIPI appreciates the support of all the speakers, sponsors, demo participants and attendees. We hope to see you next year at MIPI DevCon Osaka on 23 October 2020.