3 min read
Recent Updates to MIPI I3C Basic, A-PHY and CSI-2 Gain Media Attention

Sharmion Kerley, MIPI Director of Marketing and Membership : 13 April 2022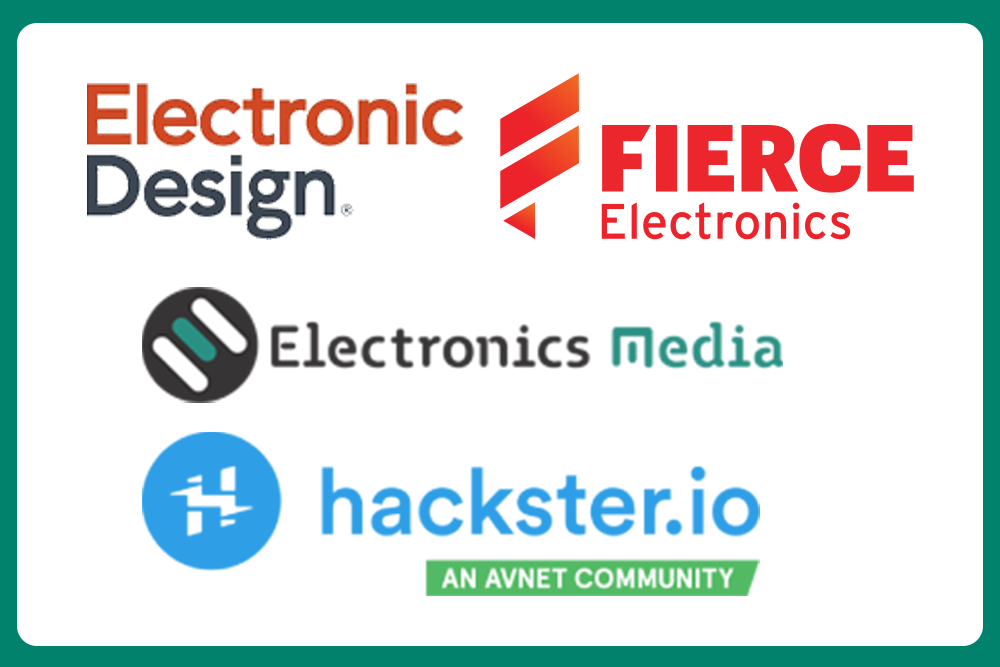 Over the past year, MIPI has adopted a record number of new and updated interface specifications for mobile, the Internet of Things (IoT), automotive and related industries. Three key 2021 releases in particular have garnered significant media interest and coverage:
Recent industry articles covering the new features in these specifications offer valuable insights into their impact for designers and developers across a wide range of applications and use cases. Here we present a sampling of the recent coverage for reference in learning more about the new specifications.
MIPI I3C/I3C Basic v1.1.1 Featured in Electronic Design and Electronics Media
In September 2021, MIPI announced updates to the I3C Basic utility and control bus specification, boosting speed and flexibility for a broad array of products. MIPI I3C and the publicly available I3C Basic are designed as the successors to the I2C interface and can be used to create innovative designs for smartphones, wearables and systems in automobiles and server environments.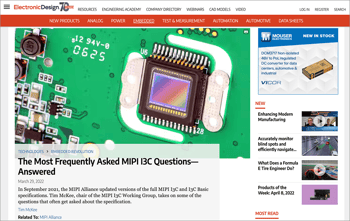 In a 29 March Q&A with Electronic Design, Tim McKee, the MIPI I3C Working Group chair, answered a range of questions about I3C, including how it relates to I2C, how I3C Basic compares to the full I3C specification, what software tools are available to support implementations, how to ensure interoperability, and how and where the interfaces are being used today.
"I3C Basic has already been adopted by JEDEC in its Sideband Bus and DDR5 standards. The MIPI Alliance also is actively working with DMTF (Distributed Management Task Force), ETSI (European Telecommunications Standards Institute) and TCA (Trusted Connectivity Alliance)," Tim explains in the article. "We hope to foster collaboration between many different organizations to continue to align I3C with the needs of the broader industry, and these collaborations with incredible organizations are helping us achieve that goal. Plus, whenever I3C Basic is adopted by another organization, it results in a richer ecosystem and fosters more interoperability within the broader industry."
Read the Electronic Design article »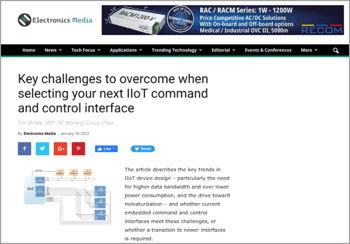 In a 19 January Electronics Media article, Tim also detailed how embedded command and control interfaces are essential to industrial IoT (IIoT) devices and how new standardized interfaces such as MIPI I3C/I3C Basic can address the needs for high data bandwidth, low power consumption and miniaturization.
"Established interfaces such as I2C, SPI and UART have served the embedded electronics industry well since their introduction in the late 1970s and early '80s," he writes in the article. "But since that time, several industry advancements, prevalent not only in IIoT but also across the wider electronics industry, have placed increasing pressure on these legacy interfaces ... To solve these challenges, developers will need to implement new command and control interfaces that provide higher bandwidths, use the minimum number of wires and pins, consume the minimum amount of power and enable the whole system to minimize its power consumption."
Read the Electronics Media article »
See all coverage of MIPI I3C/I3C Basic v1.1.1 »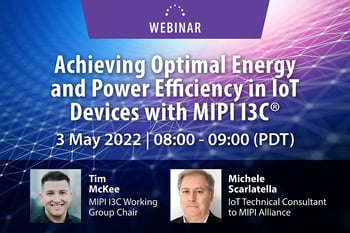 Tim will also offer additional insights at the upcoming MIPI-hosted webinar, Achieving Optimal Energy and Power Efficiency in IoT Devices with MIPI I3C, on 3 May, 08:00-09:00 PDT. Tim will be joined by MIPI's IoT technical consultant, Michele Scarlatella, to discuss how the MIPI I3C utility and bus specification meets key IoT requirements. Register today to learn more about the electrical properties of the MIPI I3C bus and explore examples of specific architectural configurations not possible with legacy communication buses.
MIPI A-PHY v1.1 Featured in Fierce Electronics
In late 2021, MIPI adopted A-PHY v1.1, the newest version of the asymmetric long-reach (up to 15 m) SerDes physical-layer interface for automotive applications such as advanced driver assistance systems (ADAS), autonomous driving systems (ADS) and other surround-sensor applications, including cameras and in-vehicle infotainment (IVI) displays.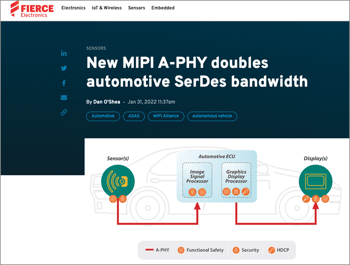 In his recent Fierce Electronics article, Dan O'Shea took a deep dive into the updated specification and how it can double A-PHY v1.0's bandwidth between connected sensors and other components in a vehicle, ultimately reducing costs for automotive companies designing new vehicles.
"The doubling of bandwidth was accomplished by adding support for Star Quad (STQ) cables that provide dual differential pairs of conductors within a single shielded jacket," Dan explains in the article. "This enables two A-PHY ports over a single cable, saving cost, weight and complexity compared with using two separate coaxial or shielded twisted pair cables."
Read the Fierce Electronics article »
See all coverage for MIPI A-PHY v1.1 »
MIPI CSI-2 v4.0 Featured in Hackster.io
Also in late 2021, MIPI adopted CSI-2 v4.0, a major update to the world's most widely implemented embedded camera and imaging interface. The new version of the specification is designed to enable the next generation of always-on, low-power, machine-vision applications.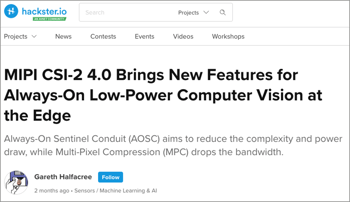 Gareth Halfacree, in a recent Hackster.io article, shares more about the key features in the new version:
Always-On Sentinel Conduit (AOSC), "designed for ultra-low-power image sensors and video signal processors, which can monitor for trigger events and wake up a higher-power processor."
Multi-Pixel Compression (MPC), "designed for use with the latest image sensors based around Tetra-Cell and Nona-Cell sensing with multi-pixel color filter arrays (CFAs)."
RAW28 pixel encoding, "used by next-generation automotive image sensors built with high dynamic range (HDR) support."
Read the Hackster.io article »
See all coverage for MIPI CSI-2 v4.0 »