2 min read
Working Groups Convene in Osaka for Collaboration on Specifications, Technical Resources and Key Initiatives

Christina Slape, MIPI Senior Communications Manager : 26 October 2023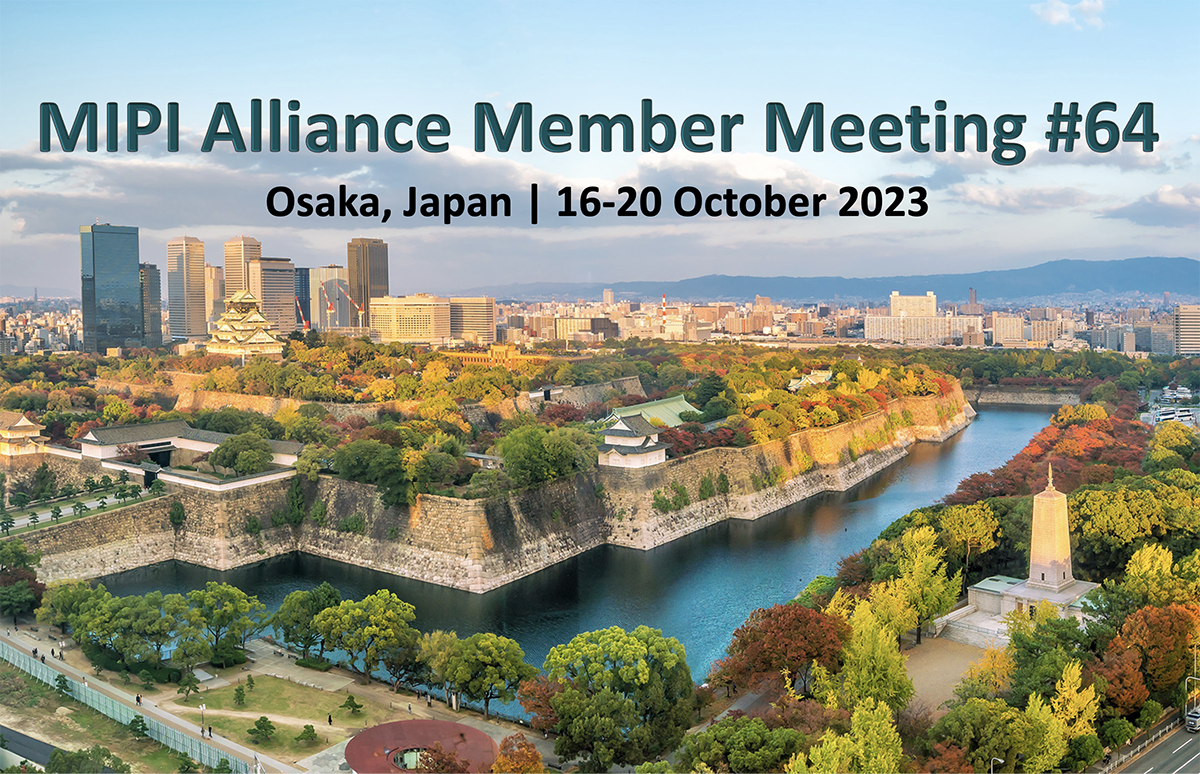 More than a hundred representatives from 32 member companies met last week in the vibrant city of Osaka, Japan, for MIPI Alliance Member Meeting #64, a full week of individual and joint sessions among more than a dozen MIPI groups, including the Technical Steering Group and Board of Directors.
A post-meeting report that includes highlights of each group's activities, updated development timelines and the latest MIPI Specification Roadmap will be distributed to all members next month.
Activities, Industry Trends & Working Group Progress
Following the Technical Steering Group (TSG) meeting on Monday, 16 October, where working group leaders and board members shared technical insights and discussed priority initiatives, Member Meeting #64 officially launched on Tuesday, 17 October, with a comprehensive lineup of presentations at the Opening Plenary.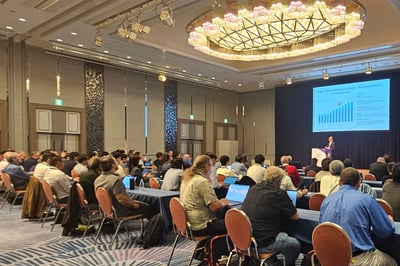 MIPI Alliance Chair Sanjiv Desai kicked off the presentations by recognizing MIPI members in Japan and welcoming recently upgraded Contributors and participants in the Contributor Trial Membership Program. He also congratulated the new TSG co-vice chairs Edo Cohen and Hiroo Takahashi, as well as the new Software Working Group chair Devon Worrell and co-vice chair Jon Eklund, to their leadership roles. Attendees were then updated on 2023 specification adoptions (the second highest number in MIPI's history), major specifications expected to be released next year, the status of active industry collaborations, the results of the biennial member satisfaction survey, strategic priority planning, and education events still to come this year and in early 2024.
Yosuke Ueno, deputy senior general manager of Research Division 1, Sony Semiconductor Solutions Corporation, was then welcomed to the Opening Plenary stage for his presentation on "Potential Future Areas for Imaging & Sensing Devices," which covered the outlook for the image sensor market; technologies in mobile, automotive and industrial applications; and the role of image sensors in the AI era.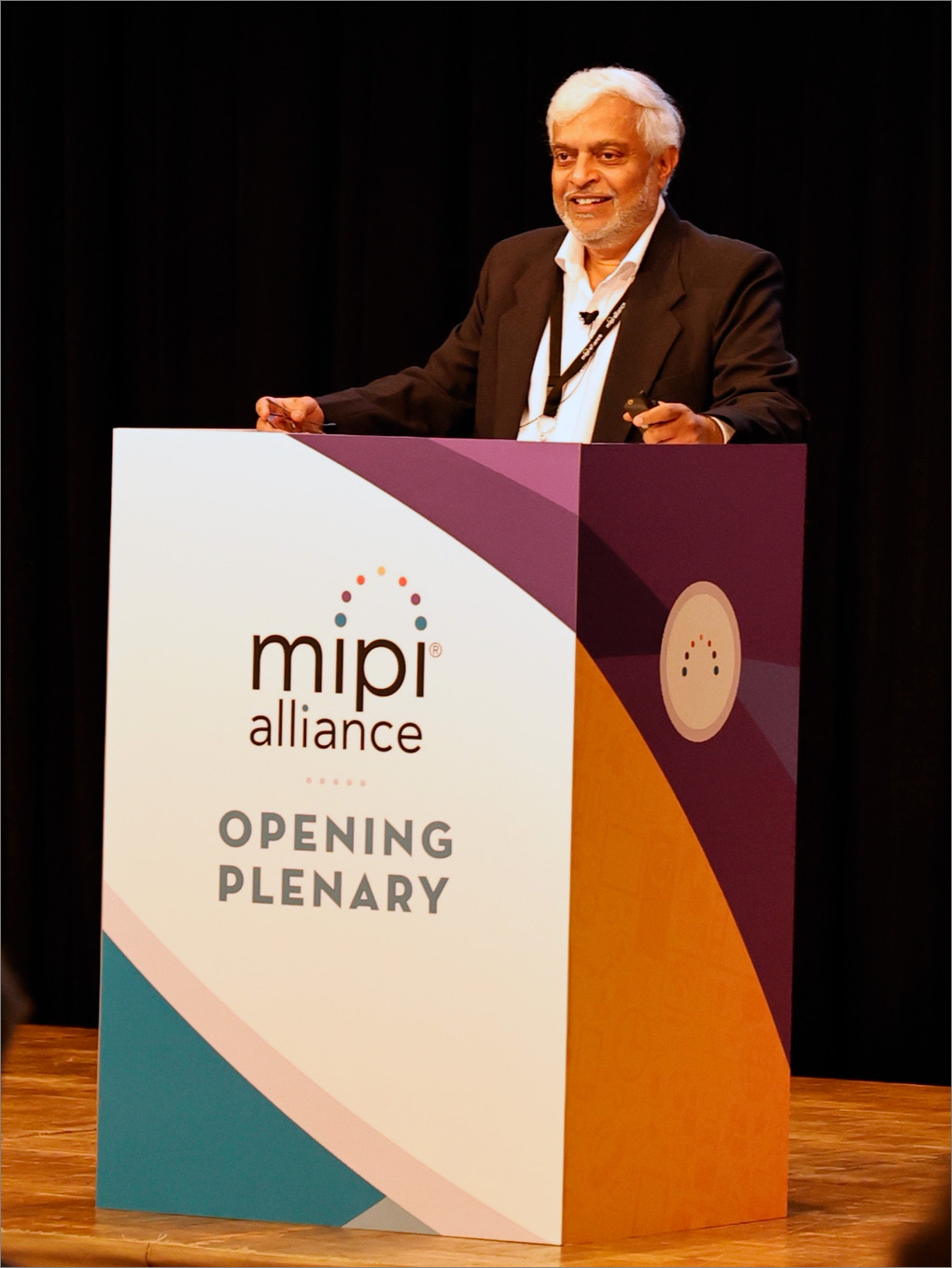 Sanjiv Desai
Chair, MIPI Alliance
Yosuke Ueno
Deputy Senior General Manager of Research Division 1, Sony Semiconductor Solutions Corporation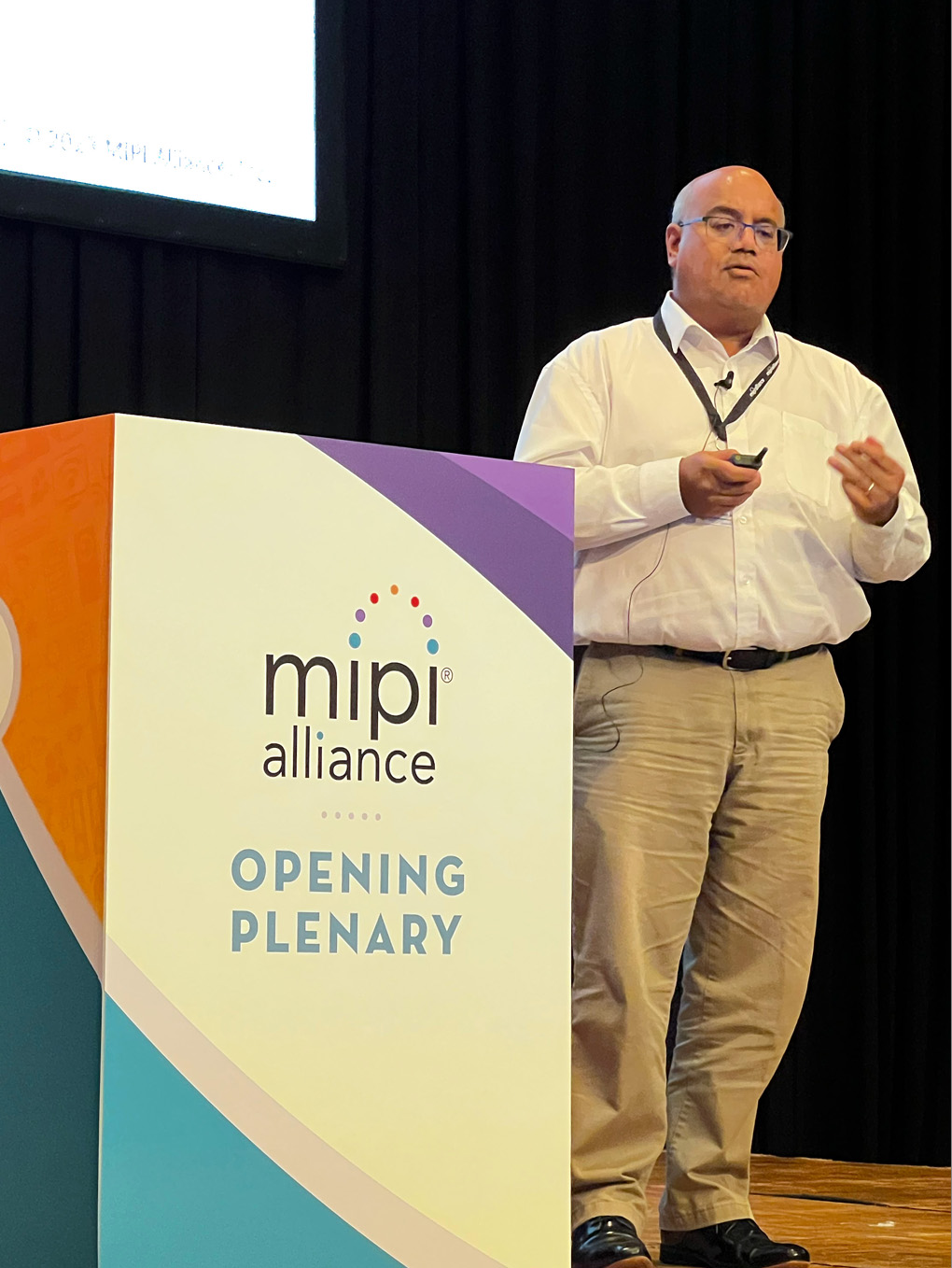 James Goel
Chair, Technical Steering Group
Co-Vice Chair, Display Working Group
In the first of the working group updates, James Goel, chair of the TSG, presented an overview of the TSG roadmap for 2024 and explained the new specification visualization project, which will provide system engineers greater insight into related and dependent interfaces.
Rounding out the program were updates by:
Rick Wietfeldt, co-chair of the Security Working Group, who shared details of the MIPI Security Framework.
Devon Worrell, chair of the Software Working Group and SoundWire Device Class for Audio (SDCA) Subgroup, as well as vice chair of the Audio Working Group, who discussed the forthcoming SDCA specification and what's next for the Software Working Group.
Raj Kumar Nagpal, co-chair of the A-PHY Working Group, and chair of both the PHY Steering Group and D-PHY Working Group, who covered the recently approved MIPI A-PHY Compliance Program, which will hold a "test fest" event in December.
Download the Opening Plenary presentation » (MIPI members only)
Members Enjoy Evening of Culture and Cuisine
Offering participants a well-deserved break from their working group sessions, the mid-week social event combined a sampling of history and tradition with dinner and conversation with colleagues at the Sumiyoshi Taisha compound.
Guests were welcomed with a guided walk through the grounds, where they experienced sacred Shinto music and dance at the square in front of the main sanctuary, followed by live Koto music, dinner and activities that included a tea ceremony, and sake and whiskey tastings.