2 min read
Global Development Community for Mobile, IoT, Automotive, 5G and Other Application Areas Invited to MIPI DevCon 2021

MIPI Alliance : 31 August, 2021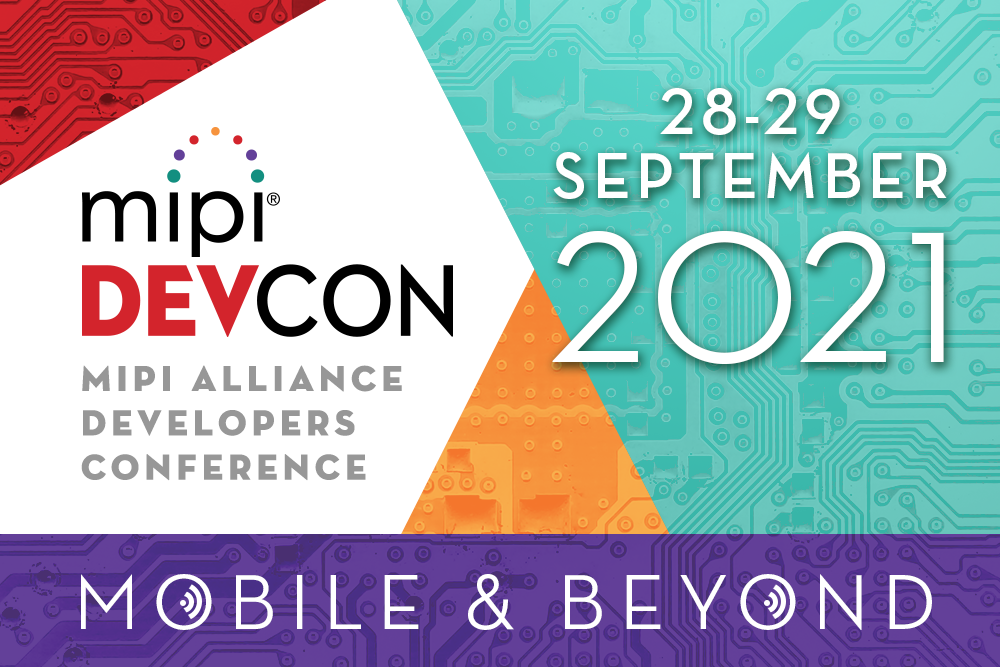 28-29 September virtual conference to deliver education and training on MIPI specifications and their growing range of use cases

PISCATAWAY, N.J., August 31, 2021—The MIPI Alliance, an international organization that develops interface specifications for mobile and mobile-influenced industries, today announced details of its upcoming MIPI Developers Conference (DevCon) to be held 28-29 September 2021. The online forum will provide a variety of technical sessions and member demonstrations delivering education and training on MIPI specifications in application spaces such as mobile, the Internet of Things (IoT), automotive and 5G. Together, developers and engineers will learn about new specification implementations, industry advancements and trends in the MIPI ecosystem.
For complimentary registration, please visit https://www.mipi.org/devcon/2021/register.
About the event
WHAT: MIPI DevCon 2021
WHEN: 28-29 September 2021, 07:00-11:00 PDT / 16:00-20:00 CEST / 19:30-23:30 IST / 23:00-03:00 JST and KST. An Asia track will also be held on 29 September, 09:30-11:15 IST / 13:00-14:45 JST and KST (28 September, 21:00-22:45 PDT), to accommodate attendees in those time zones.
WHERE: Virtual event
Agenda
Opening Sessions:
Peter Lefkin, MIPI managing director, "State of the Alliance"
James Goel, MIPI Technical Steering Group chair, "The MIPI Specification Roadmap: Driving Advancements in Mobile, IoT, Automotive and 5G"
Session Lineup:
Presentations covering key specification updates, technical use cases and application experiences:
Latest Developments within MIPI Automotive SerDes Solutions (MASS) (MIPI Alliance)
Enabling Long-Reach MIPI CSI-2 Connectivity in Automotive with MIPI IP (Synopsys Inc., Valens Semiconductor)
MIPI D-PHY and MIPI CSI-2 for IoT: AI Edge Devices (Mixel Inc.)
Meeting the Needs of Next-Generation Displays with a High-Performance MIPI DSI-2 Subsystem Solution (Hardent Inc., Mixel Inc., Rambus Inc.)
MIPI HTI, PTI and STP: The Bases for Next-Generation Online Analyses of Multicore Processors (Accemic Technologies GmbH)
MIPI Security for Automotive and IoT – Initial Focus on MASS (MIPI Alliance)
MIPI I3C Interface for the ETSI Smart Secure Platform (ETSI)
MIPI I3C Signal Integrity Challenges on DDR5-Based Server Platform Solutions (Intel Corp.)
MIPI I3C Application and Validation Models for IoT Sensor Nodes (STMicroelectronics)
Closing sessions featuring panel discussions on MIPI CSI-2 and MIPI I3C with developers and implementers of the MIPI specifications
Demos:
Nine MIPI member companies will showcase the latest technologies and products integrating MIPI specifications
For the full agenda visit: https://www.mipi.org/devcon/2021/agenda
Who Should Attend:
Developers, system architects, engineering managers, as well as design, test, application, system, hardware, firmware and other engineers; business and marketing executives; and press and analysts for mobile and mobile-influenced markets.
"The MIPI DevCon 2021 virtual event will provide a singular opportunity to gain new insights into MIPI specification implementation, industry advancements and trends in the broader MIPI ecosystem," said Justin Endo, chair of the MIPI DevCon Steering Committee. "The global development community can connect with the world's foremost subject-matter experts on MIPI specifications in mobile, the IoT, automotive, 5G and other application areas for leading-edge implementation guidelines, best practices and use cases."
Exhibiting Companies
Event Sponsors
Industry Sponsors
Media Sponsors
To keep up with MIPI Alliance, subscribe to the MIPI blog and stay connected by following MIPI on Twitter, LinkedIn, Facebook and YouTube.
About MIPI Alliance
MIPI Alliance (MIPI) develops interface specifications for mobile and mobile-influenced industries. There is at least one MIPI specification in every smartphone manufactured today. Founded in 2003, the organization has over 325 member companies worldwide and more than 15 active working groups delivering specifications within the mobile ecosystem. Members of the organization include handset manufacturers, device OEMs, software providers, semiconductor companies, application processor developers, IP tool providers, automotive OEMs and Tier 1 suppliers, and test and test equipment companies, as well as camera, tablet and laptop manufacturers. For more information, please visit www.mipi.org.
MIPI®, CSI-2® and I3C® are registered trademarks owned by MIPI Alliance. MASSSM, D-PHYSM, DSI-2SM, HTISM, PTISM and STPSM are service marks of MIPI Alliance.