3 min read
Member Meeting #62 Focuses on Specification Advancement, Member Achievements and MIPI Anniversary

Christina Slape, MIPI Senior Communications Manager : 20 March 2023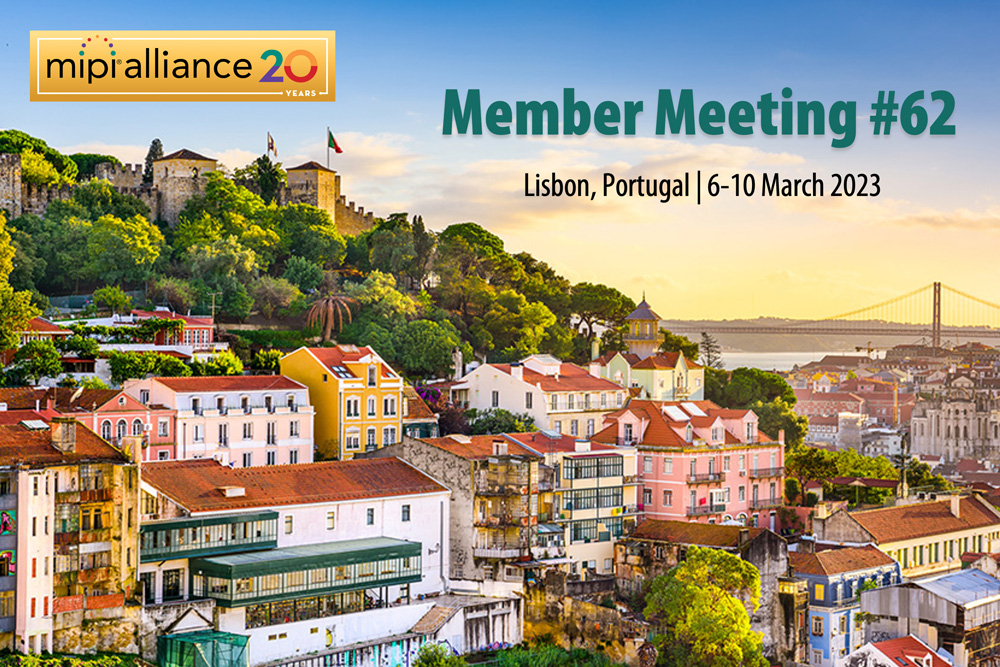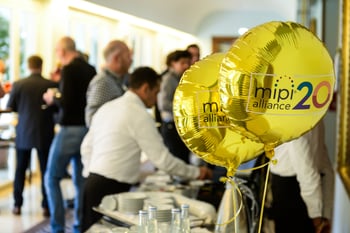 The first MIPI Alliance Member Meeting of 2023, held earlier this month in Lisbon, Portugal, brought together Board and Contributor members from around the world for a full week of collaboration within 14 groups, along with the opportunity to help mark MIPI's 20th anniversary and recognize the recipients of 2022 Membership Awards.
Groups holding sessions at Member Meeting #62 included the MIPI Board of Directors, the Technical Steering Group, nine working groups, two subgroups and two interest groups. In addition, many groups held joint sessions to further collaborate on related specifications and MIPI priorities.
A comprehensive post-meeting report that includes highlights of each group's activities, updated development timelines and the latest MIPI Specification Roadmap will be distributed to all MIPI members in mid-April.
Opening Plenary Previews 2023, Reflects on Past 20 Years
In the first of several activities marking MIPI's 20th anniversary, the Opening Plenary session focused not only on what's to come in the year ahead, but also on the history of the Alliance and the evolution of the mobile phone industry.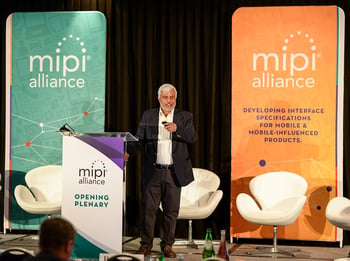 MIPI Chair Sanjiv Desai launched the event by recognizing the founders and long-term members of the Alliance, as well as welcoming recent Contributors and MIPI's new Promoter member, Google LLC.
He also briefed participants on the 2023 outlook for specification development, noting that more than 20 specifications are expected to be adopted this year (which would be a new record), including new security specifications, updated versions of MIPI A-PHY®, C-PHY℠ and D-PHY℠, and the new SoundWire I3S (SWI3S℠) and SoundWire® Device Class for Audio specifications. Upcoming events will include the first in-person MIPI DevCon in three years, along with MIPI I3C® and Debug for I3C℠ plugfests, to be held during the June member meeting in San Jose.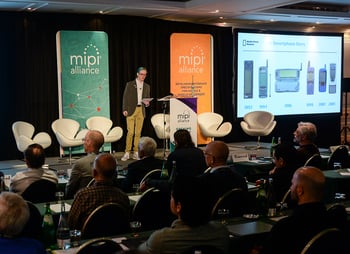 Following Sanjiv's update, Will Wood, content editor and videographer for the Mobile Phone Museum, shared the presentation, "From the Brick to the Foldable, A Timeline of the Mobile Phone." His overview of the evolution of the mobile phone set the stage for the upcoming "founders panel" portion of the program and also prompted lively conversations among attendees throughout the week.
The Plenary event wrapped up with a panel discussion that included Joel Huloux, Oliver Gunasekara, Risto Savolainen, Sanjiv Desai and Tom Vial, who represented founding companies STMicroelectronics, Arm, Nokia, Intel and Texas Instruments, respectively, when the Alliance was established in 2003. Peter Lefkin, MIPI executive director, moderated the discussion, which covered insights and anecdotes about the inception of the organization, the challenges faced by the founding companies and notable achievements over the past two decades.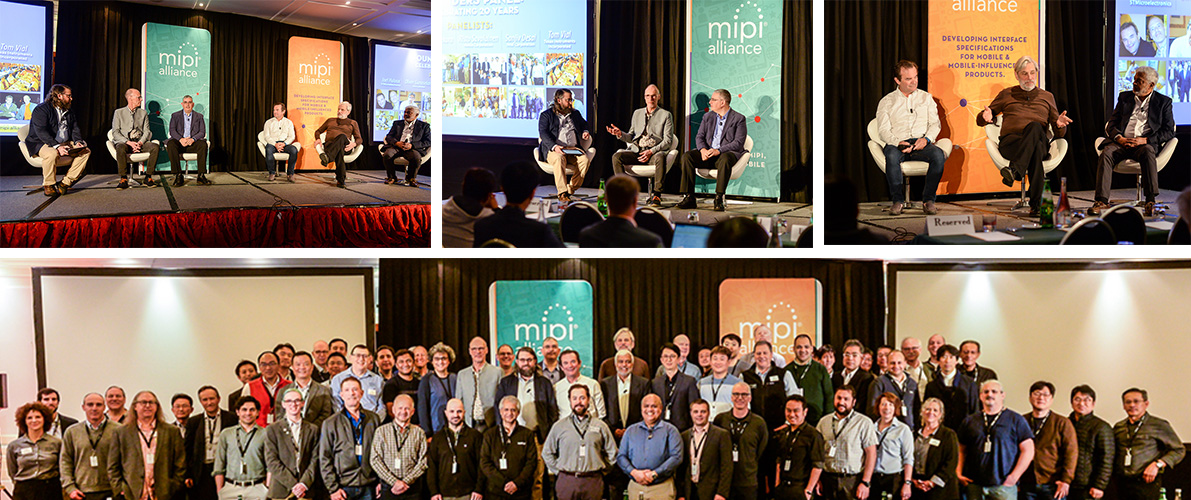 Download the Opening Plenary presentation » (MIPI members only)
Ceremony Honors Outstanding Member Contributions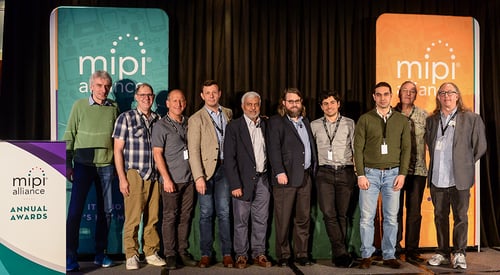 Left to right: Jürgen Urban, Philip Hawkes, Nadav Banet, Kirill Dimitrov, Sanjiv Desai, Peter Lefkin, Cédric Marta, Sergio Silva, Niel Warren and Chris Grigg
At the 10th annual Membership Awards Ceremony, MIPI once again honored those members who dedicated their time and expertise to the advancement of MIPI specifications and key Alliance initiatives. This year's event recognized 10 recipients of 2022 awards:
Lifetime Achievement Award: Sergio Silva of Synopsys, Inc., was recognized for his ongoing influence and innovative contributions to MIPI M‑PHY®, particularly in both the electrical and digital domains.
Corporate Award: Western Digital Technologies Inc., a MIPI Alliance member since 2006, was honored for outstanding leadership and contributions to the development of MIPI M-PHY and MIPI UniPro®, both of which have been developed in collaboration with JEDEC for its widely implemented Universal Flash Storage standard. The award was accepted by Western Digital representative Kirill Dimitrov, chair of the M‑PHY Working Group.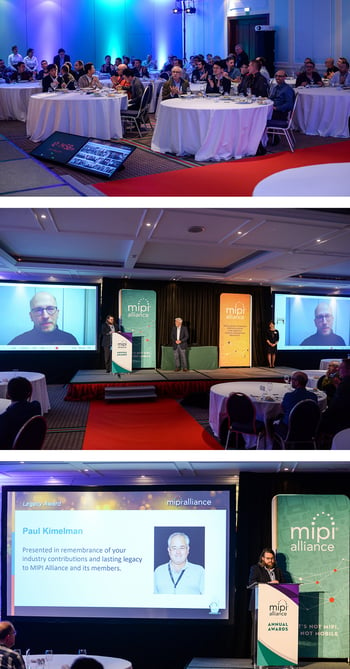 Working Group Leadership Award:

Philip Hawkes of Qualcomm Incorporated, co-chair of the MIPI Security Working Group, was recognized for his contributions and efforts to encourage others to participate in the development of the forthcoming MIPI Security framework, which includes the MIPI Security℠ v1.0 and MIPI Security Profiles℠ v1.0 specifications.
Niel Warren of Google LLC, chair of the MIPI Audio Working Group, was honored for his contributions and dedication in the development of MIPI SoundWire and the forthcoming MIPI SWI3S specification.

Distinguished Service Award:

Nadav Banet of Valens Semiconductor, lead of the Camera Adaptation Layer Subgroup, received the award for innovative contributions across the end-to-end MIPI Automotive SerDes Solutions (MASS℠) framework.
Hendrik Lange of KIOXIA Corporation was recognized for his contributions to the development of MIPI UniPro v2.0.
Cédric Marta of Synopsys, Inc., co-vice chair of the Camera Working Group, was selected for his contributions, including crucial support of MIPI CSI-2® education efforts.
Jürgen Urban of KIOXIA Corporation was recognized for his input in creating the CTS for MIPI UniPro v2.0.

Special Achievement: Chris Grigg, MIPI's specifications and technical editing director, was recognized for expertly managing the editing process for a growing portfolio of MIPI specifications and supporting documents.
Legacy Award: The 2022 posthumous award was presented to Paul Kimelman of NXP Semiconductors. A longtime contributor, Kimelman's extraordinary leadership and tireless coordination were key to the development and promotion of MIPI I3C and MIPI Debug for I3C.
Read more about all the award recipients »
Attendees Connect with Colleagues at Social Event
Participants paused mid-week to enjoy a casual evening with their peers—complete with spectacular food, entertainment and additional anniversary activities. The evening kicked off with a tuk tuk ride through Lisbon, followed by a Fado performance during dinner, port tasting, a hands-on exhibit of a few of the mobile phone models highlighted at the Opening Plenary, and 20th anniversary photos with old and new friends.

MIPI's next member meeting will be held 26-30 June, in San Jose, Calif. MIPI DevCon also returns to San Jose with a full day of presentations and demos on that Friday, 30 June. Registration will open in April 2023.