3 min read
MIPI DevCon Returns to Silicon Valley to Explore MIPI in Automotive, IoT and Mobile

MIPI Alliance : 17 May, 2023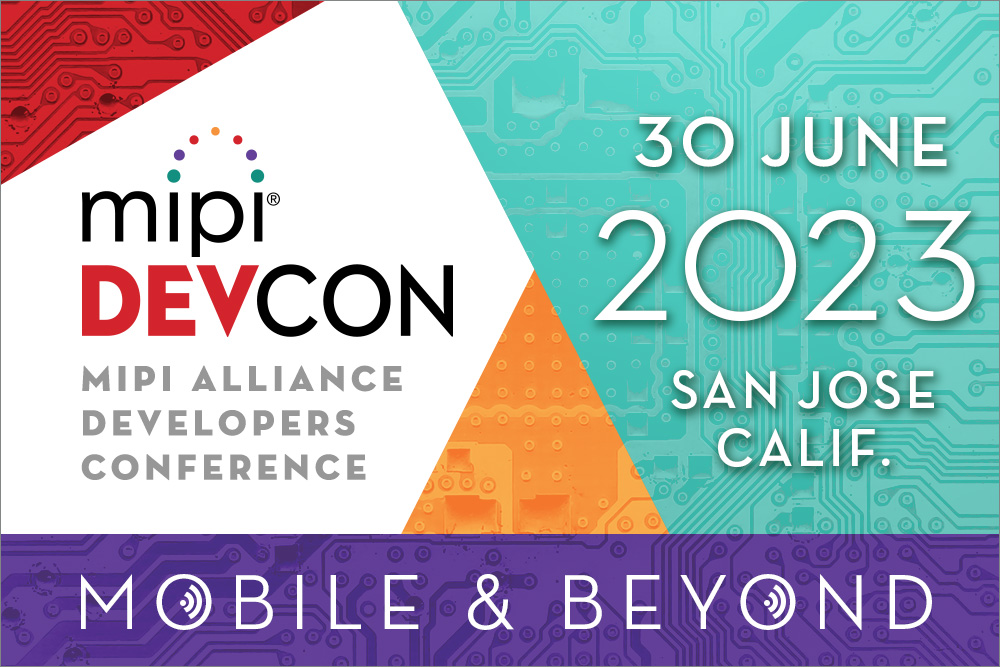 Updated 8 June 2023: Registration for MIPI DevCon 2023 in San Jose unfortunately did not rise to a level that would create a successful experience for attendees and participants, and the event was canceled. We appreciate the support of speakers, sponsors and demo participants, and we look forward to hosting future MIPI education events.
---
The June 30 event offers training, education and networking for developers and implementers of MIPI specifications
PISCATAWAY, N.J., May 17, 2023—The MIPI Alliance, an international organization that develops interface specifications for mobile and mobile-influenced industries, today announced details of its upcoming MIPI DevCon 2023 , scheduled for 30 June in San Jose, Calif. Returning to an in-person event for the first time since 2019, MIPI DevCon 2023 will feature nine expert sessions offering key specification updates, cutting-edge use cases with MIPI specifications such as MIPI I3C, CSI-2 and DSI-2, as well as application examples and implementation experiences across a range of areas, from camera and display to automotive, IoT, and artificial intelligence (AI).
To register for MIPI DevCon in San Jose, please visit: https://bit.ly/42wTHbp. An "early bird" $49 USD registration fee is available until 16 June 2023.
About the Event
WHAT: MIPI DevCon 2023
WHEN: 30 June 2023, 09:00-4:30 PDT
WHERE: DoubleTree by Hilton San Jose Hotel
PROGRAM: View the session descriptions
Session Lineup
Attendees will gain new insights into specification implementations, industry advancements and trends in the MIPI ecosystem through a comprehensive program presented by MIPI working group leaders and MIPI member companies:
State of the Alliance (Peter Lefkin, MIPI Alliance executive director)
What's New and What's Next with MIPI A-PHY (MIPI A-PHY Working Group)
MIPI DSI-2 Features That Will Make Your Gamers' Heads Spin (Introspect Technology)
MIPI CSI-2 Security Update and DSI-2 Security Preview (MIPI Security Working Group)
Enhancing Sensor Applications with MIPI I3C Basic: Real-World Example (Binho)
Out of Box MIPI I3C Target Design (STMicroelectronics)
MIPI CSI-2 in Low-Power Image Sensors for Industrial and Consumer IoT Applications (ams OSRAM and Mixel Inc.)
Delivering the Best Camera Image Quality through MIPI Interface on ThinkPad Notebook (Lenovo Japan LLC)
Synaptics Leverages MIPI Interfaces to Enable Visual AI at the Edge (Synopsys)
Demos
Showcasing the latest MIPI solutions in the mobile and mobile-influenced markets, attendees will have an opportunity to tour 11 member demos from:
Visit the demo descriptions to learn about the MIPI solutions that each member company will be demonstrating.
Who Should Attend
MIPI DevCon is targeted toward developers, system architects and engineering managers, including design, test, application, system, hardware, firmware, and other engineers interested in learning about the use of MIPI specifications in various application spaces.
"MIPI DevCon 2023 is the premier event to dive deep into MIPI specifications and their implementations in mobile and the growing beyond-mobile ecosystems we serve," said Justin Endo, chair of the MIPI DevCon Education Committee and senior manager, Marketing & Sales, Mixel, Inc. "This is a unique opportunity to learn from the developers of these specifications and fellow implementers as they share their experiences and best practices developing innovative products that meet the needs of today's connected world."
Event Sponsors
Media Sponsors
Industry Sponsors
Register today to secure your spot. To keep up with MIPI Alliance, subscribe to the MIPI blog and stay connected by following MIPI on Twitter, LinkedIn, Facebook and YouTube.
About MIPI Alliance
MIPI Alliance (MIPI) develops interface specifications for mobile and mobile-influenced industries. There is at least one MIPI specification in every smartphone manufactured today. MIPI Alliance (MIPI) develops interface specifications for mobile and mobile-influenced industries. There is at least one MIPI specification in every smartphone manufactured today. Celebrating its 20th anniversary in 2023, the organization has over 375 member companies worldwide and more than 15 active working groups delivering specifications within the mobile ecosystem. Members of the organization include handset manufacturers, device OEMs, software providers, semiconductor companies, application processor developers, IP tool providers, automotive OEMs and Tier 1 suppliers, and test and test equipment companies, as well as camera, tablet and laptop manufacturers. For more information, please visit www.mipi.org.
MIPI®, A-PHY®, CSI-2®, and I3C® are registered trademarks owned by MIPI Alliance. DSI-2℠ and I3C Basic℠ are service marks of MIPI Alliance.
Press Contact:
Becky Obbema
Interprose for MIPI Alliance
+1 408.569.3546
becky.obbema@interprosepr.com