3 min read
2022 Activities Propel MIPI Alliance into its 20th Year

Peter Lefkin, MIPI Executive Director : 17 January 2023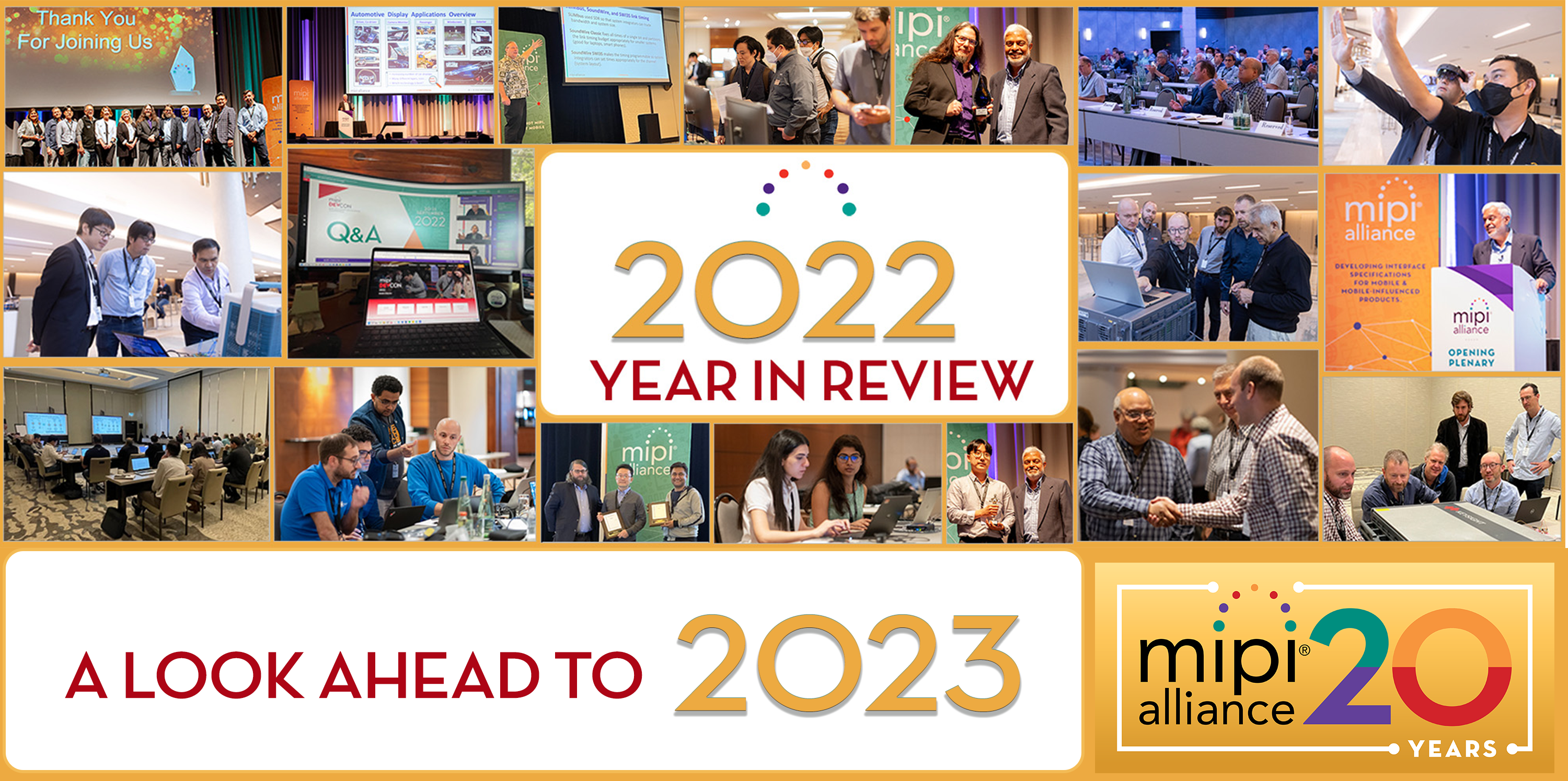 With MIPI marking its 20th anniversary this year, it's an ideal time to reflect on the tremendous growth and impact of our Alliance. Members' support of specification development and implementation, across an array of ecosystems, continues to expand year after year—leading to a high of 423 members in 2022 and more than two dozen working groups, steering groups, subgroups, committees and interest groups advancing our shared goals.
If you missed last week's "2022 Year in Review" email, I encourage you to take a look back at the impressive recap of activities from just the past year, including new specifications and implementation resources, technical liaison expansions, virtual and in-person events, momentum in key application areas, and much more. All these efforts are driving us to raise the bar in 2023, with plans underway for a host of activities supporting new specifications and priority initiatives.
Year In Review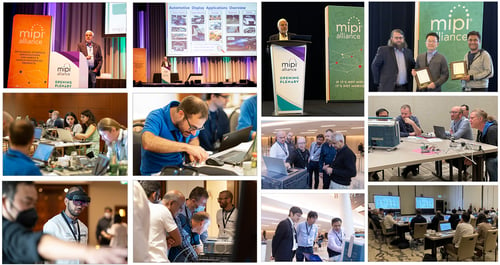 For many of us, the high point of 2022 was the return to in-person member meetings in Munich and Vancouver. Not only were working group participants enthusiastic about resuming face-to-face collaboration, but attendees also had the opportunity to view member solutions during Demo Days at both meetings, participate in an I3C Interop event in Munich and recognize the contributions of their fellow members at the ninth annual Membership Awards Ceremony, also held in conjunction with the Munich meeting.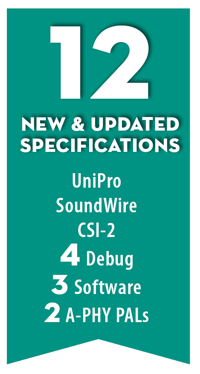 The pace of development continued to impress last year, with working groups delivering 12 specifications, an additional seven entering the adoption process in the final quarter of the year, and 24 Specification Requirements Proposals (SRPs) submitted to begin development on new specifications. Groups also released new App Notes, Conformance Test Suites and FAQs. In addition, two new interest groups were opened to Adopter members to facilitate comprehensive input into IoT and MIPI CSI-2® activities.
Furthermore, members delivered technical insights as speakers at multiple MIPI events. MIPI DevCon 2022 offered 11 sessions over two days, covering a range of specification updates and application examples, from automotive security to MIPI RFFE℠ in 5G.
In support of beyond-mobile focus areas, MIPI hosted an A-PHY Automotive Industry Forum in January and the MIPI Automotive Workshop in November, providing updates on key specifications in the MIPI Automotive SerDes Solutions (MASS℠) framework and Q&A sessions with the leaders of the A-PHY and Security working groups. Leaders of the IoT Interest Group and I3C Working Group contributed to technical articles, participated in a webinar and published a white paper detailing how MIPI I3C® meets power-efficiency requirements in IoT applications.
All presentations from MPI virtual events, from DevCon to webinars and workshops, are available on demand in the MIPI Resources library.
Looking Ahead
The stage is set for 2023, as MIPI heads into the year prepared for new specification releases and upcoming events. We're projecting another double-digit year of adoptions, including the new SoundWire I3S (SWI3S℠) and MIPI Security℠ specifications, updates to MIPI C-PHY℠ and D-PHY℠, and several specifications in the MASS framework.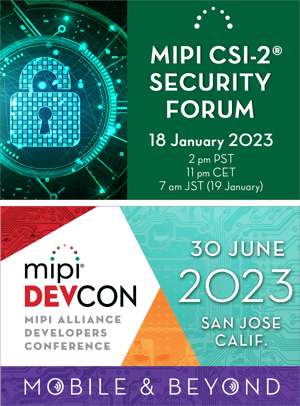 This week, the co-chairs of the Security Working Group will host a CSI-2 Security Forum, offering an in-depth examination at how security fits into the MASS framework and how it will be applied to CSI-2 data streams through provisions in several upcoming specifications.
Opportunities to engage with MIPI implementers at the upcoming MIPI DevCon 2023 in San Jose, Calif., also launched this month. If you'd like to share your implementation experience, use case or system design, submit a presentation proposal by 15 March to speak at the event. Companies that would like to showcase their MIPI solutions can sign up to participate as demo participants.
This year's member meetings will be held in Lisbon, Portugal, 6-10 March; in San Jose, Calif., 26-30 June; and in Osaka, Japan, 16-20 October. MIPI Adopter members can also attend and participate in working group sessions by joining the MIPI Contributor Trial Membership Program, which will launch its next three-month trial period on 1 February.
Registration has already opened for the Lisbon meeting, where we'll celebrate MIPI's 20th anniversary and honor the recipients of the annual membership awards (MIPI members can still nominate a colleague). At the June meeting in San Jose, the I3C and Debug working groups are planning interop events, and the week will be capped off with the first in-person MIPI DevCon in three years.
Much more is in the works for 2023, including additional education events, presentations at major automotive and IoT conferences, and new industry partnerships. We're also making sure we're aligned with members' needs through a member-wide satisfaction survey and update of the MIPI strategic priorities.
I look forward to 2023 and beyond as we build on our two decades as an Alliance. Together we've built a strong foundation, and whether you participate in working groups, or most importantly, implement MIPI specifications in your products, your support is vital to our continued success.